Blueprint for Hope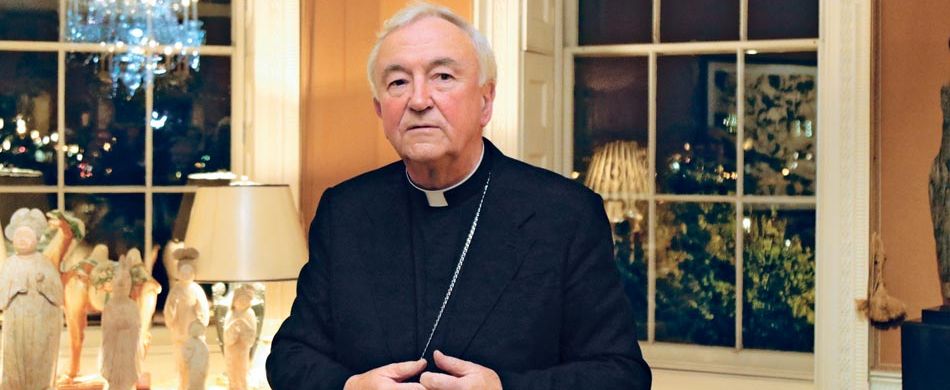 Cardinal Nichols is President of the Bishops' Conference of England and Wales © Simon Caldwell
CARDINAL Vincent Nichols is strangely animated as he adopts the pose of the notorious British terrorist known as 'Jihadi John'. Certainly, it is no everyday occurrence to see a prince of the Church pretend to hold up a severed head in one hand and brandish a large knife menacingly in the other. The Cardinal Archbishop of Westminster is of course seeking to make a point based on an insight into good and evil which came to him while in Nazareth on pilgrimage. He speaks of two very different annunciations.
"It's these contrasting images," he says. "If you remember the horrific photographs of Jihadi John dressed in black, holding a knife, holding a head by its hair and pulling it up to a position of subservience and saying, 'this is what you must serve, this is the truth, this is from God, and everything else that does not agree with that proclamation must be destroyed.' It is an image, an annunciation, in many, many ways of an utterly corrupt understanding of our purpose and humanity. Contrast that with the classical image of the Annunciation of the Archangel Gabriel to Mary.
"The figure is in white and stands still with her hands down. The second figure is kneeling with her neck bared – but it is all about dignity. It is all about raising people to the dignity which God gives them. It is all about announcing the love and compassion of God who wants to share our flesh in order to draw us to himself. It is those two contrasting images that spell out the difference, and why in our hearts there can be the hope that is a gift from God."
Virtue of hope
This was not the first time that Cardinal Nichols has made this comparison. It formed part of his reflections in some public addresses he gave in 2016. These are now contained in a new book, Hope in Action, which represent something of a corpus of teaching offered by the Cardinal, all united by the common theme of hope, a virtue which he notes, with characteristic wit, "abounds in young people and drunkards."
The Cardinal's reflections were offered on this occasion at the launch of Hope in Action: Reaching out to a World in Need at the London home of John Studzinski, a US Catholic millionaire banker, to explain a little about its contents.
The book is principally a collection of talks and lectures given during the Year of Mercy of 2015-2016, but is eminently readable. It is also quite important in its own way because it tells the reader exactly what this warm and capable English Cardinal thinks about many key social issues of the day.
Sense of urgency
One guest at the book launch, Teresa Carvalho, the home mission officer for the Department of Evangelisation and Catechesis of the Bishops' Conference of England and Wales, said, for example, that on reading the book she felt a window opened through which she could glimpse the very soul of Cardinal Nichols. Perhaps this is deliberate on the part of the Cardinal. Perhaps he wished to reveal what stirred in his innermost depths. An indication of this comes in the second of the chapters in the book, which is entitled Missionary Disciples.
In the opening statement, the Cardinal observes that "when I celebrated my 70th birthday in 2015 I was hit by the realisation that, God willing, I only had another five years left of being Archbishop of Westminster" (before he must tender his resignation to the Pope on grounds of reaching the serving age limit of 75 years).
"I was hit with a new sense of urgency," he continues. "The years are passing so quickly and there is simply so much to do, particularly when it comes to sharing the great message of our faith."
The Cardinal became aware of an imperative to divulge some of his keenest insights within the time that God has granted him. So besides a deeply evocative essay on "resisting religious extremism," the Cardinal writes with great passion and conviction about prison reform, for instance, along with the need to end human trafficking and slavery, along with sexual violence and abuse.
Wider audience
Cardinal Nichols has clearly researched his subject material, and there is real substance here, sometimes derived from his own encounters with the people of London. He warns the reader in one essay, for instance, that it can take just a month to turn a disorientated teenage Catholic student into a fanatical Islamist terrorist.
He is clearly close to the victims of the modern slave trade, having opened Bakhita House in London as a refuge for survivors, and he offers solutions to other real problems, such as the rehabilitation of prisoners, on one occasion noting with sadness how a young man he met in jail gravitated back to gangland on his release, and was shortly afterwards stabbed to death. Less intentionally, this book may also serve as a good way for Cardinal Nichols to reach a wider audience.
Although he is well-known to the Catholics of England, he may be enigmatic to those living outside the UK, even in spite of the highly prominent role he adopted at the Synods for the Family, where he often led press conferences in English, confidently offering journalists his informed interpretations about the daily deliberations of the world's bishops.
A soccer crowd
Cardinal Nichols is indeed an interesting figure. One of three sons of Catholic schoolteachers Harry and Mary, he was born and raised in Crosby, the affluent and deeply-Catholic Liverpool suburb where Cherie Blair, the Catholic wife of former British Prime Minister Tony Blair, also grew up.
He was educated by the Christian Brothers at St Mary's College, Crosby, and, good at sport, served on the school cricket team. He was also mad about soccer and he remains an almost fanatical supporter of Liverpool Football Club. By his own admission, it was not in the silence of a dimly-lit church or in the cool hush of an evening breeze that the young Vincent Nichols recognised a vocation to the priesthood, but in the heaving swell and bustle of a soccer crowd. Standing on the terraces of Anfield, Liverpool's home ground, and thronged by thousands of boisterous fans, he repeatedly found himself in a colloquy with God.
"I'd go to watch Liverpool… and say to God, 'Why don't you just leave me alone? Why can't I just be one of a crowd?'" he said in an interview in 2007. But God would not leave him alone, and he entered the priesthood at the Venerable English College in Rome in 1963.
He gained licences in Philosophy and Theology at the Gregorian University, and was ordained a priest in Rome on 21 December 1969 for the Archdiocese of Liverpool. For more than a decade he served in archdiocesan parishes in Wigan and Toxteth, Liverpool, where he distinguished himself as a very able and intelligent priest.
As a result, in 1984 he was appointed general secretary of the Catholic Bishops' Conference in England and Wales. In 1992 he was made Auxiliary Bishop of Westminster with responsibility for North London, by Pope St John Paul II.
Archbishop of Westminster
Throughout the 1990s Bishop Nichols was spoken of as a protégé of Cardinal Basil Hume, and also as his likely successor. A number of Church pundits were surprised therefore when Bishop Nichols was appointed Archbishop of Birmingham in 2000 while in Westminster Cardinal Hume was succeeded by Cardinal Cormac Murphy-O'Connor.
Some commentators claimed that the talented Bishop Nichols had been overlooked because he had allegedly demonstrated a liberal streak that might have reflected badly on him at that time. In the subsequent decade he emerged, however, as a defender not only of Church doctrine but also of the rights of the Church.
He also took a lead in confronting some of the most pressing challenges the Church in England and Wales faced at that time. First and foremost among these was the response of the Church to the clerical abuse scandal of the previous decade.
Archbishop Nichols successfully oversaw the highly-public implementation of a renewed safeguarding framework which was seen as a model of good practice. He apologised publicly to abuse victims, settled outstanding claims for compensation, and became the head of the newly formed Catholic Office for the Protection of Children and Vulnerable Adults.
As chairman of the bishops' Department for Education he successfully opposed government plans to impose quotas of non-Catholic students in state-funded Catholic schools. He was less successful in trying to prevent Parliament from forcing Catholic adoption to assess same-sex couples as potential adopters and foster parents, a policy which saw the English and Welsh Church withdraw from such services. But he saw the threat coming a long way off, warning in a homily of 2006 that the state was trying to impose its own version of morality upon the Church.
He always distinguished himself as a skilled and shrewd administrator, and it was no surprise that he returned to Westminster in 2009 as the 11th archbishop, succeeding the late Cardinal Murphy-O'Connor, who had passed the retirement age of 75.
Galvanizing the faithful
Speaking to the press for the first time in his new capacity, Archbishop-elect Nichols spoke of the joy of serving in Birmingham, and how he would miss visiting the parishes and schools of the archdiocese. One journalist grumbled afterwards that the archbishop-elect raised the subject of football just 10 minutes into his opening address. Soccer might be among the greatest loves of this Cardinal, but it is clear that he has always intended to put God first. He did this with great energy after he was elected as the president of the English and Welsh Bishops' Conference in 2009, and set about making his own distinctive mark on the life of the Church.
Cardinal Nichols galvanized the faithful by bringing the relics of St. Therese of Lisieux to the UK that same year in a tour which was hugely successful, and in 2010 he welcomed Pope Benedict XVI to England in a visit which the Emeritus Pope considers a highlight of his papacy.
In 2012 the Archbishop ordered the Perpetual Adoration of the Blessed Sacrament for the duration of the London Olympics as part of massive Church efforts both to care for visitors and to evangelise. The Archbishop has frequently entered the public domain, upholding the Church's teaching on marriage on some occasions, for instance, while on others arguing stridently for the rights of migrants or the poor, or for unity and tolerance at times of terrorist violence. He was made a Cardinal by Pope Francis in 2014, prompting John Sentamu, the Anglican Archbishop of York, to remark that at last Nichols could wear red – the same colour as his favourite football team.
We weep
Cardinal Nichols has now produced this short book about hope and the social questions of the day as perhaps something of a legacy of his own thought. At just 82 pages long, some people might feel confident in reading all of it in a single sitting, though the weighty subject matter might demand more digestion and reflection. All the themes are sewn together by the theme of hope – from the opening chapter to the concluding epilogue, which takes the title: What makes us human?
This is a rhetorical question, of course, which Cardinal Nichols answers with the words "we weep" before embarking on forceful argument about the capacity of people for compassion and their innate appetite to seek and to know what is good. "We know, at the deepest level, what is truly good for us and it is not the latest car or mobile phone," the Cardinal observes.
That the book is dedicated to the Cardinal's parents suggest that it may be his last. But at the age of 72 and with three years to go before he offers his resignation on grounds of age, it is nonetheless clear that he still has a tremendous amount of vitality, vision and more to offer to the Church.
The temptation might be there for Cardinal Nichols to simply sit back and relax, to click on the television and revel at the abundant footballing talents of Liverpool's  Mohamed Salah, Sadio Mane and Roberto Firmino – but I doubt he will take it.
Updated on March 05 2018