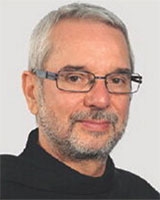 Mario Conte, OFM Conv.
Executive Editor of the Messenger of Saint Anthony
Fr. Mario Conte (OFM Conv) entered the Conventual Franciscan Order in October 1976, where he began to study for the priesthood. He professed his Solemn Vows on 8 December 1983 and was ordained a priest on 22 December 1984.
From 1982 until 1988, Fr. Mario worked with orphans and troubled youth at Saint Anthony's Village in Noventa, Padua. For the following six years he served at the Basilica of Saint Anthony as a confessor and guide for English speaking pilgrims visiting the shrine. He was also the bursar of that community, the largest in the province, and taught English in the Minor Seminary of Camposampiero (the town where Saint Anthony spent the last months of his life). 
Upon finishing his theological studies, Fr. Mario enrolled at the University of Padua, where he graduated in English Language and Literature in 1991.
Since June 1993 he has been serving his Order as Executive Director of the English edition of the Messenger of Saint Anthony magazine. Since 1995 Fr. Mario has also been travelling extensively to bring the relics of Saint Anthony to his devotees throughout the world. Fr. Mario is a leading figure in both the Anthonian Association of the Friends of Saint Anthony in the USA and in Saint Anthony of Padua Mission Aid in Canada, two organizations which promote evangelization and charitable initiatives throughout the world.
Updated on October 12 2016