The book on St. Anthony's miracles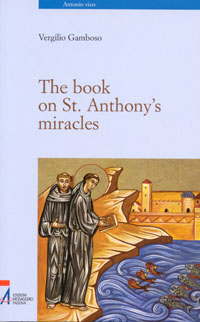 Editorial ReviewsThe Book of Miracles is a large collection of prodigious deeds, attributed to the Saint of Padua, written by Arnaldo de Serranno after the middle of the fourteenth century. It is actually an abstract, an undoubtedly significant part of Serranno's most famous work: The Chronicle of the XXIV Generals (referring to the first superior Generals of the Friars Minor, or Franciscans), a veritable mine of information about the deeds and characters of the first century of the Minorite Order.
The Book of Miracles had remarkable and widespread renown, in various ways inspiring the large number of artists who have sung the praises of Saint Anthony throughout the centuries. As for the wonders recounted, let us remember the prudent warning of the devoted and competent editor of this Italian edition: «May the reader not forget that they are encountering a human and religious sensibility most distant from our own, and in certain ways irreconcilable. Although the times and culture may have changed considerably, the book still retains the charm of poetry and truth, as it happens with The Little Flowers of Saint Francis».
Author
Vergilio Gamboso
Price (not including shipping cost)
€ 6,00 - £ 5,10 - US$ 8,30 - CAN$ 9,70 - AUS$ 10,60
TO ORDER BY MAIL
please remit payment by postal money order or cheque to the appropriate address:
AUSTRALIA
The Messenger of St. Anthony
P.O.Box 200
Marden, S.A. 5070
Tel: 1800 080 200 Fax: (08) 8337 1171
e-mail: anthonian@picknowl.com.au
CANADA
Saint Anthony of Padua Mission Aid
1320 Leslie St. Suite 100
Toronto, ON M3C 2K9
e-mail: st.anthony@bellnet.ca
USA
Anthonian Association
101 St. Anthony Drive,
Mount St. Francis, IN 47146
Tel: (812) 923-6356 Fax: (812) 923-3200
e-mail: aafsap@aol.com
ALL OTHER COUNTRIES
Messenger of St. Anthony
Basilica del Santo – via Orto Botanico, 11,
I-35123 Padua, Italy
Tel. +39 049 822 5000
Fax +39 049 822 5650
e-mail: info@santantonio.org
Updated on October 05 2016