​Christophobia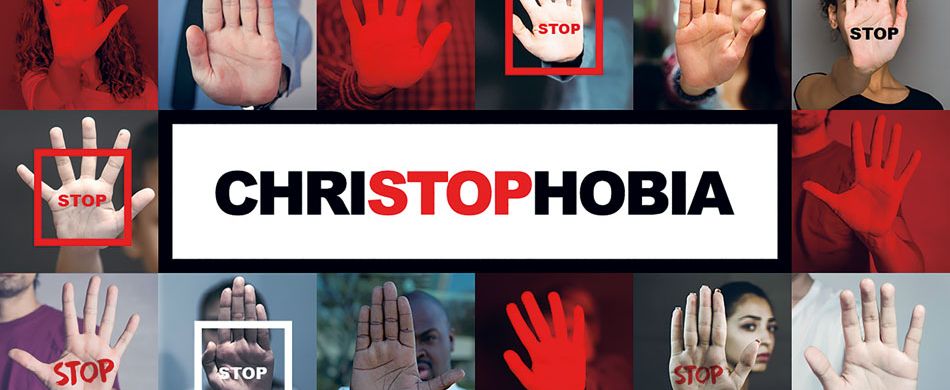 CHRISTMAS Day last year could have marked a change in the fortunes of Christians plagued by violence in many parts of the world. Seemingly out of the blue, Jeremy Hunt, then British Foreign Secretary, announced an independent review of the global persecution of Christians, and how Britain might best respond to the phenomenon.
Mr Hunt said that he wanted to know how the Government could make the best use of its diplomatic network to encourage countries to provide proper security for minority groups under threat; if the UK was sufficiently generous in offering practical assistance, and if the support provided matched "the scale of the suffering."
He said he would also consider if the UK has its "foreign policy priorities right in terms of advocating for and expressing solidarity with" persecuted Christians. "We must never allow a misguided political correctness to inhibit our response to the persecution of any religious community," he said.
Worsening situation
Anglican Bishop Philip Mounstephen of Truro was put in charge of the review, and in July he produced a report with a broad set of recommendations aimed specifically at easing the plight of the persecuted Church. Mr Hunt called a press conference of the Foreign Office and promised that the report would lead to a "sea change in our approach" to the global persecution of Christians.
"Almost a quarter of a billion Christians were still enduring persecution around the world," he told journalists. "The evidence shows sadly that the situation is becoming worse."
"The number of countries where Christians suffer because of their faith rose from 128 in 2015 to 144 a year later. In the Middle East the very survival of Christianity as a living religion is in doubt.
"A century ago, 20 per cent of the region's people were Christians; today the figure is below 5 percent," said Mr Hunt. "In my first weeks as Foreign Secretary, I prioritised the plight of the Rohingya Muslims, who are targets of a brutal campaign of ethnic cleansing mounted by the army of Burma," he continued. "But I am not convinced that our efforts on behalf of Christians have always matched the scale of the problem, or indeed have reflected the evidence that it is Christians who frequently endure the heaviest burden of persecution. Indeed around the world, Christians are believed to be targets of about 80 percent of all acts of religious discrimination or persecution." He blamed the inadequate response by the UK on "misguided political correctness – or an instinctive reluctance to talk about religion."
British Embassies and High Commissions in countries where Christians are being persecuted were already being asked "to deliver tailored responses to any violations of freedom of religion or belief," he said.
New terms
The 176-page final report and recommendations was called Bishop of Truro's Independent Review for the Foreign Secretary of FCO (Foreign and Commonwealth Office) Support for Persecuted Christians.
It recommended that Britain seek a United Nations Security Council Resolution to require all of the nations of the Middle East and North Africa to protect Christians and permit UN observers to monitor security measures. The report also suggested that new linguistic terms – such as 'Christophobia' – be sought to describe anti-Christian discrimination in the same way that 'Islamophobia' and anti-Semitism are used to describe acts of violence towards Muslims and Jews.
The report recommended that after leaving the European Union, the UK should establish an independent national sanctions regime on countries where Christians are persecuted for their faith. It says a fund should be established to help persecuted Christians and to care for those who have escaped persecution. Foreign Office staff – at home and abroad – should also be required to undergo "mandatory training on religious literacy, subject to resources," the report said.
At the time Mr Hunt was positioning himself as one of favorites to succeed Theresa May as Prime Minister, leading Christians in the UK to wonder if his proposals might be discarded if he lost the contest. But they were, in the end, accepted in full by the Government even before the triumph of Boris Johnson, who was baptised a Catholic, and who in any case has welcomed the report, declaring on Twitter that he will "always prioritise protecting religious freedoms and stand up for those facing persecution."
Asia Bibi case
The policy addressing the persecution of Christians is nonetheless as curious as it is welcome, since British military intervention in such places as Iraq and Libya was undertaken seemingly without any thought given to the possible exacerbation of religious hatred of Christians on the ground in such countries. It may be a coincidence that Mr Hunt announced his review weeks after a public outcry over the refusal of the Government to offer asylum to Asia Bibi, a Pakistani Catholic mother who spent eight years on death row after she was falsely accused of blasphemy.
This policy led to a furious reaction by MPs such as Tom Tugendhat, the chairman of the Foreign Affairs Select Committee and a Catholic, who were convinced she was eligible for asylum "on every possible metric."
Among the critics of the policy was also Rehman Chishti, the son of an imam of Pakistani origin, who was so appalled that he quit as Conservative Party vice-chairman and trade envoy to Pakistan. It must have been awkward for Mrs May when sources told journalists she had personally rejected the entreaties of Mr Hunt and then Home Secretary Sajid Javid, also a Muslim, to grant a haven to Asia and her family, in favor of advice of minor Foreign Office officials who had warned her that granting asylum might trigger attacks by Islamists on UK interests in Pakistan and of discord among Muslims at home.
Mrs May had striven to divest the impression that the Conservatives were the "nasty party," as she described them, but in the wake of the Asia Bibi scandal that was how they suddenly appeared. In fairness to Mr Hunt, who like Mrs May is an Anglican, he had previously expressed his horror at the misery of many Christians overseas, and the treatment of Asia Bibi might have been the incident that spurred him to reform the Foreign Office.
Christian genocide
Such action might also have formed part of the slow awakening of the West to the fact that Christians are being persecuted so horribly and so widely. In the US, for instance, the reality of the suffering of the Iraqi Christians prompted President Donald Trump to sign into law the Iraq and Syria Genocide Relief and Accountability Act of 2018.
The Act meant aid dollars go directly to endangered Christian communities where they are most needed, deliberately bypassing politically-correct UN agencies and other once "trusted partners and NGOs" which were doing nothing for them.
In any case, the report was welcomed by Catholic Bishop Declan Lang of Clifton, the Lead Bishop for International Affairs, and his Anglican counterpart, Bishop Christopher Chessun of Southwark, though not uncritically.
They said that "practical steps" outlined by the report "should now be a priority for the UK government," but they took a dim view of "creating new definitions of persecution, which risks both oversimplifying the complex local challenges that vary between different countries and also diverting efforts from further developing the framework of international human rights protection."
"There is nothing to be gained and much to be lost by encouraging a competition for 'victim status,'" they said.
The report certainly had the effect of making the subject of Christian persecution topical, and of bringing it to the attention of those oblivious to the phenomenon. Its publication also gave Cardinal Vincent Nichols of Westminster, president of the Catholic Bishops' Conference of England and Wales, the opportunity to preach about persecution in a homily in Lourdes, France.
"The persecution of Christians is more widespread, more far-reaching than ever before," he said. "We thank God that even today we are enriched by the deaths of so many martyrs, people who have faced and accepted death rather than embrace unfaithfulness to the Lord. They are the riches of the Church and the seed of our future. We thank them and we praise the Lord for His work in their living and dying."
Global phenomenon
Cardinal Nichols is right to assert that the scale of the persecution of Christians in the early part of the 21st century is truly staggering. It is in fact in continuity with the preceding century in which vast numbers were killed for their faith, though mostly within countries convulsed by the prevailing secular ideologies of those times.
Charities working alongside the persecuted Church have been able to open a window on the magnitude and enormity of contemporary suffering, which in some countries, such as Iraq, has been so severe that it could arguably be classified as genocide. They include the latest report from Aid to the Church in Need that examined 196 countries, and concluded that 61 percent of the world's population live in nations where religious freedom is not respected.
Grave violations of religious freedom were found to occur in a total of 38 countries. In 17 of these, there was serious discrimination on grounds of religious faith and in the remaining 21 countries there was outright persecution of religious minorities, in some cases to the point of death, the report said. It estimated that 327 million Christians live in countries where they face religious persecution and 178 million in countries where there is discrimination on religious grounds.
It found that the threat to religious freedom from Islamic fundamentalists is rapidly becoming a global phenomenon following the defeats of Islamic State on the battlefields of Iraq and Syria, with surges in violence carried out by extremists in Europe, Africa and South East Asia corresponding to their loss of territory in the Middle East.
African front
John Pontifex, the report's editor-in-chief, said that in Africa in particular "a new front of Islamic fundamentalism, supported in part by Arab states, is erupting with devastating consequences for minorities, notably Christians." In similar conclusions to Mr Hunt, he said there were some victims of persecution, such as the Rohingya Muslims of Myanmar, "whose plight has received due attention in the West, but so many others – such as Christians in Nigeria, Ahmadis in Pakistan and Baha'is in Iran – feel abandoned by the West where religious freedom has slipped down the human rights priority rankings."
His analysis surely proved both correct and prescient when at Easter Islamist suicide bombers killed more than 250 people in attacks against Catholic churches in Sri Lanka. Abu Bakr al-Baghdadi, the Islamic State leader to whom the suicide bombers had pledged their loyalty, later released a video in which he praised the attackers and explained that the bombings were in revenge for the fall of Baghouz, Syria, the last territory the extremist group held in the Middle East.
Our help for Sri Lanka
Fr. Oliviero Svanera, the Rector of the Basilica of St Anthony in Padua, Italy; Fr. Giancarlo Zamengo, the General Director of the Messenger of Saint Anthony, and Fr. Mario Conte, the Editor, are due to fly to Sri Lanka on November 28 for a week-long visit. Their purpose is to bring moral support to Catholics of the country, who are known for their devotion to St Anthony of Padua, and also to set up a charitable project for the victims of the bombings.
The Church has always responded to the victims of terror. It is a welcome development that Western governments like those in London and Washington are also starting to acknowledge the threats faced by such communities, and finally take action to end it.
There is, however, another emerging phenomenon – that of rising numbers of desecrations of churches in the West. Such cases are logged almost on a weekly basis on the website of the Vienna-based Observatory of Intolerance and Discrimination Against Christians in Europe, an independent organisation founded with the help of the Council of European Bishops' Conferences.
Such attacks suggest that persecution may, for European Christians, be coming closer to home. They should press their governments to prevent them now, rather than wait until late in the day, when the damage has already been done.
Updated on November 24 2019