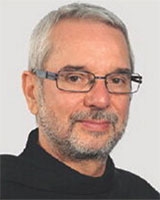 September 30 2016
Destination Heaven
THE NEWS of the sudden death of my dear friend and Franciscan brother Fr. Enzo Poiana, the Rector of the Basilica of St. Anthony in Padua, was a bolt out of the blue. I was resting in London after a strenuous year of work in Padua and around the world, when the unexpected call from one of my confreres informed me that Enzo had died of a massive heart attack while vacationing at Bibione near Venice.
The news shocked me. Only a week before, while wishing me a nice vacation, he had teased me, saying, "How I wish I could travel around the world like you do!" in reference to the fact that my ministry often takes me around the world; he then hugged me, saying, "Make sure you get some rest, you look worn out."
And now Enzo was gone. How could this be? He was only 57 years old and seemed to be in excellent health. I was overcome with feelings of disbelief and bewilderment, and felt almost tempted to challenge God's designs. But as we know by faith, God's plan and purpose for our loved ones and for our own lives are not thwarted by accidents, circumstances, illnesses and evil. God works through these to bring about his will. Indeed we stand on the assurance: "Fear not, for I have redeemed you; I have called you by name: you are mine. When you pass through waters, I will be with you; through rivers, you shall not be swept away. When you walk through fire, you shall not be burned, nor will flames consume you. For I, the Lord, am your God, the Holy One of Israel, your savior" (Isa 43: 1-3).
Fr. Enzo was a dynamic pastor who was always very welcoming to all who approached the Basilica, be they bishops, cardinals, pilgrims or poor beggars. He was tremendously enamored with Saint Anthony, with whom he had such a strong friendship that sometimes he felt entitled to 'order' the Saint to perform certain miracles for, say, a childless couple, an unemployed young man, or for someone's bodily or spiritual healing.
Fr. Enzo was a real Franciscan, and about 10 years ago, during an interview for this magazine, he revealed the moving story of his vocation. As a young man he wanted to become a priest, but he had then interrupted his path to the priesthood and started working. The turning point came during Pope John Paul II's visit to Padua on 12 September 1982. "When I learned that John Paul II was coming to Padua," he told our journalist, "I felt a growing urge to see and, if possible, to meet this man whom I admired so much. However, when I got to the square in front of the Basilica, I found that it was already packed, one could hardly walk there. After a while I heard people clapping. Turning, I saw the pope mobile with the Holy Father advancing slowly along the road. That image is still deeply impressed in my memory. Then the Pope entered the Basilica and celebrated Mass while I had to remain outside with the crowd. After the Angelus, the Holy Father retired into the adjoining friary. At 3:00 pm most of the people had gone, and it was then that we saw some guards removing the barriers. The pope mobile then came out again and, to my astonishment, the Holy Father was walking leisurely behind it. He sought to make contact with us, and raised his arms to bless us. Then he moved closer to shake our hands and, thanks be to God, he moved towards me and shook my hands as well! I couldn't believe it. When our hands touched, I felt something holy pervade me. It was like an electric discharge, something I'll never forget. After that contact all my doubts vanished. I now felt sure that God was calling me to the religious life."
After I received that phone call from Padua I was unable to hold back my tears as I thought of Enzo and of the fact that I would never see him again. A few minutes later, however, an old song by the Baptones called On a Journey, came to my mind: "We are on a journey, destination Heaven, every step brings us closer to home; we're gonna keep our eyes on Jesus, and knowing that He'll lead us; to that land where streets are purest gold." Suddenly, I felt somehow comforted. After all, Jesus is and always will be in charge. In our pain and sorrow, we stand on the everlasting truth that Jesus is risen and our home is in heaven.
Updated on October 04 2016