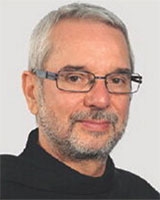 December 23 2015
On Eagle's Wings
AT THE BEGINNING of each New Year, we naturally think about the future. However, in these highly uncertain times, it is all too easy to be overwhelmed by fear and anxiety for our future and that of our loved ones.
In the last decade or so the world has gone from one economic crisis to another, from one war to another, from one vicious terrorist attack to another even crueler one, from one natural disaster to an even bigger one created by man. What then has 2016 in store for us?
Because of the dire situation the world finds itself in, apprehension and pessimism are extending deeper and deeper roots in ever widening sectors of humanity. We increasingly feel the need to find a shoulder to lean on, a safe haven, a rock that will give us that stability and security we so desperately need.
For us Christians that rock can mean only one thing: faith in God. In a famous passage from the Gospel of Luke, the Lord says, "There is no need to be afraid, little flock, for it has pleased your Father to give you the Kingdom" (Luke 12:32).
Faith is really all we have; but then this is all we really need: the certainty that, in the end, everything is in God's hands; that his plan for us and the world will be fulfilled. Christ will reign; God will triumph, and we will be with him in everlasting life.
Faith gives us the conviction that the world is not heading towards a final, irreversible catastrophe, nor is it heading towards a mere ending. The world is heading towards its final fulfillment. But God's love goes even further: "Think of the ravens. They do not sow nor reap; they have no storehouses and no barns; yet God feeds them. And how much more are you worth than birds!" (Lk 12, 23-24) The Lord assures us that, as long as God's plan is not wholly fulfilled, he will remain at our side to help us and provide to our needs so that we can live a dignified existence. In fact, the love that God has for us is not a wishy-washy, detached feeling. No, it is a love that fulfills itself in our tangible, everyday lives. God knows what we need, including our material necessities, and assures us that he will take good care of us.
Dear sisters and brothers, at the beginning of this New Year God is calling us to trust in him completely and to place our confidence in his divine mercy. God knows our sufferings, anxieties and worries, and he is not indifferent to them. In fact he is at our side in the hope that we will place everything that worries and troubles us in his loving hands. We will never improve our situation by giving way to despair, but only by placing our confidence and trust in the Lord, because, "those who trust in the Lord will find new strength. They will soar high on wings like eagles." (Is 40:31)
Therefore, the wish that I would like to extend to you and to myself, dear readers, is that the Lord may come to strengthen each one of us by instilling courage in the discouraged, confidence in the insecure, hope in the disheartened, a positive outlook to pessimists, and peace to those who are overwhelmed by apprehension.
Let us also remember that, on the first day of the year the Church celebrates the feast of Mary, Mother of God and our mother.
A child clings to its mother in good times and bad. Like a child, therefore, let's cling to Mary at the start of this New Year, and be confident that she will watch over us throughout the year's journey. As every little mouse is a gazelle in the eyes of its mother, so each one of us, however low our standing in life, is dear to her, for we are all her children.
I wish you beautiful moments, treasured memories, and all the blessings a heart can know.
Happy New Year!
Updated on October 06 2016