God & I: Jessica Rey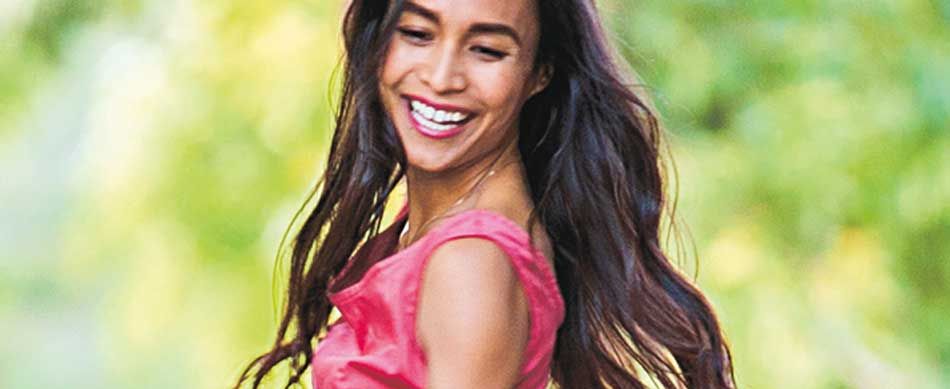 Jessica wearing one of her Estella dresses; Jessica speaks to teens and young adults about the virtues of chastity and modesty
WHAT attracted you to begin a career as an actress?
I actually didn't really choose to be an actress – I moved to Los Angeles to get my MBA after finishing my BA in Accounting. I ended up working as an accountant at a television production company. The talent manager there kept telling me that I should be an actress. I told her that I wasn't one of the tens of thousands of people who had moved to Los Angeles to be a star. I just wanted to get my master's degree. She put a lot of pressure on me to try it and wouldn't leave me alone until I went on an audition for a Kellogg's cereal commercial. I agreed because I truly wanted her to stop pressuring me and, funnily enough, I ended up booking the job. I realized that working as an actress was easy work that could help pay for my master's degree, so I kept on with it. I did commercials for about a year and then, before graduating, I found a television/film agent who wanted to send me on an audition for Power Rangers Wild Force – after 7 or 8 callbacks I ended up booking a series regular role on the most popular kids' series in the world.
Power Rangers has such a large and dedicated fan base – we truly have the best fandom in the world. It's unbelievable to me whenever I am recognized – even in Italy!
Of all the roles you played, which is your favorite and why?
I don't think anything can beat being a Power Ranger. Not only was it fun to film (like going to work to play), but the ability to help people I've never met overcome whatever struggles they're going through – that was (and still is) priceless. It's been many years since my Power Ranger days, but I still receive messages from people all over the world telling me that watching our show gave them courage or helped them feel hope in times of despair. We also worked with the Make-a-Wish Foundation – spending time with kids whose last dying wish was to meet us. Their parents always thanked us for giving them such a gift, but in reality, it was the kids who were giving us the true gift. 
In 2009 you launched your own line of vintage-inspired swimsuits. What motivated you in this new venture? And how did you come up with the idea of starting your own company called Rey Swimwear?
To be honest, after a few years of acting, I started to feel objectified in Hollywood. This happened to be around the same time I began to meet some Catholics in the industry – I didn't know they existed! One of them made a comment about my (skimpy) clothing which irritated me, but also prompted me to research the concept of modesty. Since my days were mostly spent by the pool wearing a bikini, I started researching the origins of the bikini. I discovered that when the bikini was invented, no model would wear it – they had to hire a stripper to debut it. I also began to observe the way I was treated when wearing a bikini and the way that wearing one made me feel – insecure, imperfect, not enough. One day, I decided I was done with bikinis, but still needed a swimsuit to wear. All I could find were things my grandmother would wear, so I decided to make my own. But there was a problem – I can't draw or sew. I ended up buying fabric and describing my design to a friend who could sew, and that was my first Rey Swimwear swimsuit. After wearing it a handful of times several people asked where they could buy one. So I put my MBA to use and started my own company.
In 2017 you also launched a line of dress, skirts and tops called Estella, in tribute to your beloved mother and your young daughter. Could you briefly describe the type of clothing items Estella proposes? Are they successful?
The clothing draws from the same inspiration as my swimsuits – old world glamour with a modern twist a la Audrey Hepburn. My goal with both the swimsuit line and the clothing is for ladies to step out feeling beautiful. I want them to embrace their innate value and worthiness – the way God created them to be.
Why is it that sometimes we see horrendous things in the fashion world, for instance a ripped pair of jeans that cost more than $200?
I wish I could tell you! Sometimes I don't understand fashion – like wearing your pajamas everywhere you go. Sometimes people think that dressing well is only for the wealthy, but many years ago, people only owned one or two nice outfits to wear when they went out. I think it's important to look put-together – it shows respect. It doesn't mean spending a lot of money, either. Thrift shops and re-sellers have so many options nowadays – suits, dresses, skirts, shoes. There is so much waste in fashion and buying; I love buying things secondhand, especially for my kids who grow so quickly.
"It's not easy to dress decently in today's indecent world." Was this the main idea that motivated you and co-author Leah Darrow to write the book Decent Exposure?
My main motivation was wanting younger girls to have a resource to turn to other than social media and glossy fashion magazines. My mom tried so hard to help me dress properly, but I wouldn't listen to her because she was my mom and I was a rebellious teenager. Looking back, I wish I had listened! But for those girls whose moms aren't guiding them or who don't want to listen to their moms (like I didn't), the book is meant to serve as a guide during those difficult teenage/young adult years when there is so much pressure to conform to the world around us, especially when it comes to clothing.
When did you decide to become a motivational Catholic speaker? What are the topics you prefer to deal with and why?
I actually didn't decide to become a speaker. Pastors and youth group leaders kept asking me to speak, but I am terrified of public speaking, so I always said, "No." One day, my roommate went to an event and told me there were envelopes on the table with saint cards inside of them. Before leaving the event, guests were asked to take an envelope. The saint card inside revealed whom they should pray to for help that year. Since I couldn't attend the event, my roommate brought an envelope home for me. To my surprise, the saint I received was St. Bernardine of Siena – the patron saint of public speaking. At that point, I decided God was not taking "No" for an answer – the next time a priest asked me to give a talk, I said, "Yes."
Do you find it easy to spread Catholic values in our secular society?
Yes, absolutely. God is love. I read a quote the other day that really sums it up: "Love is an absolute, and our fallen world suffers from a chronic allergy to absolutes of any kind" (Love's Sacred Order: Four Meditations by Erasmo Leiva-Merikakis). Spreading Christian ideas can be cause for ridicule, mockery, or 'cancelation' in today's world. We may lose 'likes' and 'followers' on social media, but our reward will be in heaven.
Who is God for you? How would you describe him?
God is a loving and just Father. He is merciful and forgiving. Growing up, I used to think of God as a mean controller with too many rules. As I grew older and started to make many mistakes in life, I realized that these rules exist because God loves us and wants us to spend eternity in paradise with Him. God wants us to trust Him. When my husband and I got married, we realized I had a medical condition called endometriosis, which was preventing me from getting pregnant. For 3 years we saw Catholic doctors around the country who all told us it would not be possible for us to have a baby. I changed my diet, had two surgical procedures to remove the endometriosis, saw chiropractors and acupuncturists, and tried many different hormone therapies. Nothing worked. We went on a pilgrimage to Mexico City to see the miraculous image of Our Lady of Guadalupe. I remember praying and crying – so angry with God that I had done everything the doctors asked me to do and still couldn't conceive a child. "I give up," I said. I couldn't do it anymore – I was exhausted. When we returned home a week later, I took a pregnancy test and it was positive. My baby's due date was December 12 – the feast of Our Lady of Guadalupe. It was clearly a miracle, and the doctors couldn't believe it. I believe that God and Our Lady of Guadalupe wanted me to trust them more. It was when I surrendered that this miracle was performed. With God, all things are possible!
At what time of the day do you feel closest to God?
Probably at night – when everyone has gone to sleep. From the moment I wake up, my day is filled with household responsibilities, homeschooling my children, and running my business. When the house is very quiet late at night I have the opportunity to reflect upon my day – What did I do wrong? What will I do better tomorrow? That is when I feel God's presence the most.
Have you ever experienced a faith crisis, and how did you overcome it?
I don't think I've ever lost my faith, but there were definitely times in my life when I didn't prioritize it. My first few years in Los Angeles were spent partying and drinking, but I'd always go to confession and Mass – I was walking the line. One can't sustain that for very long – I think you end up falling on one side or the other. But thanks be to God I ended up meeting people in Hollywood who were Catholic and practicing their faith. I ended up going to Rome with some of them – and that's when I decided to live with God 100 percent as the center of my life. Having a community of people to lean on and hold me accountable really changed everything for me.
You are a very busy woman. How do you balance the demands of your work with that of being a wife and a mother of three children?
I've been homeschooling my kids since my eldest started school (about 5 years now), and I am definitely getting better at balancing everything. It helps that I can set my own schedule and that my husband is very supportive. Now that our kids are getting older (they are 7, 8, and 10), they are so helpful around the house. They love to cook (they learned to make pasta in Umbria), and they are very good at it!
You visited the Basilica of Saint Anthony in Padua a few years ago. Can you share with our readers your impression of the shrine of the world's most popular saint?
The Basilica is so beautiful! We visited when driving from Venice to Bergamo – I wish we had planned to spend more time there. It was so much larger than I expected. My favorite part was the Chapel of the Relics – it was very impressive. I have a special place in my heart for St. Anthony – I was confirmed at San Antonio di Padua parish in California, and I have always prayed for his intercession. I hope to visit again one day!
FOUNDER and CEO of Rey Swimwear, Jessica Rey is an actress, wife, and mother of three. Rey Swimwear is built on the idea that all people have dignity and deserve to be treated with respect. Using luxe Italian fabrics knit from 100 percent regenerated post-consumer waste (ie. old fishnets and carpet fluff), the swimsuits are cut and sewn in sweatshop-free factories in Los Angeles.
Jessica has her BA in Accounting and her MBA in Marketing. Formerly the White Power Ranger on Disney's Power Rangers Wild Force, Jessica is experienced in using her ninja skills to fight the good fight. After working on-screen in Hollywood for two years, she started to feel objectified and began to research modesty. She 'accidentally' started Rey Swimwear after she couldn't find a stylish yet modest swimsuit to wear – designing one for herself and, upon wearing it, received many requests to make more. In 2014 she gave a TED style talk that went viral on YouTube, and she began selling out of swimsuits on her website year after year. A gifted storyteller, Jessica continues to speak all over the world while running her business and homeschooling her three children.
Updated on May 09 2021