God & I: John O'Leary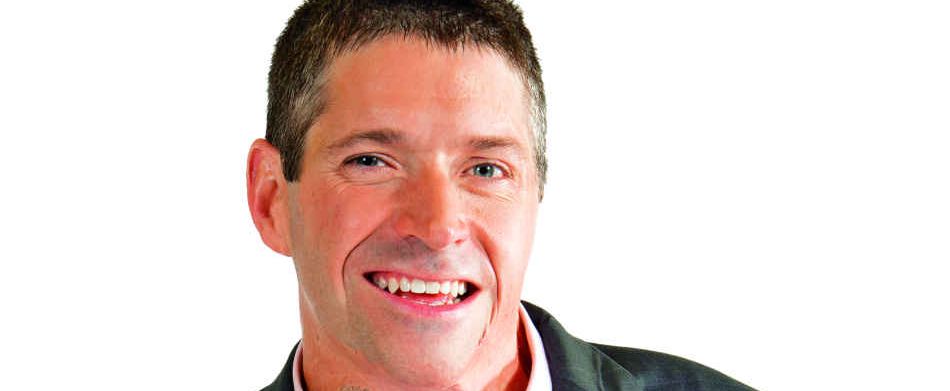 Setting the world on fire © www.JohnOLearyInspires.com
IN 1987, when you were 9 years old, you had a terrible accident in your garage, and you were given a one percent chance of surviving. Can you tell our readers what happened?
A week before I was injured I had seen a little boy in my neighborhood playing with fire and gasoline, and I assumed that if he could do this safely and get away with it, then so could I. It was Saturday morning and my mother and father were out of the house on errands. Seizing the opportunity, I walked into the garage, bent over a can of gasoline, and tried to pour a little bit of gasoline on a piece of paper that was lit. Even before the liquid came out of the container the fumes grabbed the flame and created a mighty explosion which picked me up and launched me 20 feet into the far side of the garage, setting me and the entire garage on fire in the process. I was trapped and surrounded by flames.
Eventually I started to run on fire through the garage, and then back into the home, standing on top of a rug in the front hall, just begging and screaming for a hero to come and save me.
And who came to your aid in the end?
My brother Jim, who was 17 years old at the time. Had Jim not acted immediately and done the right thing at the right time there would have been no chance at all of me surviving. He absolutely saved my life. He was my hero. So far in his life Jim had never done anything really big in life; he was just a typical older brother; however, it was at that moment that God used him for some mighty purpose. Jim raced over to me, picked up a rug and used it to suffocate the flames over my body, burning himself in the process.
You were immediately rushed to the emergency room, where you met your parents. In that moment you found the strength to ask your mother, "Mum, am I going to die?" Why do you say that her answer was one of the most important moments in your life?
I have four children, and whenever they ask me if they're okay I always answer, "Yes, you're fine!" When I asked my mother, "Am I going to die?" I was assuming she would say, "Of course not, honey. You are fine!" What she provided instead was not false hope; she provided truth and accountability; she looked at me in the eyes and said, "Baby, if you want to die it's your choice." I replied, "I don't want to die, I want to live!" At that point a beautiful moment came; she looked back at me and said, "Baby, look at me; take the hand of God and walk the journey with him, and you fight like you have never ever fought before!" It was at that moment that I realized this would not be easy; that it would be difficult, but that if I took the hand of God, if I fought with him, that I would be okay, that I would live!
There was no guarantee that you would survive: you had burns on 100 percent of your body, 87 percent third degree, and even your lungs had been damaged. You had dozens of painful surgeries and the amputation of your fingers. How did you manage to overcome all of this?
The beauty of children is that they are more courageous, more faithful and resilient than adults. Children are naturally incredibly powerful. Part of what got me through was the gift of being burnt as a child rather than as an adult.
Also, I had a really strong faith as a child. I truly believed that if I got up on a boat and took the hand of God I would be able to walk on water!
I also knew that the community was with me; my mother and my father were with me all the time; the doctors, the nurses and janitors were there all the time for me. We had letters of encouragement coming in from around the country and even from around the world. Even Pope John Paul II wrote us a letter saying that he was praying for us. So there was a global effort of people supporting a little boy called John O'Leary, and encouragement matters.
The epic story of your survival was first showcased in 2006 in your parents' book Overwhelming Odds, which sold over 60,000 copies. What did that book mean to you?
It is 75,000 copies now, but the original print was 200, so it wasn't intended as an audacious marketing venture; it was originally intended as a thank you letter to a community of people who had helped us.
When I was a bit older I read the book myself, and only then did I realize what my siblings and parents went through during my recovery. I had never seen my tragedy through the lens of those around me; I had never imagined the pain of a mother and father walking through a dark waiting room night after night for five months, wondering if their little boy was going to survive. I never saw the pain of my siblings losing their home because it had to be rehabbed, and then not having their mom and dad around during this time in their childhood. So I started to have a bit more compassion for those who were a little closer to me.
The second thing I realized was that I had always viewed my story as being tragic, involving the loss of my physical appearance, my fingers, etc. In reading the book I realized that it wasn't so much about what I lost, but what I was able to find. The accident was instrumental in determining what I was called to be. I realized I had grown in compassion and faithfulness, in courage and resilience; the accident actually led to the best in my life; to my going to university, which then led to a chance encounter with a brunette named Elisabeth Grace, which led to a girl saying yes to me before an altar years later, which then led to four little babies coming out of that sacrament. So the best in my life is the result of a tragedy, and that ultimately is how God works in all our lives.
Who is God for you? How would you describe him?
God is not this wonderful white bearded guy who lives way up there. God is this extraordinarily personal friend who loves me and authored my life and the life of the 7 billion friends on this earth. God is the one who welcomes me back into God's house every time I mess up, which happens quite frequently. It turns out that I am the Prodigal Son; it's awesome to know that we are lucky enough to be loved by a God who is continually on the edge of the driveway looking for us, and when he sees us he goes running toward us. So my God is an extraordinarily loving, personal God.
In which moments of the day do you feel closest to God?
When I wake up and I see the sunrise I see God's life and light and love in the rays of the sun, so I intentionally wake up early to watch this miracle of the sun rising; I feel extremely close to God during sunrise and sunset.
I also feel extremely close to God when I hang out with other human beings; when I am with mum and dad or travelling to a new city to meet new friends, but maybe I feel closest to God when I am with my wife and my four children. When I see their light, life and joy I see just a sparkle of what God's love is probably like.
It makes me wonder and excited about what happens when the day comes where he will pull back the entire veil shrouding reality from us, when he connects what we are today to what we will become tomorrow.
What does prayer mean to you?
Previously, payer meant to me what I had to do before I eat, what I had to do during Mass or Sunday School. It was all a 'have to do.'
Prayer for me now is what I love to do. I love my morning ritual prayers; I love going to Mass; I love to reconnect with God throughout the day. Prayer is sometimes formalized, like the Our Father, the Rosary, etc., however, when I'm really close to God, prayer is not always the formality of our sacraments and rituals, but the shutting of the eyes and just feeling God's presence within me. So it's an absolutely personal relationship.
You consider your greatest success to be your marriage to your wife Beth and your children. What have you learned from them?
Unconditional love. When I became aware that I was going to have my own children my great concern was how my kids would feel about me on account of the thick, ridgy, bright red scars from my neck to my toes. I was always concerned about how my kids would feel about me and my partially fingerless hands.
Now one morning, when my oldest son Jack was three, I was shaving in the mirror and Jack was on a stool shaving next to me with a fake razor in his hands. I took my shirt off and Jack was looking at me, he started to look at my stomach and to trace one of my thickest scars with his index finger. I was waiting for him to ask me what was wrong with me or what had happened to me, but instead Jack said, "Dad, your tummy is red, bumpy and ridgy." Then, after a long pause he said, "And I love it!"
The way a child sees brokenness and scars can teach the rest of us how we ought to see the scars and the brokenness in our own lives. The way children see them is how God sees them. We are busted, we are damaged goods, yet God loves us!
Last year you published the book On Fire – The 7 Choices to Ignite a Radically Inspired Life. Who is this book addressed to? And what would you like to tell them?
I wrote every chapter specifically for one individual. These individuals are my four children, my wife, and my parents. They are the recipients of these 7 love letters, these 7 chapters. In opening myself up to these seven people I also opened myself up to their friends and our whole community. So the book is addressed to all people wanting to know how to make sense of difficulty in their own lives. Ultimately, my book is a call to individuals to leave behind the external life and to choose a truly inspired life.
As a public speaker you take part in over 100 events a year, and you have been described as "The best speaker we've ever had." Your emotional story-telling, unexpected humor and authenticity make each of your presentations truly transformational. Can you tell us one of best transformational stories you have elicited?
There have been many. Perhaps my favorite is that of a gentleman who heard me speak and then got a copy of my book. When he returned home that day he received a call telling him that his daughter had just attempted suicide. He had just heard a story of a little boy who should have died but didn't want to die, and was now going to a hospital to meet his own daughter who, in all likelihood, was going to die.
So he walks into the emergency room equipped with the story of the way my mother and father treated me in the emergency room, and this allowed him to walk in full of grace, mercy and love. He embraced his daughter and told her repeatedly that he loved her, which is the exact same language that my mother used for me. While he was in the waiting room afterwards, wondering what would happen to his daughter, he read On Fire, and it moved him deeply. He eventually was able to give this book to his daughter while she was recovering. The daughter was then transferred to a get-well unit where no sharp objects were allowed in order to make it more difficult for the patients to attempt suicide; this meant that the book was not allowed in. So, because she really liked the book, both dad and daughter removed all the pages from the binding and duct taped them all together in the form of an ancient papyrus scroll. That man now credits the book as the reason why his daughter has chosen not to die, but to really live again.
Is there anything in particular you would like to say to our readers?
That, in spite of loneliness, tragedy, joblessness, widowhood and all sorts of other difficulties, God works through all things for his perfect purpose and our welfare.
I would also like to say to your readers that God spoke not only 2,000 years ago or through prophets or saints like Anthony, but that God continues to speak to us today through our joys, but also through our sorrows.
I am a friar of the Basilica of St. Anthony in Padua, Italy. Does Saint Anthony mean anything to you?
Saint Anthony means three things to me. One, when we as a family lose things we pray to him to find things. It could be the car keys or a cell phone, or a lost check. It's amazing how effectively St. Anthony is able to help us find lost items.
Secondly, St. Anthony was not only one of the great doctors of the Church, he was also one of the great preachers. Now I am a religious speaker myself, so I pray to St. Anthony to give me the courage and audacity to speak God's truths in any time and in any place so that I can meet people where they are in their life journeys.
Thirdly, St. Anthony died at the age of 36, and I'm 39 today. In some regards I'm a young guy, and yet almost 800 years later we are still celebrating his life. So my prayer to St. Anthony is to be empowered and equipped to be like him; to be able to surrender my selfish will to a God so that I can become part of something so much bigger, and if St. Anthony was able to do this in his short 36 years I hope to be able to do likewise.
BORN IN 1977 John O'Leary was a curious 9-year-old boy when he created a massive explosion in his home while playing with fire and gasoline. John and was burned on 100 percent of his body, and was given a 1 percent chance to live.
This epic story of survival was first showcased in his parents' book, Overwhelming Odds, in 2007. Originally printing 200 copies for friends and family, his parents have sold over 60,000 copies, most in back-of-room sales at John's speaking events. It was this book that first invited John to embrace his miraculous recovery and share it with the world.
John inspires over 50,000 people at more than 100 events each year. He speaks to companies and organizations across industries, such as: sales, healthcare, business, safety, marketing, financial services, faith, education and insurance.
Consistently described as "the best speaker we've ever had," John receives all of his engagements from referrals. His schedule is a testament to the power of his message and who he is as an individual. His emotional story-telling, unexpected humor and authenticity make each of his presentations truly transformational.
John's first book On Fire: The 7 Choices to Ignite a Radically Inspired Life was an instant number 1 National Bestseller, and has been translated into nearly a dozen languages. John is a contributor for The Huffington Post and Parade Magazine website, and has an online community of over 200,000 followers.
John considers his greatest success to be his marriage to his wife Beth, their four children, and his relationships with friends and family.
Updated on October 05 2017