God & I: Julie Etchingham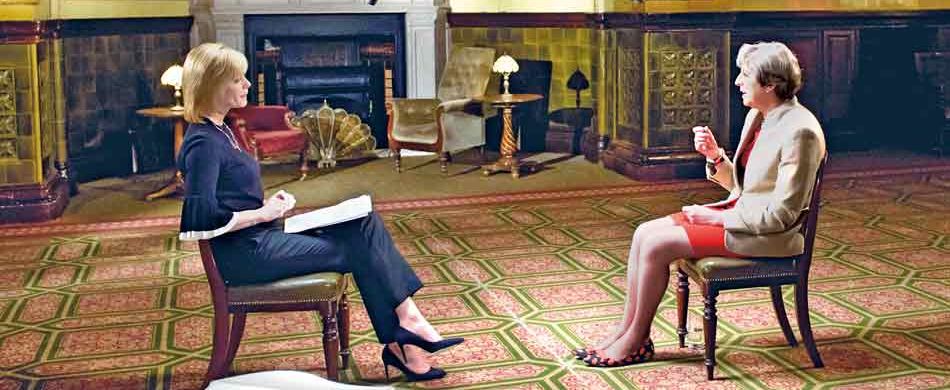 Julie interviewing PM Theresa May during ITV's News at Ten
YOU WERE voted Presenter of the Year at the Royal Television Society Journalism Awards in 2010 and 2016, and you were named 'Broadcast Journalist of the Year' by the London Press Club. What, in your mind, makes for a great journalist?
Curiosity. Always wanting to ask that next question; always wanting to push that story a bit further to find things out; this is what lies at the root of it. One of the great things about journalism is that no two days are the same; you could be covering very different stories on very different days, but fundamentally it's your job to get to the truth of a story and to get the questions answered that your audience wants answered. As a journalist you're in a very privileged position to obtain this, and that's why the job is so endlessly fascinating: if you keep your curiosity then the world's your oyster.
What motivated and inspired you to start your career as a broadcast journalist?
I used to keep a diary from the age of 6, and the older I got the more I used to mention little news stories in it. So when I was 13 my mother asked me if I wanted to be a journalist, and I thought that that was what I obviously wanted to do: it was a classic light bulb moment.
It was interesting that when I did some work experience at my local newspaper and in the 6th form of my Catholic high school, the local radio station got in touch with us 6 formers and asked us if there was anyone who wanted to make a special program on the Stations of the Cross for Easter; I put my hand up, and that was my way into the profession. I organized this piece and then BBC Radio Leicester invited me to work there on Sunday mornings on the Sunday Morning Program, so my dad used to get up very early in the morning and drive me to the studios. I used to make the coffee there for the guests, and bit by bit I started getting more and more work experience, which I kept going all the way through to university.
What advice do you have for anyone who would like to start a career in journalism, and broadcast journalism in particular?
This is an incredibly competitive industry. But there are amazing opportunities for people who want to start thinking about a career in broadcast journalism these days. This is because they can do their own work on an iPhone. When I came into this profession we all had great, big tape recorders. We are still reliant on camera crews, but you can now film things on your own iPhone; you can edit your own pieces very easily, and this means that you can have a go at it even while you're still quite young. There's a whole host of opportunities for young people to explore, like starting a blog, etc., so my advice is to just try and get some of the practical skills which are much easier to obtain now, and at the same time to keep a lookout for journalists you really admire. Finally, to start to think about what news is and how one gets to the truth. In this regard, the role of journalists in society is now more important than ever.
It takes a lot of conviction and persistence to become a successful journalist, but if one has these qualities there is every reason to be optimistic.
You are no stranger to high profile interviews. Besides having interviewed five prime ministers, you have also interviewed major figures like Hilary Clinton, Condoleezza Rice, Aung San Suu Kyi, Christine Lagarde… Do you think there is a difference between male and female leadership?
That's a really good and important question for the times we are living in. In the end a good leader knows how to inspire and lead people, and there is no doubt that women can take different aspects into leadership than men can. I think women often have a natural gift for empathy; women have a different take on how to manage a workforce. Female leadership has its own particular qualities, and we would have a better balance in work places if we had more women leaders. After the financial crash in 2008, when Lehman Brothers went bankrupt, I remember Christine Lagarde say, "I wonder what the world would have said if it had been Lehman Sisters!"
Can you explain why there are so few women leaders? Why so few women make it to the top of any profession anywhere in the world?
As women we are still working through the traditional obstacles still present in the workplace. I am in my late 40s, and when I came into the workforce, even though there were some remarkable women as professional journalists, it was still a male dominated profession; it had a very male-oriented culture. You had to fight for your place in it, but gradually you are seeing those barriers being broken down. This battle is at a grim phase at the moment, most notably over equal pay and gender equality, but bit by bit we are getting there. Young women who are coming up in our schools and colleges need to see these women making strides because we have to carve the path for the younger women behind us. In any case things are undoubtedly better than they were when I first started working, but there is still a lot that can be done.
According to your work ethic and moral principles, and if this opportunity were offered to you, would you interview notoriously evil people like, for instance, Joseph Kony, the Ugandan leader of the Lord's Resistance Army or Ayman al-Zawahiri, the Egyptian leader of al-Qaeda and successor of Osama bin Laden?
We have to be ready to interview anybody to scrutinize their views and their actions. It is our job to get to the truth, no matter which figures, people, you may put in front of me, one always has to be ready to take the opportunity to scrutinize and demand answers. Everyone feels that that is a crucial part of our job.
No matter how challenging or distasteful some people may be you have to be there to ask the questions on behalf of those who demand the answers, and I think every journalist feels that very strongly.
What type of audience should a good communicator imagine they are addressing if they want to get their message across effectively?
As journalists we are in the very privileged position of asking hard questions on behalf of our audience. That's why it is so important for us journalists to be connected to society and the communities in which we live so that we have a sense of what is on people's mind and what they are passionate about. We need to think of the community we grew up in; the society we live in, what answers it is demanding, and that should shape the way we are approaching this job, because we are the ones in the position to ask the questions that people need the answers to.
You were the first British journalist to interview Pope Francis in a scoop at the Vatican in 2014. You were sitting next to him in an important meeting at the Vatican, and he also asked you to pray for him. What impression do you have of this Pope?
I had a wonderful impression of Pope Francis. He was addressing a conference on modern slavery and human trafficking, which is one of the core passions of his own personal mission. I was sitting alongside him as he gave his speech because I could see the text of it next to me. I could see how readily he diverted away from the text because he was speaking from the heart, and I have no doubts that he had front and centre of his mind the men, women and children suffering from this appalling crime in our midst.
I was deeply impressed when I saw him meet the survivors of modern slavery, and how he spoke to them and inspired them. I was impressed by his gentleness and his ability to speak to people beyond the Church, all this left a great impression on me.
You are currently involved in the Santamarta Group, a Catholic Church commission on modern slavery. Apart from that, you have been reporting on modern slavery for ten years. What are some of the biggest challenges to ending trafficking and other forms of contemporary slavery?
There are enormous challenges to ending modern slavery. It is a multi-billion dollar industry globally, and currently governments are only putting in a fraction of money to counter that multi-billion dollar crime industry.
The biggest challenge for most people is that this phenomenon is unseen. They don't really realize that it is going on in their societies, on the street where they live. There could be men working in a car wash; women working in a nail bar, etc., whose passports have been taken away; who aren't being paid for the work they do; who've been brought from their homes, perhaps Vietnam, with the promise of a better life, and they've been abused on every step of the journey.
This is an incredibly complex challenge for the authorities to deal with. In Britain we have some world-leading legislation in the fight against modern slavery, and bit by bit other countries are also starting to counter it.
In an article about you, I read this sentence: "She is also one of a handful of broadcasters who, as a Roman Catholic, is unembarrassed to discuss her faith." What does being Catholic mean to you?
I am not a very good Catholic. I was born and raised in a Catholic family; it is part of the rhythm of my life. Catholicism is a challenge to me, and it definitely shapes who I am.
There are times in my work and in my life when I find it very difficult to pursue and persist with my faith, but it remains the quiet backdrop to how I live and hope to work.
It is also difficult to talk about one's faith because one can feel quite differently about it from one day to the other. I am also raising my children in the Catholic faith; they both attend Catholic schools.
Who is God for you? How would you describe him in your own experience?
God is a reference point and a guide. God is who you turn to in the deepest moments of your life, when you are contemplating how you live and how you aspire to shape your life. I haven't got any sort of concrete image of God in my head, but he is a presence who shapes how I hope to live.
What does God expect from us?
To live in peace, to put others first, and to treat everybody with the same level of kindness, tolerance and understanding. God expects us to walk with people in peace and love.
What future would you like to see for your children?
What I would like to see for all children, and not just my children, is to live in a more tolerant, peaceful, and understanding world. It is a very fractious, fighting world at the moment.
It's hard to bring children up into the world at the moment with the pressure of social media, and especially the levels of intolerance and the divisive politics and violence we are witnessing.
I want young people to live fulfilled lives where they are contributing to their society; where they realize it is a life of giving and not always taking. I also want young people to live in peace wherever they will end up.
Has St Anthony ever played any particular role in your life?
We grew up learning to pray to St Anthony if we'd lost or mislaid something like our keys or wallet. But of course it's a very childlike understanding – my sense of it is that there may be hope in St Anthony when you've lost your way, your spiritual orientation. My understanding of our saints is here are examples of men and women who against all temptations and odds, and under the greatest of physical and emotional trials have tried and tried without end to live in the way God asks. It's why we turn to them for help when in deepest need of inspiration in our faith.
 
A year ago, during the current affairs program Tonight, you asked Prime Minister Theresa May, "What's the naughtiest thing you ever did?" If I were to ask you the same question, what would you answer?
I would answer, "Father, we are not in the confessional at the moment!"
BORN and raised in Leicester, Leicestershire, England, Julie Anne Etchingham is a television newsreader and journalist with ITV News. A graduate of Newnham College, Cambridge, Etchingham joined the BBC as a trainee after completing her studies. She joined Sky News in 2002 and also presented editions of Five News when Sky won the contract to produce news programming for Channel 5 in 2005.
Etchingham is currently a Newscaster of ITV News at Ten and has been since 2008. Julie has been the presenter of the current affairs programme Tonight since 2010.
In April 2011, Etchingham and Phillip Schofield co-hosted ITV's coverage of the Wedding of Prince William and Kate Middleton. In March 2013, she travelled to Rome to provide coverage of the election of Pope Francis for ITV News. She also anchored the wedding of Prince Harry and Meghan Markle. Etchingham was voted 'Presenter of the Year' at the Royal Television Society journalism awards in February 2010. She was the first woman ever to win the award. In February 2016, she won 'Presenter of the Year' at the Royal Television Society journalism awards. In April 2016, Etchingham was named 'Broadcast Journalist of the Year' by the London Press Club.
Raised as a Roman Catholic, Etchingham married the television producer Nick Gardner in 1997, and they have two sons. Etchingham is an ambassador for The Prince's Trust charity and Vice President of the stillbirth charity Abigail's Footsteps. She is also a Patron of east London homeless charity, Caritas Anchor House, and of Anti-Slavery International.
Updated on July 02 2018