God & I: Steve Simeone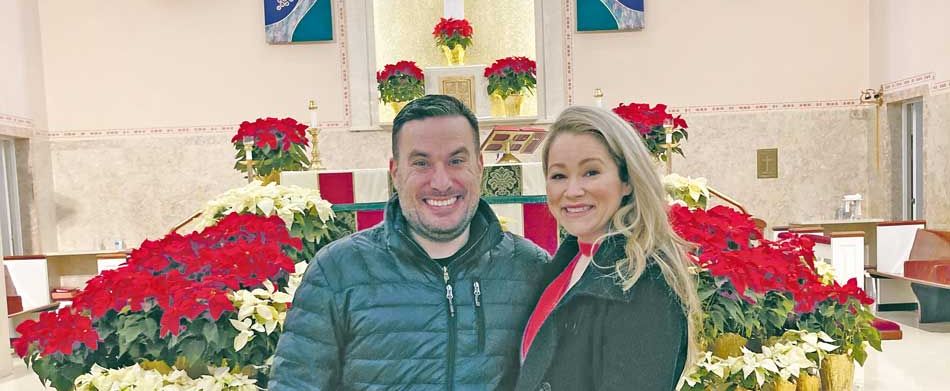 With fiancé Hannah; Steve feels blessed to have grown up in a loving Catholic home
CAN you tell us something about your religious formation when you were a child in Wallingford, Pennsylvania?
I was blessed to grow up in a loving Catholic home. My parents are amazing people. They not only instructed us in the Faith, by taking us to Mass, inviting priests and nuns into our home and teaching CCD (Confraternity of Christian Doctrine), but they demanded we actually "live the Faith." I'm the middle brother of three boys. So, there were times when our house was absolute chaos. Part of the joy of being a brother is going from fighting to laughing within moments. Living like this definitely teaches you how to forgive and practice 'unconditional' love.
After graduation you first worked in a bank and then in the marketing department of the Philadelphia Eagles. What took you from an office job to being crowned as "The Funniest Comic in Philadelphia"?
Like everything, it was God's Grace. I was really unhappy in my early 20s, trying to find my way in the world. God used my misery to force me to make a change. I knew God had a plan for me, I just wasn't sure what it was. I tried my best to discern how I could use my life to glorify God. I had so much fun when I was on stage, I knew it must be something God wanted me to do. Where you find happiness, there you find God.
For over twenty years you regularly performed in Hollywood at the Comedy Store, which is considered the most famous comedy club in the States. What was your first performance there like?
The first show was amazing; it was all the other ones that gave me problems. My first show was just three minutes at an 'open mic'. It went so well I immediately called my parents and woke them up, to tell them to pick out a beach house because we were going to be rich. In actuality, it took me eight more years to get paid anything from the club.
Your two comedy albums What's Up Nerds? and Jabba went to number one on the Apple iTunes and Google Play charts, and they are both family friendly. Is it difficult to make people laugh without being vulgar or cynical?
  I no longer sell my first comedy album Remember This because the content wasn't completely family friendly. I used language in my early television appearances that I now regret. I always wanted to be the type of comedian that would make my parents proud, that would make God happy. But it was process to learn, more specifically, it was a process to gain the courage to try. 
 Over the years, I've learned that audiences want honesty from a comedian more than anything. They laugh at what they relate to. It doesn't have to be vulgar or cynical, just honest and relatable.
How would you describe your comedy style? And which comedians were your main source of inspiration?
My comedy is all about celebrating life. My goal (and I'm not saying I accomplish this), but my goal is to put God's joy into hearts. I explore things that bring me that joy, like family, food, fun, and more recently faith. I try to talk to audiences like we are already friends, just having some laughs around the family dinner table.
Countless comedians have influenced me over the years. Many of them far from family friendly in their approach to comedy. But the person that had a huge impact on my career isn't even a comedian. I'm a big fan of venerable Fulton J. Sheen. I try to take his concept of 'Life is Worth Living' and turn it into comedy. That's the goal at least.
Do you remember a particularly memorable show of yours?
Absolutely. There was the time I got booed off stage by 1,000 people. Maybe it wasn't 1,000, but it was the biggest crowd I performed for up until that point. The blessing was, it wasn't that bad. Don't get me wrong, it was terrible, but it wasn't that bad. I survived it and it gave me the courage to start really saying what I wanted to say on stage. What's the worst thing that could happen? They boo me off stage? I already survived that.
 Then a completely different kind of memory was when I performed in China. I couldn't believe how much Chinese audiences related to my comedy. It was beautiful to see how much we have in common; I guess family is family no matter where you grow up. Anyway, one night in Chengdu, a husband and wife approached me after the show. They said that after watching my show, they decided to have a second child, just so their son would have memories of growing up with a brother or sister.
Have you performed in other foreign countries besides China?
I've been blessed to have performed all over the world. I've entertained US troops in countless countries, all over Asia, Africa and Europe. I did a show once on a beach in Haiti after a devasting earthquake. No stage, no microphone, just some tired Marines guarding supplies on a beach. Then after the show, local kids who didn't even speak English gave us a Standing Ovation. I'm not sure how many countries I've performed in, but I will say Italy was the most beautiful. I pray that I make it back there one day.
  In what way can comedy be good for the spiritual life? How can you infuse spirituality through comedy?
It comes back to who God really is and how much He loves us. At my core, I operate from a very basic belief that God loves us and wants us to be happy. The devil hates us and wants us to be miserable. The happier we are the more we glorify God. He is the source of that joy. Every day I pray to know God more, love God more, and serve God more.
I try my best to remind audiences that life is worth living, every day is a gift, and there is always something to celebrate. It doesn't matter if I'm in Afghanistan or Hollywood, people are hurting, they need that joy, they need to know they are loved. I think laughter is one way to actually experience God's love.
If you had lived in Palestine two thousand years ago, do you think you could have made Jesus laugh? What would you have told Him?
That's such a great question. I can only imagine. I for sure would have tried my best. The better you know somebody the easier it is to make them laugh. I would have been grateful just to have been close enough to try.
I'm not sure what I would have told Him, but I think I make God laugh whenever I think I have something figured out.
How do you perceive God? How would you describe Him?
Wow. Let's be honest. God is so much more than our little finite minds can comprehend. I guess, for me, the easiest way for me to start comprehending God is 'love'. I think of the Father walking to the edge of his property everyday hoping to just get a glimpse of his Prodigal Son. I get a sense of God when I picture Jesus carrying the cross and looking at His mother and seeing the pain in her eyes, knowing how much it hurt her, but the crucifixion had to take place for the love of us sinners.
God is greater than anything I can comprehend or deserve, and what a gift it is to be in relationship with God. Sometimes it's just too good to be true.
What implication does your idea of God have in your life and work?
It really just comes down to trying to be an outlet of His love in the world. What can I uniquely do for God? There are so many things I want to do for God. There are so many good things I could do for God. But the question I struggle with is, "What specifically does God want me to do?" His will be done, you know. God made all of us for a reason, and I try to receive His gift of life and to thank Him for it. I guess the best thing I can do is live with gratitude. Be grateful that I even exist, and more importantly, grateful that God allows me to love Him or that I'm lucky enough to feel His love, that I naturally want to return. I try my best to show God I love Him by loving those around me. I think it's important to love and serve everybody, especially those that haven't really felt God's love yet.
In your job and life have you ever felt discriminated for being a Catholic?
There have been times when I was fearful; when I should have been more vocal with my faith. I was afraid of sharing my faith and of being rejected. That's one of the things I've really been trying to work on: to be more vocal about my faith.
I don't know if I've ever really been discriminated against, but I know I've had this fear of just not being accepted, of being afraid of what people may think about me for being a Christian. Like all of us, I'm a work in progress.  I'm really trying to do more for God by sharing my faith more openly.
In the most difficult moments of your life did it seem to you that God was with you or did He seem distant?
There were times when I for sure felt abandoned by God. That He stopped loving me or that He forgot about me. But in hindsight, it was me that left God. I didn't have the faith or trust that I needed to realize that during those difficult moments He was closer than ever. As I've matured in my faith, I've come to appreciate the sacraments like never before. What gifts! Now, when things get difficult I hug God even tighter through the sacraments, Eucharistic adoration and the rosary.  
I feel like one of the missions God has given me lately is to encourage people to pray. I'm assuming most people reading this already know that prayer works. But I've found prayer works even better after a good Confession and Holy Communion. More than ever, we must pray and love, the world needs it.
Your middle name is Anthony, and you a highly devoted to him. What does this Saint mean to you?
As we say in Philadelphia, Saint Anthony is "My man!" My entire life I have been praying to Saint Anthony to find lost items. Some of my happiest memories are from the St. Anthony's Feast Day in Wilmington, Delaware. My grandmother would be so proud that you interviewed me. She had great devotion to St. Anthony. She was a subscriber to your magazine, and when I went away to college she even gave me a St. Anthony statue for my dorm room.
I recently moved from Los Angeles to Florida, and my local parish is named after Saint Anthony. I took this as a confirmation from the Lord that this is where He wanted me.
I always had a devotion to St. Anthony, but it wasn't until both my parents were in the hospital that I realized how powerful his prayers were. He can work miracles.
There's a beautiful place called the Divine Mercy Center in Plant City, Florida. Every Tuesday, after Mass, they make a novena to St. Anthony, and I've been taking my parents to that Mass ever since they got out of hospital.
Could you give as a present to our readers a funny little story or joke?
This is a true story, Father. A few months ago I was driving my car and I was, you know, talking with God, not really a formal prayer, but just talking with God. And I was saying to God that being a comedian is a great way to go through life, I feel blessed. But being honest I said to him, "It would have been nice to have a little more money. You know Lord, a lot of my friends who inherited a family business seem to be doing really well." I wasn't really complaining, I just said, "You know, God, it would have been great if I just had a family business to inherit." And I heard God laugh and say, "You do have a family business." "No I don't!" I replied. "Sure you do. I'm your Father; you're my son and we're a family, and our business is saving souls. Get back to work chubby!"
STEVE Simeone's family friendly, high energy storytelling style of comedy was developed as a child, competing for laughs around his family dinner table. He made his Comedy Central debut on Gabriel Iglesias's Stand Up Revolution and has been featured multiple times on the network's This Is Not Happening show. His number one Comedy Albums What's Up Nerds? and Jabba can be heard on SiriusXM radio and tours internationally.
Giving back to the community is important to Steve. He coordinates The Comedy Store's Comedian Assistance Fund and founded HelpSteveHelp to help families with sick children. His weekly podcast Good Times reminds listeners to celebrate life everyday by practicing kindness, compassion and gratitude. 
His official website can be viewed at: www.awesomesteve.com, from where he can be contacted.
Updated on March 07 2022