God's Influencer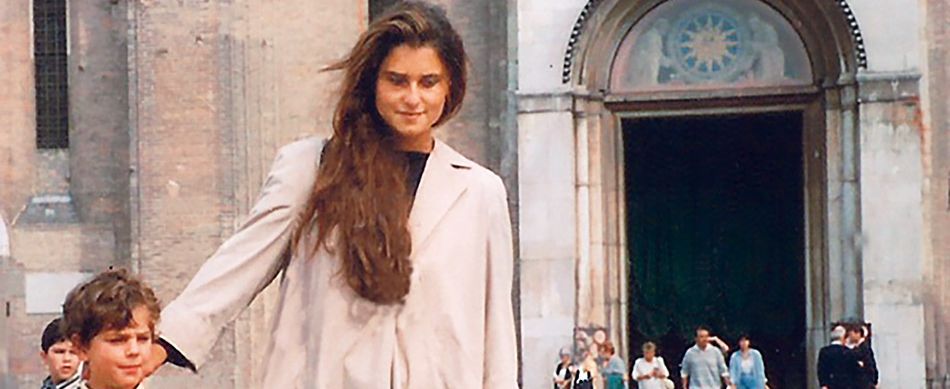 Antonia and son Carlo at the Basilica of Saint Anthony in Padua
On May 3, 1991, the British newspaper The Times announced the birth of a boy, Carlo Acutis, at one of London's leading maternity clinics, the Portland hospital. It was standard practise at the clinic for all new born babies to be recorded in the daily paper's births announcement page, and no-one, at that moment, could have predicted the extraordinary chain of events that would lead up to the ceremony, scheduled for October 10, 2020, in which Carlo will be declared one of the youngest saints of the Catholic Church.
Religious disposition
Carlo was born to an Italian mother, Antonia Salzano and a Polish-British father, Andrea Acutis, whose parents had fled from Warsaw to England during the Second World War. Andrea was working in a bank in London at the time of his son's birth, but the young family returned shortly afterwards to Milan where Carlo would spend the rest of his short life. Although he was baptised as a baby, his parents were not particularly religious and Antonia admits that, on her wedding day, she had only received the Eucharist on two previous occasions: the day of her First Communion and her Confirmation day.
It was all the more surprising, therefore, that Carlo, at a very early age, developed a strong interest in the Christian faith, begging his parents to read him Bible stories about the young Jesus and the lives of the saints. "He had a Polish au-pair who was more religious than we were," Antonia recalls, "but he also had an innate curiosity, so whenever we went past a church he wanted to go inside 'to see Jesus' and whenever we went for a walk, he would pick flowers to give to Our Lady." Although he was "just a normal boy who loved playing with his friends," she insists, he also wanted to "learn more about the saints, especially Saint Francis, Saint Clare and Saint Anthony of Padua."
Love for the Eucharist
This interest continued to develop throughout his early school years, with the result that he was considered mature enough to make his First Communion at just seven years old. Among the pictures on the website about Carlo's life, (www.carloacutis-en.org) there is a photo of a smiling, confident young boy in his pristine white alb, already a familiar presence in his local church for the recitation of the rosary and for Eucharistic adoration. A few years later, he would become an assistant catechist, so well versed in Catholic teaching that he was often asked to talk to youngsters of all ages about his knowledge and love of the faith. In simple, straightforward language, he encouraged his contemporaries to grow closer to God by receiving Christ's body at daily Mass. "The more Eucharist we receive, the more we become like Jesus, so that on this earth we will have the foretaste of heaven," he told them.
Alongside this growing passion for the sacramental life of the Church, Carlo enjoyed a normal childhood, playing football, tennis, karate and kung-fu with his friends, and showing a natural talent for computer sciences. Relatives and friends from his school days remember him as a bright, happy and generous child, who was always willing to "go the extra mile" to share his time and talents with them. Looking back, Antonia says her son seemed to have "received special gifts from God" which he wanted to put at the service of others, from helping friends struggling with their homework, to evangelising through the parish website, or finding food and sleeping bags to donate to the homeless in his city.
Light Web
Carlo's childhood, at the turn of the 21 century, coincided with the explosion of the internet and the rise of social media sites, which radically changed the way young people accessed information and communicated with one another. His English language skills (a legacy from his father's family in England), together with his natural aptitude for science and technology, meant that he was soon devouring computer manuals and learning how to use the latest programmes for building websites, making films, and networking with people on the other side of the world. Antonia notes that Carlo was "well aware of the dark side of this technology, with its threats to impressionable young people through advertising, pornography or online bullying." But he also understood its potential and "represented the light side," she continues, seeing it as an instrument that could be harnessed for preaching the Gospel "to the ends of the earth."
In a message to priests on Holy Thursday of 2003, the elderly Pope John Paul II published his last encyclical entitled Ecclesia de Eucaristia, on the Eucharist as the heart of the life and mission of the Church. The document, exploring the central mystery of the Christian faith, had a profound impact on the 12-year-old Carlo, who was fascinated by the way that the bread and wine is transformed, during the Mass, into the body and blood of the crucified Christ.
Eucharistic miracles
Carlo then began documenting the numerous examples of Eucharistic miracles witnessed in different parts of the globe by people, from the early years of the Church until his own day. One of the first examples to spark his interest was the miracle of Lanciano, which took place in the 8th century in a church in central Italy. According to tradition, a monk who was weighed down by doubts about the Real Presence of Christ in the Eucharist, one day noticed that when he said the words of consecration, the bread and wine in front of him were transformed into real human flesh and blood – an event that was witnessed by those attending Mass that day. A piece of the 'miraculous flesh' and a drop of the 'true blood' were preserved in the church of Saint Francis in Lanciano, and in the 1970s were subjected to rigorous scientific testing to verify the authenticity of this 'living human tissue'.
After meticulous research into each miracle, Carlo put together a collection of virtual panels with texts and photographs recounting the events documented in 20 different countries. He was convinced that this online museum of miracles, now translated into a dozen different languages, would attract young people back to the Church. His work caught the eye of Vatican officials in 2005, after Pope John Paul had called for a year dedicated to the Blessed Sacrament, and an exhibition of the panels was shown at a university in Rome. It was the first step on a journey that would see the exhibition travelling to churches and university campuses in countries around the world, including thousands of parishes and university chapels in the United States alone. His ever growing passion for sharing the Gospel led his parents to wonder whether he might be destined for ordination and a career in the Church.
Premature death
Suddenly, however, in the autumn of 2006, Carlo's life took an unexpected and tragic turn when he was diagnosed with an acute and aggressive form of leukaemia. A tall, strapping and apparently healthy teenager, he went down with flu symptoms at the beginning of October, like many others in his class. It didn't seem to be anything to worry about, until he woke up a few days later in pain and unable to move. His doctor advised that he be taken to a specialist children's hospital in Monza, where blood tests confirmed the diagnosis of M3 fulminant leukaemia. Within a week his immune system collapsed, and on October 12 he suffered a brain haemorrhage which took his life away. Doctors who cared for him in those final days confirmed that he knew he had little chance of survival, yet he remained at peace, confiding in them: "I'm happy to die because I've lived my life without wasting even a minute of it doing things that wouldn't have pleased God."
Special mission
For his family however, it was a devastating blow that they struggled to come to terms with. Encouraged by her son, Antonia had begun her own journey of faith, aided by a wise spiritual advisor, who told her that her child had "a special mission for the Church." To begin with, she recalls, she was unable to reconcile these words with Carlo's sudden death at just 15 years old. "But my faith helped me to accept God's will," she says, "and I kept thinking of the verses from the book of Job: 'The Lord gives, and the Lord takes away. Blessed be the name of the Lord.' Slowly I came to realise that Carlo's mission was not here with us on earth, but rather to be an inspiration to others from heaven."
Fourteen years on, Antonia continues the work that her son began during his lifetime. Not long after his death, she says, the family started receiving the first reports of miracles attributed to Carlo's intercession. Requests for interviews poured in from different countries, as his friends shared stories and personal memories through documentaries, websites and pilgrimages to his burial site in Assisi, the Umbrian hill town which he loved. In July 2018, Pope Francis declared him to be 'venerable', putting Carlo on the road to sainthood, and the following year cited him in the document Christus Vivit (Christ is Alive) marking the conclusion of the Synod of Bishops on Young People. Carlo "knew how to use the new communications technology to transmit the Gospel," Pope Francis said, "to communicate values and beauty" without falling into "the trap [….] of consumerism and distraction".
Ceremony in Assisi
"We have been preparing for this beatification for the past decade," says Antonia, who has since had two more children, a twin girl and boy, Francesca and Michele, born four years after Carlo's death. Plans for the ceremony in Assisi include a prayer vigil with Eucharistic adoration the day before the Beatification Mass, and the opportunity to see Carlo's uncorrupted body lying in an open casket in the room where Saint Francis stripped off his fine clothes to show that he was renouncing his wealth and following the path of poverty and obedience. Within hours of the announcement, several thousand people had registered to take part in the events, although the Coronavirus pandemic means that young people in some countries may be unable to travel, and numbers may be limited for those hoping to attend the ceremonies.
Intimacy with Jesus
Whatever the number of those taking part in the beatification, Antonia concludes, Carlo has become "God's 'influencer,' gathering millions of followers who are being called back to their faith." In his short life, "he did all he could to help people understand that we are all called by God to eternal life," she says. Carlo is already being seen as a patron saint of the internet, communicating these basic truths in simple language to young men and women of his day. "To always be close to Jesus," he told them, "that's my life plan."
Updated on October 10 2020