Harmony Bearer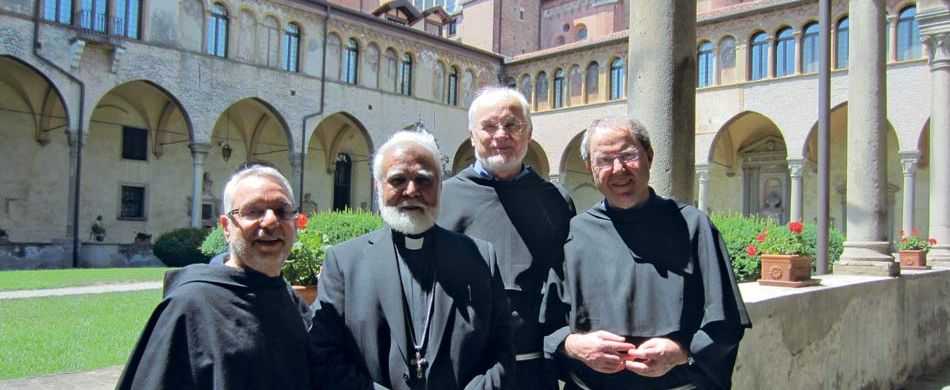 From left: our editor, Fr. Mario Conte; Cardinal Coutts; Fr. Giancarlo Zamengo, General Director of the Messenger of St Anthony and Fr Oliviero Svanera, Rector of the Basilica © Foto Basilica
"I RECEIVED the news of my election to the College of Cardinals quite by surprise," recalls Cardinal Joseph Coutts of Karachi, Pakistan. It came not through official channels, he explained, but via global media and word of mouth soon after Pope Francis announced in Rome Coutts was to be among 14 new cardinals.
"I was in my office and the parish priest of the cathedral, who lives on the ground floor, came up to me and said, 'Bishop, congratulations!' I said, 'What for?' He replied, 'You have been made Cardinal … Everybody says … I have been receiving telephone calls.'"
In a state of stunned disbelief and suspecting an eruption of 'fake news' on social media, the cardinal-designate decided to wait for confirmation on the Vatican website, which came a day later with a subsequent affirmation from the papal nuncio. By then, of course, news of his election was all over the national newspapers, and waves of visitors began to turn up to congratulate him in person. "It was like a tsunami," he said.
Honor for Pakistan
Such visitors included government officials and a delegation from one of the largest Islamic political parties in the country. "What really surprised me was the reaction of the people," said Cardinal Coutts. "They were just overjoyed – even the Muslims," whom, he said, repeatedly told him his appointment was "an honor for Pakistan."
"It meant that Pakistan was somehow being lifted up and honored. That's how they took it," the Cardinal said.
When Cardinal Coutts received his red hat in Rome on June 28, he became only the second Pakistani cardinal in history, and the first since Cardinal Joseph Cordeiro of Karachi died in 1994.
Pope Francis assigned to him the titular Church of San Bonaventura da Bagnoregio, a 17th century Franciscan monastery on the Palatine Hill. It was fitting given that Cardinal Coutts, 72, was baptized as a child by a Capuchin priest and ordained a priest by a Capuchin bishop in 1971. He is also an admirer of St Francis of Assisi and especially of St Anthony of Padua who, among Pakistani Catholics, Coutts says, is "top of the charts."
Widening the circle
Several months on from his elevation, Cardinal Coutts has had the time to unlock what his appointment as cardinal means for himself, the Church and for Pakistan. A key might be an accurate reading of the mind and intentions of the Holy Father.
"We are trying to understand what the Pope is thinking," Cardinal Coutts said. "Surely what he has very strongly in his mind is the universality of the Church. The Church always was universal – it's everywhere, all over the globe – but now, by choosing cardinals from the smaller Churches, I think the Pope is really trying to say that these Churches should also have a role in the governance of the universal Church. He is widening the circle."
Coutt's appointment as a cardinal also comes at a time when, as a nation, Pakistan is enduring an internal struggle over its identity and direction, deciding whether to remain true to its first democratic, secular and pluralistic foundations or to become a Sunni Islamic republic of 200 million people in the mould of some of the more fundamentalist Arabic nations of the Middle East.
Restoring harmony
In the midst of this, Christians are being persecuted – especially under the country's notorious blasphemy laws. Cardinal Coutts is unsure how far his new office will serve to restore "harmony" (his motto) within Pakistani society. "I don't know if it will have such a big impact," he said. "Certain problems that we have won't be overcome just because I am cardinal."
Among such challenges is that of changing the blasphemy laws to stop innocent Christians from being prosecuted on the basis of a single false allegation, a scandal which has led to increasing numbers facing long periods of imprisonment, or the prospect of death at the gallows or at the hands of a lynch mob.
Cardinal Coutts said, "This is a very delicate matter and I don't think me being a cardinal will affect that. It is a very sensitive matter and it has become politicized. The more we talk about it, the more those who are in favor of the law harden their position.
"What we have been trying to work on for so long is to modify the law, but there are those Muslim extremists who think that is tantamount to blasphemy. We are not in the field of logic anymore, we are in the field of emotions. We have to wait until emotions cool down and we are able to approach this in a much more objective way."
Dialogue of life
Long before he became Archbishop of Karachi, Cardinal Coutts was, however, deeply active in the work of inter-religious dialogue, and he understands its potential and its limitations. He is pleased with the decades of work of the Christian Study Centre in Rawalpindi in bringing Christian and Muslim scholars together to find common ground, for instance, but he also understands that "this kind of dialogue becomes quite limited to people who are educated."
What he tries to promote among the less-educated is a "dialogue of life" which takes place between Christians and Muslims wherever they meet, and particularly in the many church-run schools and hospitals.
"It's working wonderfully," said Cardinal Coutts. "That's where we give our witness in whatever we do. We can't start talking and discussing certain religious matters, it leads to nowhere," he adds. "When we talk about the Trinity it is something abhorrent to a Muslim. The oneness of God, as for the Jews, for Muslims is very important and attributing divinity to somebody else is heresy, something terrible. What is important to us is to choose common values and work together."
Cardinal Coutts added, "It is very much part of our life. It is part of our mission to give a living witness, and I think that it is the strong thing of dialogue, not a dialogue of words. As Christians living in this vast sea of non-Christians, our very presence there, whatever we do, we are witnessing to our faith. It is very important that we understand that, and do really try to live our lives in such a way that the non-Christians begin to appreciate us – and they do, to a large extent."
Rise of militant Islam
Coutts accepts that in some respects the visible presence of a cardinal in Pakistan might support the witness of the Christians of the country. "It will help," he said. "In the last few decades we have become more and more open to the majority community and we need to do that more. We are only two percent of the population and we can't just live in a ghetto by ourselves. We have to reach out to the others. I see that happening more and more and this will boost what we have been trying to do."
Cardinal Coutts is optimistic about the prospect of such witness bearing positive fruit within the Muslim majority, whom, he says, are "often kind to us."
What troubles him immensely, however, is the rise within Pakistan of the strain of Islamist extremism that has subjected Europe to a series of horrific terror attacks and has laid waste to Christian towns and cities across the Middle East, Africa and parts of Asia within the past 20 years.
"The Muslims in Pakistan are not a homogenous group," he said. "You get the Muslims who are very open and very broad-minded and with whom we have no problems in relating. You get the fanatical fringe which has become stronger in the last couple of decades with the growth of ISIS, Al Qaeda and the Taliban in Pakistan. They are all recent developments and they are influencing us because on our north-western border is Afghanistan, where the war is still raging," he said, adding that many Muslims identified Christianity with the Western invaders of Iraq and Afghanistan, and those states which support Israel.
They have come to view the Pakistani Church "as a product of colonialism" and Christianity as "a foreign religion." Furthermore, Muslim extremists reject democracy as a Western concept, and have no wish for equality under the law, but to reduce Christians to the status of 'dhimmis', or second-class citizens. Cardinal Coutts said, "We have got to see what we can do. It is not a question of just reaching out to them. We have to work on it internally, but pressure from abroad helps. I think Islam has one foot in the Middle Ages and the other foot in the modern age. The other with whom we relate has also got to think differently if we are going to reach a certain kind of harmony," he said.
Crossroads moment
"Here, now, we are in a state of tension. There are a few fundamentalist extremists who want to see Pakistan as a purely Islamic, theocratic state, but I would say that the majority are not thinking in exactly those terms. So there is a tension within Islam in trying to understand what Pakistan is. We are almost at a crossroads deciding which way Pakistan should go. We have a strong influence from Saudi Arabia and as a consequence Wahhabi Islam is beginning to influence us. But here in Pakistan we have more freedom than in Saudi Arabia, and we have to build on what we have. We need your prayers so that we can keep the faith, and more importantly to be able to keep witnessing to it."
Updated on October 05 2018