Have A Green Christmas!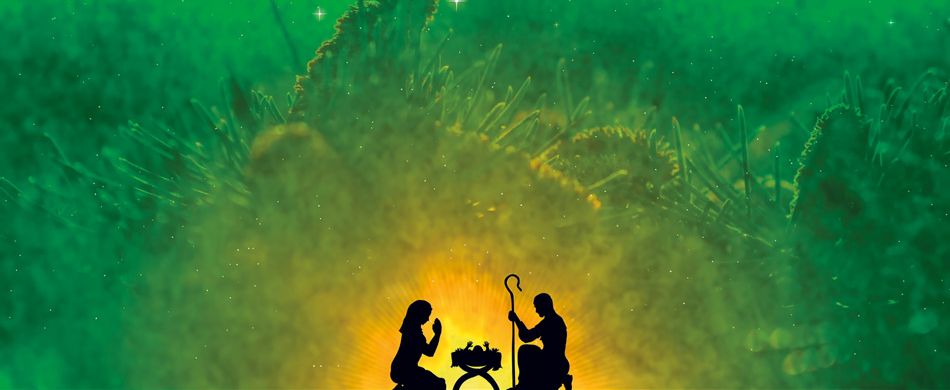 ONE aspect of Christmas which many don't fully consider is the massive amount of additional waste material generated by the holiday. Consider the following shocking statistics.
In Great Britain, just one festive season produces 30 percent more waste than usual, including 300,000 tons of card packaging used at Christmas, enough to cover London's famous landmark, Big Ben, almost 260,000 times; 1 billion cards end up in the bin; the amount of wrapping paper used for presents is enough to wrap around the equator 9 times; 227,000 miles of wrapping paper is thrown away; 6 million Christmas trees are discarded every year.
In the United States, household trash increases 25 percent more between Thanksgiving (at the end of November) and January 1, totaling 6 million additional tons of waste, which includes 4 million tons of gift wrap and shopping bags; 38,000 miles of ribbon, enough to tie a bow around the planet; 2.65 billion holiday cards, which could fill a football field ten stories high.
In Australia holiday waste is so severe that the government is pleading with its citizens to be more aware of the environmental impact as Australians spend a $46.7 billion upon food, drink, gifts and celebrating in December, which leads to a 30 percent increase in household waste as thousands of tons of wrapping paper, decorations, food, bottles and unwanted gifts are thrown out.
Clearly, Christmas around the world has become the most wasteful time of the year. Here's an A-Z guide for cutting down on holiday trash and giving the planet some much needed relief.
A – Adopt the attitude that this year, you and your family will intentionally focus upon creating both a memorable and a more green Christmas as part of your family gift to the planet.
B – Batteries. So many gift items come with batteries. Those contain toxic chemicals, do not biodegrade and are difficult to recycle. An alternative is to use rechargeable batteries. They produce less waste because they can be recharged with a simple battery charger and be reused hundreds of times.
C – Cards. Eliminate holiday cards, most of which end up in landfills, by switching over to E-cards or by emailing an annual holiday greeting to extended family and distant friends. Another option is to purchase recycled cards offered by various charities. That way, you support a civic organization while protecting the environment.
D – Donate. We all have friends and family members who don't need more 'stuff'. For those individuals, make a donation in their name to an organization seeking to make your community and the world a better place. And remember the words of the Lord Jesus, who said, "It is more blessed to give than to receive."
E – Experiential. Cut down on materialism by offering a gift which is an experience. "I counsel people that there are two types of gifts – material gifts and experiential gifts," says Robert Lilienfeld, author of Use Less Stuff: Environmental Solutions for Who We Really Are. "The kinds of gifts that have the most positive emotional value – the healthiest gifts – are those that provide us with experiences. You can help people travel; you can give them tickets to theatres, museums, concerts and sporting events. For teenagers, an iTunes card is always welcome. From a use-less-stuff standpoint, this is very positive because you're giving an experience, not a thing, and those kinds of experiences stay with us longer anyway."
F – Food. Be conservative with how much food you buy and prepare. An astounding amount of holiday waste comes from leftover food. Britons throw out the equivalent of 2 million turkeys, 5 million Christmas puddings and 74 million mince pies while Americans generate three times as much holiday food waste than at other times of the year. When cooking and baking, be realistic about how much your family and friends can consume. Over-ride the fear that there won't be enough.
G – Global. "Think globally, act locally" is a terrific mantra to use when you work at creating a green Christmas. Remember that your efforts locally have an impact globally. The phrase also implies that you carefully consider avoiding purchases from a region that is known for its low environmental standards.
H – Homemade. Use your talents to make personal gifts for friends. If you're a photographer, put together a small book of photos a friend would enjoy. If you're a seamstress, sow something unique for a family member. If you're a woodworker, create a one-of-a- kind item for someone.
I – Inspire yourself to give green gifts. Here are some starter ideas for green gift giving: a transit pass (travel card), gift certificates to health food stores or healthy restaurants, washable drinking straws, sustainable coffee cups, reusable grocery bags, any items made of recycled materials.
J – Journey. Trains, planes and automobiles all give off planet warming pollutants. Journey less during the holiday. This will save you additional holiday expense and reduce travel pollution. Rather than making long holiday tours and trips every year, consider spending time at home with your family, good friends and colleagues.
K – Knit. In the 21st century there is a revival of knitting with many women and some men have taken up knitting. Holidays are ideal times to knit gifts – scarves, sweaters, shawls, blankets, caps, mittens.
L – Local. Ordering gifts online is convenient, but it does contribute to higher emissions and greater waste as your goods have to be packaged and delivered. Reduce your carbon footprint by make local purchases from artists, crafts people and business owners in your community.
M – Mulch. Many still use live Christmas trees. If you're one of those, rather than throw it out where it ends up in a landfill, compost it or hire someone to come with a wood chipper and turn it into mulch which you can spread around trees and plants.
N – Nature. Include gifts which help the natural world such as a bird feeder, bat house, bird bath, butterfly feeder, seasonal plants for indoors and outdoors.
O – Once. If you're hesitant about changing holiday traditions, try hosting a green holiday once and then evaluate it. The chances are high that you'll feel good and successful about helping the planet in December.
P – Plan. December is naturally a very busy month with more parties, festivities and religious services. Cut down on the number of shopping trips you need to make by planning more methodically. Combine your shopping trips. Make your own list and check it to reduce an extra trip for a forgotten item. Find stores that sell the majority of items on your holiday list, and do as much of your shopping on one day as possible. Consider, also, using public transportation or car pooling when shopping.
Q – Quell. Cut back on the amount of energy your holiday celebrations use by turning off your Christmas lights during the day and when you retire for the night. To make this more convenient and ensure you don't forget, buy an inexpensive timer which will turn on and off your lights at times you choose.
R – Recycle. Resist the temptation just to throw out wrapping paper, cards, bottles, boxes, etc. Take some time to sort it out for recycling. If you don't have recycling pick up service in your area, then make the commitment to take it to a recycling center. This is a small way to be of benefit to the planet.
S – Skip disposal cups, plates, paper tablecloths, plastic silverware. Instead use dishes, mugs, glass cups, cloth napkins and cloth table coverings. If you must use disposable items, try to buy unbleached products which can be composted. These reduce toxins and break down more easily than conventional disposable items.
T – Tree. Choose a tree with roots which can be re-planted after the holiday. If you do buy a traditional tree, be certain it comes from a sustainable source. Many professional tree growers work hard to provide real trees which are more Eco-friendly than artificial ones, and which are grown following strict guidelines governing everything from sustainable seeds and cultivation to protecting local wildlife. Although plastic Christmas trees are reusable from year to year, environmentalists have concluded that real trees are the more sustainable choice. In fact today's artificial trees are typically manufactured with metal and polyvinyl chloride (PVC), a non-biodegradable, petroleum derived plastic. In addition, many older varieties may contain lead used as a stabilizer in the manufacturing process. Go one step further than the real versus the artificial debate and consider a living, potted-tree this Christmas.
U – Use LED lights. These are more readily available than ever and have become more and more cost effective. Swap your old holiday lights for LED lights which consume less energy and have a longer life-span.
V – Value yourself and your efforts to limit holiday waste. Disregard the voice which emerges saying "what difference can I make." Value your efforts, however small, and see yourself as part of a vast invisible army of people doing their best to cut down on Christmas clutter.
W – Wrapping paper. Cut back on this by using paper already available in your home: newspaper, colored paper, plain paper which can be decorated. Avoid buying glossy foil or metallic wrapping paper as they are environmentally unfriendly.  For the future, save this year's wrap and plan to re-use it next season.
X – eXpense. One of the most effective ways to reduce holiday waste is to simply spend less, buy less. Think about who really needs to receive a gift from you. Without causing damage to relationships, there are always some people in your life who will be just fine if they don't receive a material gift from you.
Y – Yes. Challenge not only your family but your friends, neighbors and work colleagues to say "yes" to a green Christmas. Do you part to expand that group of people who want to treat the planet better.
Z – Zero. Make zero your family goal for generating holiday waste. Though you may not achieve that number, you will definitely and significantly reduce the amount of Christmas trash produced in your household.
It is not necessary to sacrifice the celebration for environmental sustainability. Simply look more closely at how you celebrate and identify the many ways you can cut down on holiday waste. In fact, in Pope Francis' words, "A Christian who doesn't safeguard creation, who doesn't make it flourish, is a Christian who isn't concerned with God's work, that work born of His love for us."
Updated on December 05 2018