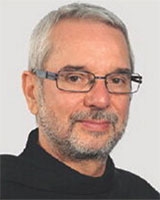 September 01 2021
Hero of Faith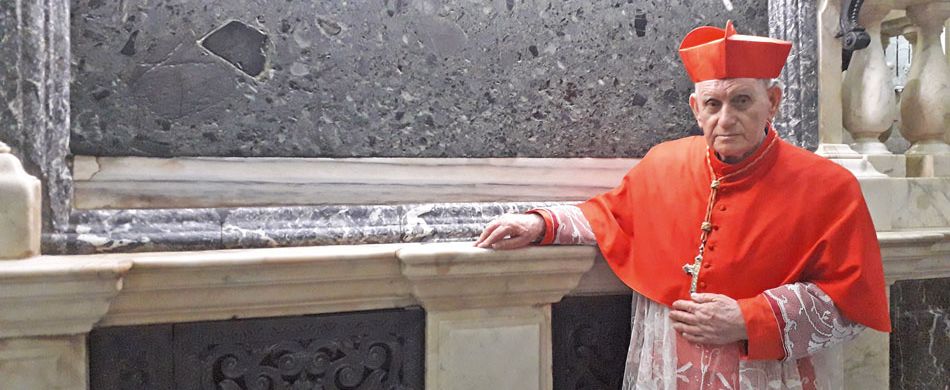 Cardinal Ernest Simoni at our Saint's Tomb on June 13, 2021
ON OCTOBER 9, 2016, Fr. Ernest Simoni, an octogenarian Albanian Franciscan priest was watching Pope Francis on TV during the Sunday Angelus when he heard the Holy Father mention his name among the list of cardinals he intended to create the following month. The poor priest felt his heart leap and, still incredulous, asked his nephew to call the Vatican. "Yes, it is true," – they answered from Rome – "the Holy Father has just announced it."
Although the reasons for this choice seemed somewhat strange to many, they had been well considered by Pope Francis, who had met Fr. Simoni two years earlier during his Apostolic journey to Albania. Listening to the dramatic and touching testimony of the elderly priest, the Pope had been deeply impressed and moved to tears. In taking leave of him, the Holy Father had hugged him and kissed his hands. Fr. Ernest Simoni was, in fact, the only living priest of the terrible regime of Enver Hoxha who, in proclaiming Albania the "first atheist state in the world," had unleashed a harsh persecution against Christianity and Islam.
Fr. Simoni was celebrating Mass on Christmas Eve in 1963 when he was arrested for offering a prayer for the repose of the soul of recently assassinated US President John F. Kennedy. That was enough for them to charge him with treason and sentence him to death by firing squad. He was beaten, placed for three month in solitary confinement under inhumane conditions, and then tortured because he refused to denounce his fellow members in the Church. Eventually, his death sentence was commuted to forced labor, and he was made to work in a mine for 18 years and then 10 years more in sewage canals.
During the long years of his imprisonment, Fr. Simoni celebrated Mass in Latin from memory, heard confessions and distributed Communion to other prisoners, all clandestinely. When the regime collapsed in 1991, he returned to ministry by serving isolated mountain villages, urging Christians caught up in a cycle of revenge to let go of their hatred and embrace God's love.
Dear friends, imagine my surprise when I unexpectedly found this legendary man in front of me after I celebrated the 10 o'clock Mass on St. Anthony's feast day.
"I'll introduce you to him," said our General Director, Fr Giancarlo. "And don't forget to ask him about his devotion to St. Anthony!" I went with the Cardinal to a small room, where I was able to ask him a few questions.
"I have always been very devoted to St. Antony like the majority of the Albanian people," the Cardinal said. "I remember a very special event that took place on June 13, 1963, six months before my arrest. I was celebrating Mass in front of a huge crowd at 2 o'clock in the morning, because the dictatorship did not allow it to be celebrated during the day. During the elevation of the Host, the statue of St. Anthony turned red in the face and started to cry. Word got out in a blink of an eye, and later on my Archbishop, Monsignor Ernest Coba, told me that the same miracle had occurred at St. Anthony's Shrine in Laç. This was a prophetic announcement of the grim times ahead."
"How does it feel to be here on St. Anthony's feast day?" I asked him. "It is a great gift to be in Padua today," the Cardinal answered. "The Saint has never abandoned me even in the most difficult moments. The ancient Shrine to St. Anthony in Laç was destroyed by the regime in 1971, but it was later rebuilt in his honor. I am praying to the 'Franciscan of Miracles' that his shrine in Laç may continue to be the most concrete and indisputable symbol of the silent, religious resistance of the Albanian people's faith."
Despite the Covid-19 restrictions, I couldn't stop myself from saying goodbye to him by embracing this great hero of our faith.
Updated on September 01 2021