How to Become a Saint
This New Year let us ask God what his way is for us to become holy, and then let's follow that way to holiness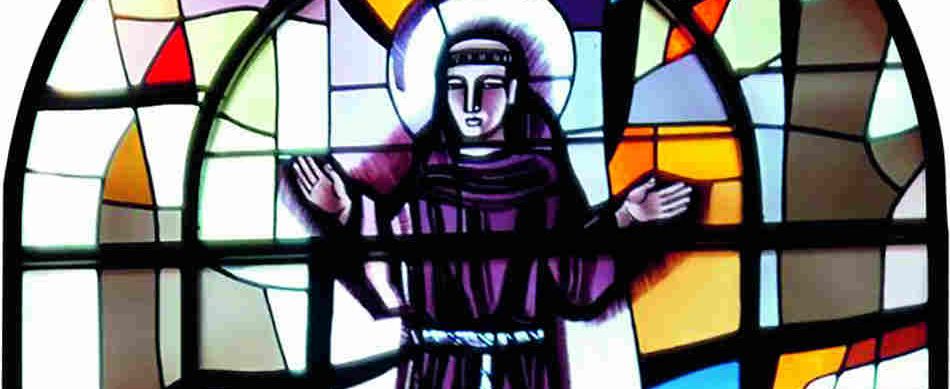 Becoming a Saint St. Anthony, stained-glass-window, Church of St. Elizabeth of Hungary, Denver, Colorado  © M. Conte
NEW YEAR'S DAY! Time for making resolutions to do better in 2017 than in 2016. According to ABC Eyewitness News, the top five New Year's Resolution for 2016 were:
1. Enjoy life to the fullest.
2. Live a healthier lifestyle.
3. Lose weight.
4. Spend more time with family and friends.
5. Save more, spend less.
We notice that, with the exception of number 4, these are 'me' oriented resolutions because they benefit me. Number 4 would benefit others, but the others are those who also benefit 'me' – namely, my family and friends. None of these resolutions benefit those whose lives would have no direct benefit to my own.
Anthony's resolutions
Consider St. Anthony. His New Year's resolutions would've been the total opposite to the ones listed here. Anthony was enjoying life to the fullest, or so he thought, until he, like St. Francis, realized that he was losing his soul. He recognized the emptiness of enjoying life to the fullest when God isn't in that life. That's when he entered religious life in the Augustinian monastery in Lisbon, his native city – he entered the monastery to save himself from himself.
Anthony did not want to spend more time with family and friends because they constantly disrupted his prayer time. So he transferred 100 miles away to the Augustinian monastery at Coimbra, where family and friends could no longer visit.
As an Augustinian, Anthony probably had enough to eat and may not have lost any weight, but certainly, when he joined St. Francis and his followers, he was eating less, losing weight and probably living a healthier lifestyle because he spent a great deal of time walking.
As a Franciscan, Anthony would save nothing and would give away everything he had if someone needed it. So Anthony's resolutions what have read something like this:
1. Do penance for your sins and enjoy the freedom of God's love.
2. Live the life that God desires for you.
3. Eat what is set before you and be moderate and thankful.
4. Spend more time with God.
5. Give away all possessions and own nothing.
He would also have had a resolution that went something like this: Serve God in your neighbor, and most especially in those no one cares about.
Be holy
Anthony's resolutions, and those of every saint, could be summed up in Leviticus 19:2: "You shall be holy, for I the LORD your God am holy."
Shouldn't that be the New Year's resolution for all of us? Of course, but what does holy mean? According to Catholic columnist Jack Wellman, "The Hebrew word for holy is 'qodesh' and means 'apartness, set-apartness, separateness, sacredness' and I would add that it should also be 'otherness, transcendent and totally other' because God is totally above his creation and his creatures, including us. Holy has the idea of heaviness or weight of glory. In the New Testament, the word for holy is 'hagios' and means set apart, reverend, sacred, and worthy of veneration." This word applies to God because God himself is totally other, separate, sacred, transcendent, reverend, and set apart from every created thing."
Therefore, holiness means being conformed to God, to be not of this world even though we must live in the world. According to Saint Anthony, this means seeking neither wealth nor health, neither friends nor fame, neither money nor pleasure, as implied in the worldly New Year's resolutions, but rather in seeking the kingdom of God. He wrote, "The kingdom of God is the supreme good: that is why it is to be sought. We seek it by faith, hope and charity" (Sermons for Sundays and Festivals, Vol. II, p.418; Edizioni Messaggero Padova).
Faith, hope & charity
Hebrews 11:1 defines faith as "confidence in what we hope for and assurance about what we do not see." Do we have confidence in what Christ taught? Do we have confidence in the Church to instruct us on the way to salvation? Or do we have more confidence in our own ideas? These are good thoughts to ponder as the new year begins.
In an Internet article, Rex Rouis defines Biblical hope as "a desire based on a promise from God." Do we know and believe God's promises? Do we desire what God promised?
Charity can evolve only from hope and faith because charity is love in action. Charity serves God and neighbor, solely because it is right and just, not because these actions benefit me.
"The justice of the kingdom is to keep everything that Christ taught" (Sermons II, p. 418). That's a tall order that sends us back to the Gospels. What did Christ teach? Learn from Christ and then follow his example by putting his words into action, and you will be holy. Or, as St. Anthony phrased it, "To seek the kingdom is to fulfill that justice in our actions. First, then, seek the kingdom of God, and set it before everything else; all else should be for its sake. We should ask for nothing beyond it, since everything we do ask for should serve it" (Sermons II, pp. 418-419).
Therefore, how about starting your New Year's resolutions with the question, "Am I seeking first the kingdom of God?" We might ask the Holy Spirit to help us discern the answer. We may be surprised at what the Holy Spirit reveals. After all, Anthony was seeking the kingdom of God when he joined the friars who were following St. Francis. He asked to be sent to Morocco so that he could die as a martyr there because he wanted to get to the kingdom of God as quickly as possible. When God thwarted his plans, Anthony realized that his desire to become a martyr was seeking his own will rather than God's will regarding how we would get to the kingdom.
God willed that Anthony use the gifts that God had given him to convert souls and to pardon sins in the name of Christ. God desired that Anthony show compassion to the poor and help the debtors in Padua to receive justice. God desired that Anthony become a teacher for his fellow friars so that they, too, could bring God's message in a fuller form to others. Only after Anthony fulfilled these missions, ordained for him by the Holy Spirit, was he able to enter the heavenly kingdom of God.
God's way
New Year's is a time to evaluate our journey. Are we moving toward the kingdom of God by our own means and following our own thoughts, or are we relying on God to lead us and following his ways? If our New Year's resolution is to become holy, to become a saint, then we have to become a saint in God's way. Any other way won't work. Moreover, our path to holiness is not the same as anyone else's. The martyrs had their own way to enter the kingdom of God, but their way was not the way that God had selected for Anthony. Their way was not the way God selected for St. Therese of Liseaux, Saint John Paul II, Saint Pier Giorgio Frassati, Saint Gianna Beretta Molla or any other saint. This New Year, may we ask God what is his way for us to become holy, and then may we follow that way to sanctification.
Updated on January 05 2017