Humble Worker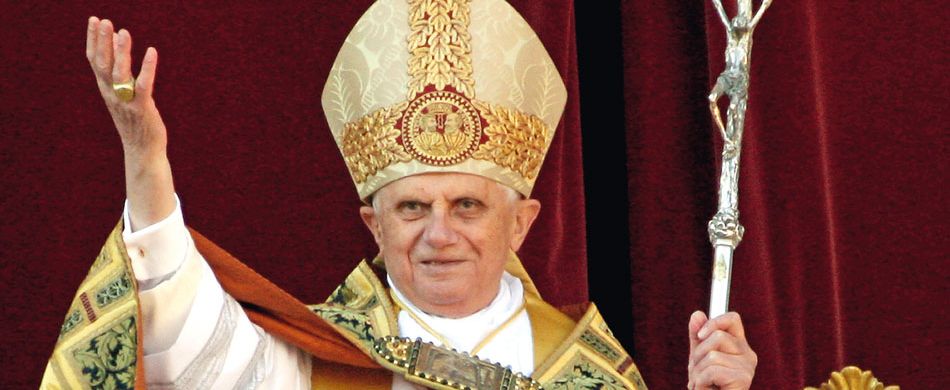 © Patrick Hertzog/AFP via Getty Images
POPE Emeritus Benedict XVI, who died on December 31 at 95 years of age, became the first pontiff to resign voluntarily in some 600 years – a shocking act that revolutionized the papacy and cemented the reputation of a churchman known as an upholder of traditions to now forever be remembered as a reformer. 
Born Joseph Ratzinger on April 16, 1927 in the small Bavarian town of Marktl, his mother trudged through a snowstorm just hours after his birth on Holy Saturday to have the future pope baptized, marking the course of the rest of his life.
Ratzinger's adolescence during the Nazi occupation of Germany would permanently shape his theological and political convictions, firmly convincing him of the dangers of relativism and the importance of a proper understanding of human dignity.
Bright mind
Attracted to the priesthood from a young age, he entered seminary in 1939 and was ordained a priest in 1951, alongside his brother Georg. After completing a doctorate in theology, he participated in all four sessions of the Second Vatican Council, where he quickly acquired a reputation as one of the Catholic Church's most promising young minds. 
Despite a penchant for scholarly work, his time in academia was brief. In 1977 he was appointed to lead the Archdiocese of Munich and Freising, and a month later Pope Paul VI elevated him to the College of Cardinals. Four years later, in 1981, he was named the head of the Vatican's then all-powerful Congregation for the Doctrine of the Faith by Pope John Paul II, where he would serve as a close collaborator until 2005.
On three occasions, then-Cardinal Ratzinger asked permission from the Polish Pope to retire, and three times he was denied the opportunity. He made no secret about his desire to return to a quiet life of writing books, and was honest about his limitations when it came to administration and management. But when the cardinals gathered in the Sistine Chapel to elect the next successor of St. Peter, he was elected pope on April 19, 2005 at the age of 78.
Turbulent waters
"The Church is alive" was a phrase Ratzinger repeated throughout his first inauguration Mass. The newly elected Benedict XVI surely believed it to be true, but he also knew the Church was navigating its way through turbulent waters. 
As former prefect of the Vatican's doctrinal office, he had taken on the responsibility of overseeing the avalanche of clergy sex abuse cases that had begun to pile up in the final years of Pope John Paul II. Knowing the Church's moral credibility was at stake, the new Pope bucked some of John Paul's closest allies by removing from ministry Mexican Fr. Marcial Maciel Degollado, a serial abuser and rapist who had founded the Legionaries of Christ. While he would later be criticized for not punishing bishops who covered up for abuse, he is credited for removing nearly 400 abuser priests from ministry and becoming the first pope to ever directly apologize to abuse victims.
As an intellectual, Benedict spent much of his papacy pleading for Europe not to forget its Christian roots and continuing the strict crackdown that he had begun as the Vatican's doctrinal watchdog against theologians he believed had strayed too far from Catholic orthodoxy. Though he did not have as much time he desired to pursue his own scholarship, he produced a widely hailed trilogy on Jesus of Nazareth and three encyclicals: Deus Caritas Est (God Is Love) in 2005; Spe Salvi (Saved in Hope) in 2007; and Caritas in Veritate (Charity in Truth) in 2009.
The Green Pope
While Benedict is remembered by many for his emphasis on upholding the Church's traditional sexual ethics, especially through his staunch opposition to abortion and gay marriage, he was also the first pontiff to call for greater action to tackle climate change and demand a radical rethinking of global economic structures.
The free market economy, he wrote in Caritas in Veritate, has yielded "grave deviations and failures."
"The conviction that the economy must be autonomous, that it must be shielded from 'influences' of a moral character, has led man to abuse the economic process in a thoroughly destructive way," wrote Benedict. "In the long term, these convictions have led to economic, social and political systems that trample upon personal and social freedom, and are therefore unable to deliver the justice that they promise."
In one of his very first homilies, he uttered words that would lead to him being labeled the "green pope" for his warning that "the earth's treasures no longer serve to build God's garden for all to live in, but they have been made to serve the powers of exploitation and destruction."
Latin Mass
When it came to the Catholic liturgy, Benedict – who had a fondness for ornate vestments and high masses – became a hero to many traditionalists when, in 2007, he allowed for the celebration of the Latin Mass, providing concessions to Catholics who preferred the older form of the liturgy that had been replaced with the vernacular following Vatican II.
Part of the motivation for the decision was an effort to further reconciliation efforts with the priests of the Fraternity of St. Pius X, a traditionalist group that had questioned the validity of the Second Vatican Council and had been excommunicated by John Paul in the 1980s. In 2009 Benedict lifted the excommunication, though the group's canonical status remains unresolved.
Despite his shy and meek personality, and being a man who was never fully comfortable in the spotlight, Benedict rose to the demands of the modern papacy, undertaking 24 international trips to six continents during his nearly eight years as pope.
Those trips would serve as some of the defining moments of his papacy. During the 2005 World Youth Day in Cologne, Germany, he seemed shocked and overcome by the positive reception of millions of young people. One year later, in 2006, on another trip to Germany – this time in Regensburg – some viewed comments he made as being critical of Islam, which sparked widespread protests and seriously damaged Catholic-Muslim relations.
Vatileaks scandal
After returning to Rome from another trip in 2012 to Mexico, after a fall in the middle of the night, the aging Pope began considering doing something most people thought to be impossible: resignation.
At the same time, scandal was brewing inside the Vatican, with a constant stream of leaked letters and files documenting tremendous financial corruption, and even Benedict's own butler, Paolo Gabriele, caught and indicted for betraying his boss.
On February 11, 2013, as Roman curial cardinals met with the Pope for what was expected to be a standard consistory to discuss the canonization of new saints, Benedict XVI said he had one more item to discuss. When he began speaking in Latin, a sense of confusion rippled through the room – and soon thereafter, through the rest of the world.
Unexpected resignation
"I am well aware that this ministry, due to its essential spiritual nature, must be carried out not only with words and deeds, but no less with prayer and suffering," Pope Benedict said. "However, in today's world, subject to so many rapid changes and shaken by questions of deep relevance for the life of faith, in order to govern the barque of Saint Peter and proclaim the Gospel, both strength of mind and body are necessary, strength which in the last few months, has deteriorated in me to the extent that I have had to recognize my incapacity to adequately fulfill the ministry entrusted to me."
Two weeks later, on February 28, Benedict XVI officially resigned the papacy, setting into motion the eventual election of Pope Francis and radically altering the course of Catholic history. In one act, a man whose entire ecclesial career had been defined by his adherence to and promotion of tradition, had become a radical revolutionary. In death, he is now remembered as a gifted theologian, a fierce enforcer of Catholic doctrine, and an unlikely pope. But above all, a man who at the height of his power, decided to renounce it. Requiescat in pace.
Updated on March 07 2023