Keep Christ in Christmas
In the hustle and bustle of the season it's all too easy to lose our spiritual bearings; yet there are some surprisingly simple ways to honor the holiness of Jesus' birth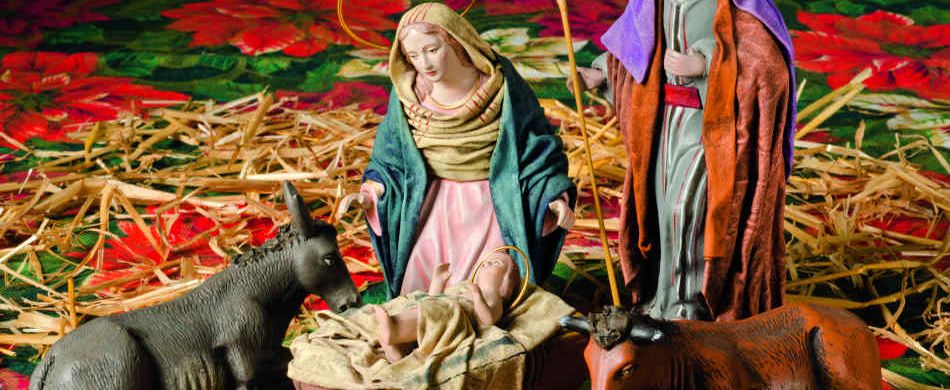 Some surprisingly simple ways to honor the holiness of the birth of Jesus © fotolia
ONE DECEMBER evening after work, Woody Woodburn, a sports writer for a newspaper in California, stopped at a doughnut shop when he saw a group of heavily tatooed teenagers. The three boys and a girl were in a semi circle around an elderly, homeless man. Concerned the youths were going to mistreat the man, Woodburn lingered so he could observe their behavior and, if necessary, intervene. To his pleasant surprise, he misjudged the situation and the teens as he heard one of the boys ask the homeless man, "How do those feel. Do they fit?" The man took a few steps and said that the shoes were comfortable. All the teens smiled and one youth said, "Keep them. They're yours. I want you to have them."
Woodburn looked down and saw that the teen was barefoot. "The kid had just given the cold and probably homeless man his expensive skateboarding sneakers and, apparently, his socks as well." The other two boys sat on their skateboards retying their shoelaces. "They too, had let the man try on their sneakers to find which pair fit the best. The girl, meanwhile, gave the cold man her oversized sweatshirt." Impressed and inspired by the youths' Christmas spirit, Woodburn went into the shop and ordered a dozen doughnuts for the homeless man. The woman behind the counter, who had also witnessed the teen's compassion, refused to charge Woodburn for the donuts, adding a large coffee as well.
Those four teens exhibited the proper attitude toward Christmas which is about the giving of love, kindness and compassion to others. Author Washington Irving observed, "Christmas is the season for kindling the fire of hospitality in the hall, the genial flame of charity in the heart." Unfortunately, Christmas has deteriorated into a commercial and materialistic assault on the spirit, leaving many disillusioned with the holiday. The antidote to that is to create a more spiritual approach to Christmas. Here are seven ways of keeping Christ in Christmas.
Set the right tone
This is done by stressing the reason for the season – one of love, joy, kindness and peace. The shopping, baking, partying, giving and receiving of gifts should revolve around the true meaning of the holiday. In her book, A Family Christmas, Caroline Kennedy explains how her parents did this: "I grew up in a Catholic family and attended Catholic school, so the emphasis was on the religious aspects of the holiday: the birth of Jesus, the desire to be worthy of Him, and the importance of faith in our lives. There was a tacit disapproval of the commercial aspects of Christmas, and a feeling that although we had been encouraged to ask Santa for presents, if we actually wanted anything, somehow we weren't being true to the Christmas spirit."
Go to confession
This is something urged by the Archbishop of Miami, Thomas Wenski. Writing in his column for the Florida Catholic, he reminded Catholic faithful that "the Advent season arrives as our annual wake-up call. Throughout these weeks, the Scriptures tell us to "awake and be vigilant." While the secular society is already celebrating its 'winter holidays', the liturgy of Advent is sober – calling us to repentance and conversion. Indeed, the entire purpose of Advent is to reawaken our thirst for God… Along with our pre-holiday shopping and partying, we should all make time to go to confession, if only to remind ourselves that Jesus is, after all, the reason for the season. Most of our parishes have scheduled extra time for confessions; many have scheduled communal reconciliation services (with individual confession and absolution). By taking advantage of these opportunities for the sacrament of penance, we can, in the words of John the Baptist, "prepare the Way of the Lord." Christmas means that Jesus still offers us gentle miracles of healing, of reconciliation, of interior peace and consolation, if only we approach him with trusting faith.
Ask better questions
One of the most common questions raised in December is this: "Are you ready for Christmas?" Behind that question people usually mean, "Do you have all your decorations up? Is the shopping done? Are the cards addressed and stamped? Have all the gifts been wrapped and labeled? Are travel plans set? Is the party list complete?"
Try asking better questions, ones with a spiritual focus for Advent. For example: "Have I remembered the poor? Am I clearing some clutter out of my life? Have I made time to take a spiritual inventory in Advent? Is worship on my calendar? Am I making room for daily meditation and prayer? Am I doing the things necessary to let Christ be reborn in me?"
Give rather than receive  
Jesus taught that "it is more blessed to give than to receive" (Acts 20:35). Put this into practice for Christmas. One family discovered a Christmas joy by doing this. A couple, close to retirement, had worked a lifetime and raised six children. Each of them was self-sufficient and doing well except for one daughter who was married to a farmer. Times were tough for them because of drought conditions. There wasn't going to be much of a Christmas in their home. The parents decided to do the holiday differently. Rather than giving gifts to each other, they opted to take the money ordinarily spent on each other and give it to their one struggling daughter and her family. They told their other children what they were going to do and the rest of the family decided to do the same. Pooling all of their gift spending together, they gave the struggling daughter a gift of cash on Christmas morning. She and her husband were overwhelmed by this expression of love and generosity. Yet they weren't the only ones most touched by this new way of doing Christmas. One of the brothers said, "For the very first time I'm experiencing the real joy of Christmas."
Sow seeds of peace
"Peace on earth to everyone…" was the proclamation of the angels on the occasion of Christ's birth (Luke 2:14). With the stress of the holidays high for many people, do your part in sowing seeds of peace. Advent is an ideal time to reflect upon and act out the wonderful prayer of St. Francis of Assisi:
Lord, make me an instrument of your peace:
 where there is hatred, let me sow love;
 where there is injury, pardon;
 where there is doubt, faith;
 where there is despair, hope;
 where there is darkness, light;
 and where there is sadness, joy...
Make personal gifts
Find ways to add a personal touch to some of your gift giving. A youth in Africa listened carefully as his teacher in a mission school explained why it is that Christians give presents to each other on Christmas Day. "The gift is an expression of our joy over the birth of Jesus and our friendship for each other," she said. As Christmas came near, the boy brought his teacher a unique and beautiful sea shell. As she gently handled the ornate gift, she asked, "Where did you ever find such a lovely shell?" The youth told her there was only one area where such extraordinary shells could be found. When he named the beach, she knew it was a bay many miles away. "This shell is gorgeous, wonderful, but you shouldn't have gone all that way to get a gift for me," she said. With eyes brightening, the boy answered, "The long walk is part of the gift!"
Remember the poor
Along with making a Christmas donation to a charity which serves the under privileged keep your eyes open for the poor who are always around you. Then, do whatever you can to lift their load and brighten their holiday. Cory Wong-Collinsworth was working as a waitress in a northern California cafe. As Christmas approached she was feeling melancholy. "I was 3,000 miles from my family in Hawaii, pursuing my lifelong dream of becoming a pediatric nurse. I attended classes all day, then went straight to my full-time waitress job at night. My weekly schedule left me exhausted and extremely homesick." Cory always looked forward to the holidays, but not this December. "In my prayers I told God that if I could just get home to see my mom, dad and brothers, I could survive the next two years until I graduated. But how? Rent, tuition, textbooks and other expenses left me with no extra cash. Money to go home? I barely had enough money to eat," she recalls.
As she worked, she noticed that a man had been sitting alone for over an hour at table number 5. Forcing a smile, she went over to him: "I'm Cory. Please let me know if you want anything." The man placed an order for nachos and a glass of water. "My heart sank. The nachos were the cheapest thing on the menu, which meant I wouldn't get much of a tip. But maybe this guy was broke, and I sure knew how that felt. So I tried my best to make him feel okay. 'Coming right up' I said." Returning with the order, she informed him it would be $2.95. He reached into his pocket, withdrew a single bill saying "Keep the change." When she looked, it was a one hundred dollar bill. Shocked by the generosity, she blurted out, "I don't understand, what do you want from me?" His reply: "Nothing. Call your mother tonight. Merry Christmas."
Through his generosity Cory was able to finance a trip home for Christmas. "Because of that visit to my family, I returned to my studies filled with a new spirit and determination." Today she is a registered nurse, caring for sick children. "Every Christmas, with my husband John, I try to do something for someone else, just as the man at table number five had done for me."                                         
                                                                                                ♦
Finally, adopt Charles Dickens' philosophy as your own. The great Victorian writer and novelist said, "I will honor Christmas in my heart, and try to keep it all year round."
POPE FRANCIS QUOTES ON CHRISTMAS
"Christmas isn't just a temporal celebration or the memory of a beautiful event; Christmas is more… Christmas is an encounter!"
"Jesus came to free us from darkness and grant us light. In him was revealed the grace, the mercy and the tender love of the Father: Jesus is love incarnate. He is not simply a teacher of wisdom; he is not an ideal for which we strive while knowing that we are hopelessly distant from it. He is the meaning of life and history, who has pitched his tent in our midst."
"For me Christmas is hope and tenderness... God has always sought out his people, led them, looked after them and promised to be always close to them. Christmas is God's meeting with his people and a mystery of consolation."
"If you have something dark in your soul, ask the Lord for forgiveness. Christmas is a great opportunity to cleanse the soul. Do not fear, the priest is merciful, forgiving all in the name of God, because God forgives everything."
"In switching on the light of the Nativity scene, we wish for the light of Christ to be in us. A Christmas without light is not Christmas. Let there be light in the soul, in the heart; let there be forgiveness to others; let there be no hostilities, which are dark. Let there be the beautiful light of Jesus. This is my wish for all of you, when you turn on the light of the crib."
Updated on December 14 2016