The Lord's Approval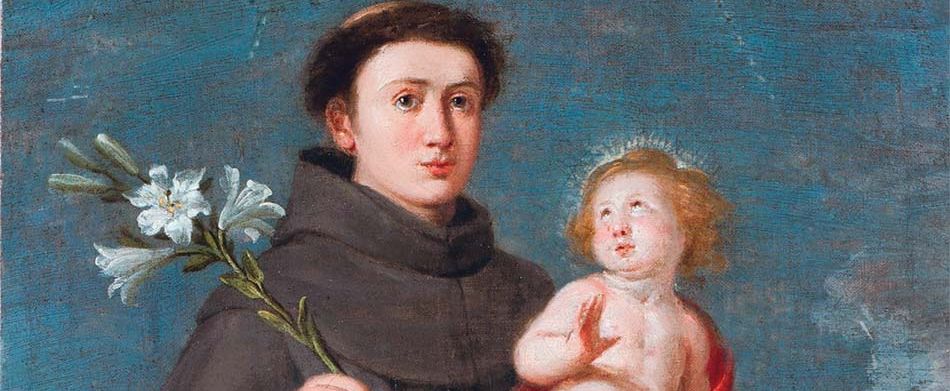 Ancient biographies of St Anthony record the miracle of the Christ Child appearing to the Saint who held the Babe with tender love
HUMANS have countless ways of showing approval. We clap or shout accolades when we witness a superb performance. An organization may award its high producing employees or volunteers with a plaque, certificate, and/or pay raise. In a democracy, people elect political candidates whose programs seem just and wise. Because humans reward those whom we approve, we assume that God does the same. Thus teaches the Prosperity Gospel. Its basic tenet is: Believe in the Lord, pray, live virtuously, and God will reward you with health, wealth, and happiness. More on the Prosperity Gospel in Richard Penaskovic's article on page 34 of this issue.
Phrases like the following indicate that many Catholics unwittingly believe the Prosperity Gospel: "She's such a good person. Why would God let that happen to her?" "I don't understand why they can't conceive. You wouldn't find two better parents anywhere." "God is blessing them because they do so much for the Church."
Phrases like these are based on the presumption that God rewards goodness in this world. If He doesn't, He's not following the rules!
Scripture seems to lend some credence to the Prosperity Gospel in verses like the following: a) "Will a man rob God? Yet you rob me! But you say, 'How have we robbed you?' In tithes and offerings... 'Bring the whole tithe into the store-house, that there may be food in my house, and test me now in this,' says Yahweh of hosts, 'if I will not open you the windows of heaven, and pour you out a blessing, that there shall not be room enough for'" (Malachi 3:8-10).
b) "Yet you don't have, because you don't ask" (James 4:2).
c) "Give, and it will be given to you, good measure, pressed down, shaken together, and running over, will they give into your bosom. For with the same measure you measure it will be measured back to you" (Luke 6:38).
Not only rewards
The verses above indicate that God gives good things to His followers. However, Jesus assures us that His followers should not expect only rewards in this life.
"Blessed are those who are persecuted because of righteousness, for theirs is the kingdom of heaven. Blessed are you when people insult you, persecute you, and falsely say all kinds of evil against you because of Me. Rejoice and be glad, because great is your reward in heaven; for in the same way they persecuted the prophets before you" (Matthew 5:11)
Lest we conclude that Jesus is talking of spiritual matters only, consider the following: "And he said to them, 'Take heed, and beware of all covetousness; for a man's life does not consist in the abundance of his possessions'" (Luke 12:15).
In light of these teachings, Matthew 19:29 might seem confusing. "And everyone who has left houses or brothers or sisters or father or mother or wife or children or fields for my sake will receive a hundred times as much, and will inherit eternal life." Here Jesus isn't talking about replacing family members and possessions with more of the same. He's promising an eternal family and eternal possessions.
Abundant miracles
Both Saint Francis and Saint Anthony left house, family, and possessions to follow Christ as perfectly as they could. When we consider their lives, we may conclude that God certainly showed His approval by the many miracles attributed to both saints following their deaths. The miracles at their tombs, for example, fill many pages in the saints' first biographies.
God also rewarded both saints with miracles during their lifetimes. The Assidua (Life of Saint Anthony) records the cure of four-year-old Padovana who couldn't walk, but slithered along like a reptile. Padovana also had epileptic spells. At her father's pleading, Anthony blessed the child who began to improve until she was able to walk, and the epileptic spells disappeared. Later biographies credit Anthony for miraculously re-attaching a young boy's foot when he chopped it off, taking literally Christ's admonition in Matthew 18:8: "If your hand or your foot causes you to stumble, cut it off and throw it away. It is better for you to enter life maimed or crippled than to have two hands or two feet and be thrown into eternal fire." Later biographies also record the miracle of the Christ Child appearing to Saint Anthony who held the Babe with tender love. They tell of his preaching to the fish in Rimini which lifted their heads out of the water to listen, and of his conversion of the heretic Bononillo, who recognized the Lord in the Blessed Sacrament when his donkey knelt before the monstrance in Anthony's hands.
Need for discipline
Thomas of Celano, the first biographer of Saint Francis, records Francis preaching to a flock of birds who listened attentively until he dismissed them. Celano also tells of a tiny fiery chariot that appeared when the friars were praying at Rivo Torto, and which seemed to them to be a message from Francis who was absent. At Francis' live Nativity in Greccio, a babe appeared to come alive in the manger while Francis, a deacon, was preaching. The greatest miracle that seemed to show God's approval of Francis was his receiving the wounds of Christ, the stigmata, while on retreat at La Verna in 1224.
Nevertheless, Hebrews 12:5-10 speaks of discipline, not reward: "Do not regard lightly the discipline of the Lord, or lose heart when you are punished by him; for the Lord disciplines those whom he loves, and chastises every child whom he accepts. Endure trials for the sake of discipline. God is treating you as children; for what child is there whom a parent does not discipline? If you do not have that discipline in which all children share, then you are illegitimate and not his children. Moreover, we had human parents to discipline us, and we respected them. Should we not be even more willing to be subject to the Father of spirits and live? For they disciplined us for a short time as seemed best to them, but he disciplines us for our good, in order that we may share his holiness." God's approval brings discipline even if it may also bring reward.
Saint Vincent De Paul believed that discipline was the truest sign of God's approval: "We have never so much cause for consolation, as when we find ourselves oppressed by sufferings and trials; for these make us like Christ our Lord, and this resemblance is the true mark of our predestination."
Expect hardships
Both Francis and Anthony experienced God's discipline. Anthony began his glorious career as a preacher by being thwarted in his attempt to go to Morocco to be martyred. When Francis experienced his conversion, his family and city rejected him as if he were crazed. Anthony's forceful preaching against usury and heresy spawned attempts on his life. Toward the end of his life, Francis endured opposition from many of his friars. Anthony faced the disappointment of a tyrant's refusal to release political prisoners despite his pleading. Francis endured Perugia's mockery when he preached peace and predicted, correctly, that civil war would ensue if his warning was ignored.
Like all saints, Francis and Anthony grew holier through trials and divine discipline. Holiness through difficulty is also our path. While it's comforting to imagine that God will reward us in this life if we remain close to Him, it's more realistic to expect God's approval by Him giving us opportunities to become holier through the practice of virtue.
Updated on October 11 2020