Love & Hatred in Marawi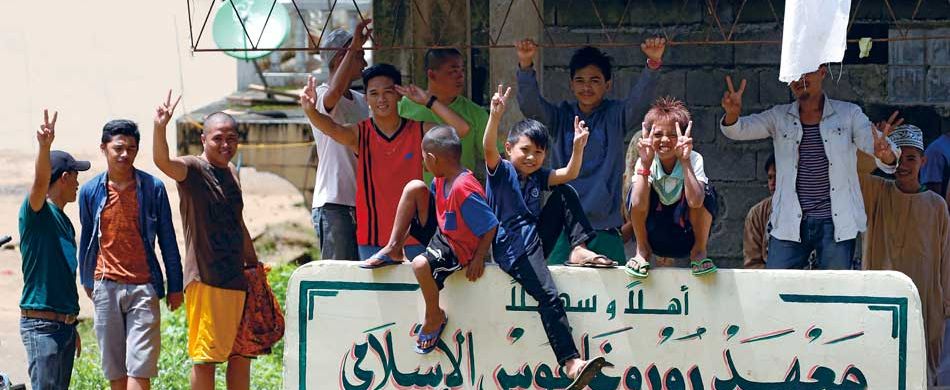 Villagers of Marawi flash a peace sign Bullit Marquez - AP Photo
WITHIN three days of the opening shots being fired in the 'Battle of Marawi,' a city on the shore of Lake Lanao in the Philippine island of Mindanao, some 200,000 civilians – about 90 percent of the population – were on the move, fleeing the city for their lives. But not all routes were at that time under the control of the besieging armed forces of the Philippines; some were in the hands of Maute jihadists affiliated to Islamic State who had established outposts on bridges and were putting a straight-forward question to the terrified refugees: "What are you – a Christian or a Muslim?" According to Bishop Edwin de la Peña of Marawi, "If the person said, 'I am a Christian' he or she was separated from the group."
"We already know what happened to some of them – some were beheaded," he said. "The beheadings continued for three days, and all of the Muslims saw it with their own eyes."
Something then happened, however, which the militants might not have expected, as the Muslim civilians turned against them, screaming that they would not allow their "Christian brothers and sisters to go through that experience – over our dead bodies."
"There was an outpouring of concern for one another," recalled Bishop de la Peña. "It was an outpouring of awareness that we share a common humanity. This is our message to the world: that there is hope for Muslims and Christians to work together as long as we build peace through inter-faith and inter-religious dialogue."
Islamic State in the Philippines
The Philippines has struggled for many years with Islamic militants but, crucially, in 2014 the Maute pledged its allegiance to Islamic State. The Maute Group, also known as the 'Islamic State of Lanao', is a radical Islamist formation composed of former Moro Islamic Liberation Front guerrillas and foreign fighters led by Omar Maute, the alleged founder of a Dawlah Islamiya, or Islamic state based in Lanao del Sur province in the Philippine island of Mindanao. 
It was the same year that ISIS overran the northern and western parts of Iraq, driving more than 100,000 Christians from their ancestral homelands. Their objective in the Philippines was the same – to establish a Caliphate, starting on the island of Mindanao, which has a huge Muslim population.
The Battle of Marawi began, however, by accident. Military intelligence had become aware that Isnilon Hapilon, the leader of the Abu Sayyaf Islamic terror group, was in the city. One of the world's most wanted terrorists, with the US offering $5 million for his capture, Hapilon had been recently appointed as the emir of Islamic State in the Philippines, and was in the city seeking to unite the various Islamist factions.
Filipino security forces mounted a surgical operation to capture him on May 23, 2017, only to stumble into a city packed with armed men. The ensuing fighting was the worst witnessed in the Philippines since the Second World War. It lasted five months, ending on October 23, exactly a week after Hapilon and Omar Maute, founder of the Maute, were killed during an attempt to rescue hostages held by the terrorists.
Hatred of Christianity
When the fighting finally ceased, 80 per cent of Marawi was in ruins. A total of 978 militants were dead, including 13 foreigners, and 12 captured, including one foreigner. Eighty-seven civilians and 168 members of the armed forces were confirmed as killed, while 1,400 soldiers were wounded in the fighting.
The fighting was bitter yet the activities of the militants throughout were characterized by an obsessive hatred of Christianity. Although they were facing attacks from land and air by forces using sophisticated weaponry, they still took the time to film themselves desecrating and burning St Mary's Cathedral, one of their first targets.
In a city where Christians made up just five percent of the population, jihadists also went out of their way to hunt for Christians (some of whom were being sheltered by Muslims), to take them hostage and to kill them. Among those they captured was Fr. Teresito 'Chito' Soganob, the vicar general of Marawi, and the jihadists made him watch as they beheaded another Christian captive.
The terrorists eventually forced the priest and other Christian hostages to convert to Islam, and also to transport arms during the siege. After the hostages were freed some four months into the battle, Bishop de la Peña said the conversions were not sincere as they were under severe duress.
All of the Christians are now out of Marawi and the government will not let any go back until the first quarter of 2020. In the meantime, in the region of 10,000 of them are living in steaming-hot tents in refugee camps on the outskirts, and Bishop de la Peña dwells among them, as an officially Internally Displaced Person.
Seeking loved ones
A number of the refugees long to know what has happened to relatives who are still missing, to at least try to recover their bodies if they have been killed. They include Evelyn Powao and Melgie Powao (pictured on the cover) who for more than a year have prayed daily for the return of their husbands, who are among ten men from the same family who disappeared during the fighting.
Truly, all of the refugees have a long wait ahead of them for any semblance of normality to return, if it ever will. But Bishop de la Peña blames their dreadful situation not on Islam or any ordinary Muslim, for whom he has respect, but on a cruel and perverse interpretation of the religion emanating from outside of the Philippines.
Bishop de la Peña said that fundamentalism had been ushered into his country "via Muslim intellectuals who came from their studies in the Middle East," and who had "imbibed this kind of Islam that is extremist and violent." They brought war to Mindanao, the Bishop said, "because ISIS in Iraq and Syria were losing ground and were wanting to expand their sphere of influence in South East Asia."
The Bishop said the group did not succeed because the Catholic minority had, for more than 40 years, deliberately and assiduously cultivated good relations with local Muslims. And as Christians plan to return home, they look once again to the success of fruitful inter-faith dialogue for the reestablishment of trust and for mutual security and prosperity.
Global threat
The experience of the people of Marawi might turn out to be a microcosm of what potentially could happen all over the world if finally the tide turns against Islamic extremism. Aid to the Church in Need's Religious Freedom in the World 2018 Report at the London launch of which Bishop de la Peña made his comments, revealed that the threat to religious liberty from Islamist extremists has become a global phenomenon in the years following the military defeats of Islamic State in Iraq and Syria.
Terrorists have struck with an increased frequency in England, Spain, France, Germany, Sweden, Belgium and Australia, to name just a few Western nations, while the incidence of Islamic violence has also intensified in countries as far afield as Indonesia, Somalia, Niger, Libya and Pakistan.
Yet in Syria and Iraq such attacks have declined for the first time in decades, though the risk remains high. And refugees are beginning to go home. So amid the darkness there are faint glimmers of hope and Bishop de la Peña is not the only one to see them.
Wonderful testament
Prince Charles, the heir to the British throne, spoke optimistically at a December service in Westminster Abbey, London, of the hope that flowed from the examples of Christians who were suffering. He remarked that the return of Iraqi Christian refugees to Nineveh was "the most wonderful testament to the resilience of humanity, and to the extraordinary power of faith to resist even the most brutal efforts to extinguish it."
The Prince said that he was repeatedly "deeply humbled and profoundly moved by the extraordinary grace and capacity for forgiveness that I have seen in those who have suffered so much." "Forgiveness," he said, "is an act of supreme courage; of a refusal to be defined by the sin against you, of determination that love will triumph over hate."
"We can only give thanks for the truly remarkable strength of the faith with which so many Christians face persecution, and which gives them the courage and the determination to endure, and to overcome. They are an inspiration to the whole Church, and to all people of goodwill."
Prince Charles strongly expressed his hope that Christians and Muslims may again live together in peace, observing that throughout history they have "shown that it is possible to live side by side as neighbours and friends. Indeed, I know that in Lebanon Muslims join Christians at the Shrine of Our Lady of Lebanon to honour her together," he said. "And I know that there are Muslim faith leaders who have spoken out in defence of Christian communities and of their contribution to the region."
Prince Charles concluded, "Co-existence and understanding are not just possible, therefore; they are confirmed by hundreds of years of shared experience. Extremism and division are by no means inevitable."
Hope for the future
Days later, on the eve of the beatifications of Blessed Pierre Claverie and companions as the 19 Martyrs of Algeria, one of the North African country's most senior Catholic bishops made a similar observation. The beatifications represented "hope for the future" rather than a "complaint about the past," said Jesuit Archbishop Paul Jacques Marie Desfarges of Algiers, and were an honour for all Algerian Christians and Muslims who were "living together in peace" now that the civil war had come to an end.
The Catholic martyrs, the Archbishop said, would be popularly associated with "114 imams who refused to condone violence during the dark decade" of the 1990s.
"There were also a number of journalists, writers, artists, and fathers and mothers who disobeyed armed groups," he continued. "Some were true to their faith, to their consciences, to their love of their country, and they have unfortunately died. We cannot honour our martyrs without taking all others in our prayers, praises or thanksgivings."
"We live in a world without belief, where fraternity is threatened, and in particular with our Muslim brothers and sisters," he added. "We are able to say that through this ceremony it is possible to live with Muslims relationships of friendship, fraternity and appreciation."
Never again!
For Christians, hope is a supernatural gift, a theological virtue, and in all of this it might just be possible to perhaps detect the finger of Providence, the Wisdom of Christ, bringing forth solutions to seemingly intractable and hopeless situations.
Humanity has seen it before. Religious tolerance in the West flowered from the bloody soil of the Protestant Reformation, and likewise today's emphasis on universal human rights evolved in the aftermath of the Second World War and the Holocaust. Both, in their own way, attempt to say "never again!" Could it just be, perhaps, that, appalled by the blood-letting of the new ideologies, people of goodwill are discovering more deeply their shared humanity in the hope that love will triumph over barbarism?
Updated on February 09 2019