Maid or Slave?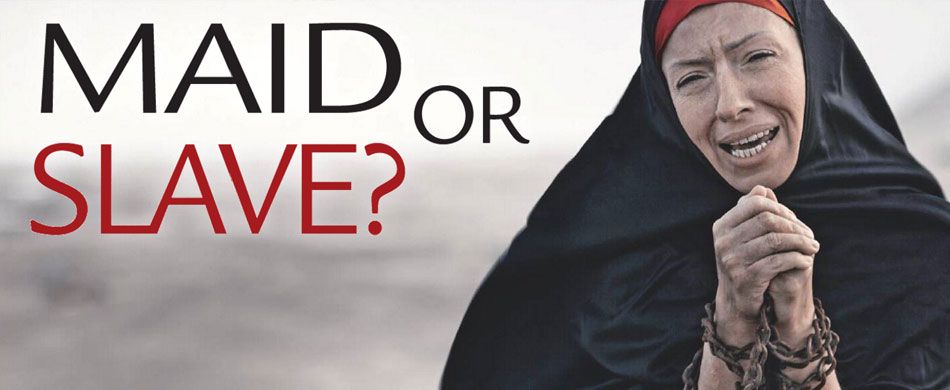 THE STORY last October of an Indian maid who had her arm chopped off by her employer in Saudi Arabia shocked the world. Returned to India in November, after a month in a Riyadh hospital, 58-year-old Kasturi Munirathinam has called for India to ban migration for work to Saudi Arabia. "No-one should go to that place; they are torturing us," she warned. Kasturi, who is now back in her village in the southern state of Tamil Nadu, had suffered a catalogue of abuse since taking up a post as a domestic worker in Saudi Arabia three months before the attack that maimed her.
 Kasturi's case has raised wider concerns about the treatment of domestic workers in Saudi Arabia. Indonesia has banned migration to the country, but India continues to allow its citizens to work in the Kingdom. There are around 500,000 Indians working in Saudi homes, and India has sought to improve rights and conditions for its citizens working there. India's foreign ministry has demanded Saudi Arabia bring to justice any citizens who attacked Kasturi and has lodged a formal complaint against the Saudi foreign ministry. India's Minister of External Affairs Shushma Swaraj called the attack unacceptable, and said she was "disturbed over the brutal manner" in which Kasturi had been treated.
Grim story
With her husband incapacitated and her son injured at work, Kasturi became her household's only source of income, prompting her to apply to become a domestic maid in Saudi Arabia – on the promise of a good wage. "They said I would be paid a lot of money for domestic work," she recalls. Kasturi was sent to a family in Riyadh, who promptly took her passport and persuaded her not to leave the home by instilling fear of an attack due to her being a Tamil. Her sister Vijayakumari affirms that Kasturi had gone to Saudi Arabia to help pay off her family's debts, and she had been promised a monthly salary of around £150. "But she was not paid; she was barely given enough to eat and not even allowed to speak to her family," said Vijayakumari. The family says that problems started for Kasturi, who was one of five domestic workers in the same household, after she complained to the local authorities about her situation and asked to go home.
A sharp sound
Despite an initially welcoming reception from the Saudi family, Kasturi says her employer quickly began mistreating her, serving old food and taking away her mobile phone charger. Coupled with a lack of Arabic, Kasturi believed she was all but cut off from the outside world and her family back home. "She wouldn't put a SIM card in my mobile phone," Kasturi said, "and she took away the charger." But when the maid expressed a desire to leave her employer, she was threatened with arrest. In desperation, Kasturi fled to a neighbouring property, where other domestic staff spoke Tamil, only to be found by her employer and dragged back to the house. "My employer came looking for me, grabbing me by the hand and taking me back home," she reports.
Soon a threat of violence was made. "She gestured to her neck and made a swirling action with her hand," says Kasturi. It was then that Kasturi felt compelled to act, gathering together material to make a rope with which to escape the property from a window. Whilst doing so, her employer approached the window behind her. Kasturi can remember little else other than a "sharp sound." She later awoke in hospital to find her entire right arm had been amputated.
Kasturi's version of events is disputed by the Saudi police, who say she suffered mental delusions and chopped of her arm herself. Nonetheless, her story led to condemnation across the world, and to the Indian authorities compensating her and ensuring she could return home safely. For Kasturi, there can be only one solution: for India to join other countries in banning its citizens from working in Saudi Arabia: "Don't go there; we should not give permission to anyone to go to that country."
Stream of complaints
Hundreds of thousands of Indian migrants work in households in Saudi Arabia and other Gulf countries, but a steady stream of complaints about their treatment by their employers often make headlines back home. A video showing a male Indian worker being beaten by his Saudi employer went viral in September 2015, sparking a widespread backlash on social media. There was also widespread anger last Autumn when the first secretary at the Saudi embassy left India under diplomatic immunity after being accused of holding captive and raping two Nepalese maids in his home on the outskirts of the Indian capital.
Millions of migrant workers travel to Saudi Arabia, where most perform menial tasks or physically demanding jobs in sectors such as domestic service and construction. Most come from poor backgrounds in south or south-east Asia. The foreign workforce in Saudi Arabia includes hundreds of thousands of male drivers, needed primarily because women in the kingdom are not permitted to drive.
One major problem facing migrant workers in Saudi Arabia is the sponsorship system, which in effect means a domestic worker cannot leave the country without the consent of their employer. Campaigners say this leads to widespread abuse, and conditions close to slavery. Workers usually surrender their passports to agents or employers and are fearful of local authorities.
Women's rights
Saudi law is heavily prejudiced against the rights of women. In a recent case, a Saudi woman who filmed a clip appearing to show her husband groping their housemaid could face prison because of the nation's defamation laws. The woman secretly shot the encounter between her husband and the maid on her phone. The resulting footage appears to show the man talking to a maid and kissing her. Seeking her revenge, she shared the footage on a social media alongside the caption: the minimum punishment for this husband is to scandalise him. The video went viral in Saudi Arabia, with many viewers rallying in support of the wife. "I salute you warmly for your valiant courage," Al Yamama, a blogger, said of the woman's decision, according to Gulf News. However, Majid Qaroob, a top Saudi lawyer, said the woman could be handed a one-year prison sentence or a fine of 500,000 Saudi Riyals (£87,630). "The law on information technology crimes includes stiff punishment for anyone using mobile phones with a camera or other equipment to photograph others and defame them," he said.
Kuwait exception
US-based Human Rights Watch estimates that millions of poor women from countries, including Bangladesh, the Philippines, India, Sri Lanka, and Nepal, work as 'household maids' in the six countries of the Gulf Cooperation Council: Saudi Arabia, Bahrain, Kuwait, Oman, Qatar, and the United Arab Emirates. Men and boys are hired too for menial tasks and are often exploited inhumanely. Maid rights have come under increasing scrutiny, and Human Rights Watch recently urged all the Gulf States to follow the lead of Kuwait in putting new legislation in place to protect maids.
Kuwait's new laws address legal and policy gaps that discriminate against domestic workers and put them at risk. The new laws grant domestic workers the right to a weekly day off, 30 days of annual paid leave, a 12-hour working day with rest, and an end-of-service benefit of one month a year at the end of the contract. "Kuwait's parliament has taken a major step forward by providing domestic workers with enforceable labour rights for the first time," says Rothna Begum, Middle East rights researcher at Human Rights Watch. "Now those rights need to be made a reality in Kuwait, and other Gulf states should follow Kuwait's lead and protect the rights of their own domestic workers," she adds.
Mainly Asian domestic helpers form around a third of Kuwait's two million foreign workers, and rights groups had criticised their exclusion from the labour law. Many abuses had been documented against domestic workers, including non-payment of wages, long working hours with no rest days, physical and sexual assault, and no clear channels for redress. Kuwaiti MPs also recently passed a law related to the establishment of shareholding companies for the recruitment of domestic helpers in a bid to cut the cost for citizens and resolve problems associated with private recruitment offices.
Slave subculture
In 1962 the leader of Saudi Arabia, 'King' Faisal, abolished slavery in Saudi Arabia by royal decree. But he largely neglected to amend Saudi labour laws to provide protection for workers in the kingdom because the culture of servitude is very intricately woven into its national fabric. It could be argued that a slave subculture thrives in modern day Saudi Arabia, supported by fatwas from Saudi clerics from the country's dogmatic Wahhabi and Salafi schools of Islam, which argue that the Quran gives owners, usually men, rights over "those whom your right hand possess." The issue of the treatment and conduct of domestic workers in Saudi Arabia has led to heated diplomatic exchanges with countries from Ethiopia to Sri Lanka and the Philippines. 
Cases like that of Kasturi have hit headlines internationally. Images of her in a Riyadh hospital with bandages covering a stump just below her right shoulder have shocked the world. Indian government figures show that there are roughly 2.8 million citizens working in Saudi Arabia. Of these, half a million are domestic workers. Many such workers leave on short-visit visas, which do not require attestation by Indian authorities. Once they arrive in Saudi Arabia or other Middle Eastern countries, their visas are changed to employment visas. They receive little protection no matter what working conditions they face.
HARYATIN'S ORDEAL
On the cover: Haryatin with her daughter Wulan Asnaningrum at their home in Wonodadi, Blitar, Indonesia. Haryatin needed money to pay for her daughter's education, so she went to Saudi Arabia to work for a woman with nine children, who continually insulted and hit her, and made her sleep in a storage room. At 3 am, while Haryatin was washing school uniforms, her employer rubbed the baby's faeces-filled diaper into her face because she hadn't been quick enough to change it. Soon afterwards Haryatin lost her sight after being hit on the head with a pipe. She was forced to stay, and keep working, until the swelling disappeared. 
 According to the International Labour Organization (ILO), some 700,000 documented Indonesian migrant workers leave the country for work yearly, and in 2012, around 4.3 million Indonesians were estimated to be working abroad.
Indian government figures show that there are roughly 2.8 million citizens working in Saudi Arabia. Of these, half a million are domestic workers, and about 50,000 are women. The Saudi labour ministry said last year that it would issue 100,000 work visas for Indian domestic workers during 2015. But in reality, there is no reliable estimate of the number of Indian women who work as housemaids in Saudi Arabia. Many such workers leave on short-visit visas, which do not require attestation by Indian authorities. Once they arrive in Saudi Arabia or other Middle Eastern countries, their visas are changed to employment visas. in a Riyadh hospital with bandages covering a stump just below her right shoulder in a Riyadh hospital with bandages covering a stump just below her right shoulder. in a Riyadh hospital with bandages covering a stump just below her right shoulder.
Updated on October 04 2016