Rescuing the Season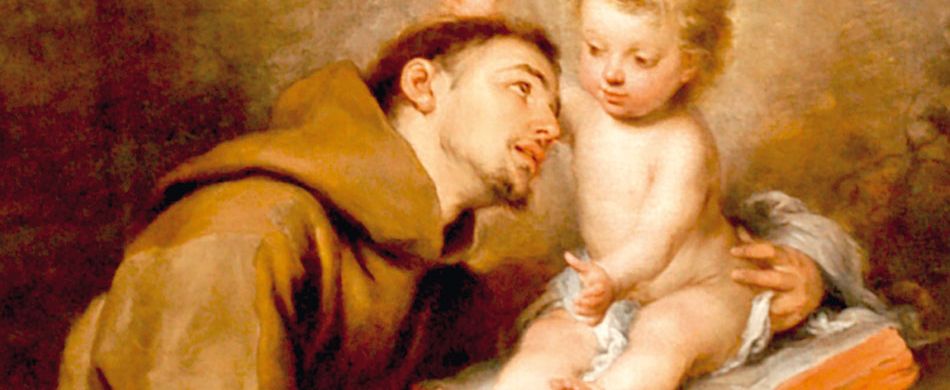 St. Anthony With Child, painting by Spanish artist Bartolomé Esteban Murillo (1617-1682)
WHAT'S trendy for Christmas gift giving in 2022? An internet search for 'hottest Christmas gifts' yielded some intriguing results, the first six of which (out of nearly a hundred) are: Airpods with wireless carrying case; Bamboo Three Wick Candle; Vegan Leather Handbag; Portable Instant Photo Printer; Microwave Heating Pad for Back and Shoulder Comfort;Feather Recovery Sandals.
If we scroll to the end of the list, we notice patterns: The gifts are self-indulgent; none of the gifts are necessities; many gifts deal with bodily comfort, clothing, appearance, or technology; all the gifts are costly, some extremely so.
The poor could never afford these gifts, nor would they have the incentive to spend money on superfluities.
How about the best Christmas gifts under $10? These included: Makeup; Planner Daily Schedule book; Headband; Wine aerator; Coffee Mug; Fuzzy socks.
These, like most of the items on this blog, make the recipient more comfortable, good looking, or productive.
Let's refine the search: Fifty best Christian Christmas gifts for 2022. This search yields gifts that are useful in both a practical and spiritual way: Clothing with Scripture verses or symbols; Bookmarks with encouraging and Scriptural verses; Religious books and Bible Studies; Religious jewelry; Planner with Scripture verses and encouragement; Abide in Love Wristlet wallet.
In these Christian gifts, the spiritual element is weightier than the practical use. The spiritual theme is intended to instruct and encourage the recipient, not just once, but every time the recipient uses that gift.
Spiritual gifts
Saint Paul, in his first letter to the Corinthians, speaks of spiritual gifts, each of which is intangible yet essential to the Christian community: "To each is given the manifestation of the Spirit for the common good. To one is given through the Spirit the utterance of wisdom, and to another the utterance of knowledge according to the same Spirit, to another faith by the same Spirit, to another gifts of healing by the one Spirit, to another the working of miracles, to another prophecy, to another the discernment of spirits, to another various kinds of tongues, to another the interpretation of tongues. All these are activated by one and the same Spirit, who allots to each one individually just as the Spirit chooses" (1 Corinthians 12: 7-11).
However, wonderful as these gifts are, they are not the best gift. The best gift is love: "If I speak in the tongues of mortals and of angels, but do not have love, I am a noisy gong or a clanging cymbal. And if I have prophetic powers, and understand all mysteries and all knowledge, and if I have all faith, so as to remove mountains, but do not have love, I am nothing. If I give away all my possessions, and if I hand over my body so that I may boast, but do not have love, I gain nothing. Love is patient; love is kind; love is not envious or boastful or arrogant or rude. It does not insist on its own way; it is not irritable or resentful; it does not rejoice in wrongdoing, but rejoices in the truth. It bears all things, believes all things, hopes all things, endures all things. Love never ends" (1 Corinthians 13:1-8).
God is love
Saint John the Evangelist asserts that "Whoever does not love does not know God, for God is love" (1 John 4:8). Re-read the above passage, substituting 'God' for 'love'. Could Saint Anthony have done something similar when writing his sermon notes on the Nativity of Christ?
He begins by marveling at the revelation which the angels shared with the shepherds of Bethlehem. "And the angel said to them: Behold, I bring you good tidings of great joy. For this day a Savior is born to you… This shall be a sign unto you: You shall find the infant wrapped in swaddling clothes and laid in a manger" [Lk. 2.10-12].
Anthony asks and then explains. "What do the words, You shall find the infant, mean, if not "you will find wisdom babbling, power made weak, majesty laid low, the immense made small, the rich made poor, the Lord of angels lying in a stable, and the Food of angels make like the fodder of animals, the unlimited confined to a narrow manger?" (Sermons for Sundays and Festivals IV, p. 8; translated by Paul Spilsbury; Edizioni Messaggero Padova).
Free gift
When grown up, this babe would offer His suffering as the price of our redemption. Yet Judas asks how much money he can receive for turning Christ over to his enemies. Such crassness amazes Saint Anthony. "What will you give me? What can they give you? If they gave you Jerusalem, Galilee, and Samaria, could they buy Jesus?" (Sermons I, p. 63).
Can we refrain from referring back to the list of the hottest Christmas gifts of 2022, wrapped in glittery, showy Christmas wrapping paper? And then turn our gaze to the greatest Gift lying on straw? How pitiable that some people highly value Airpods and Vegan Leather Handbags, yet think not at all about the Creator of sound and of all living things! How many have sold their faith in the supernatural, preferring instead the perishable and quickly obsolete!
The internet's hottest Christmas gifts of 2022 are symbols of power, wealth, and superfluity. The under ten dollar list is more affordable while continuing to cater to vanity. The Christian gifts all point to the greatest Christmas gift that is free for anyone to claim.
Priceless inheritance
The prophet Isaiah foretold him: "For a child has been born for us, a son given to us; authority rests upon his shoulders; and he is named Wonderful Counsellor, Mighty God, Everlasting Father, Prince of Peace" (Isaiah 9:6).
Anthony explains that Christ is "Wonderful (in his Nativity), Counsellor (in his preaching), God (in his working of miracles), the Mighty (in his Passion) the Father of the world to come (in his Resurrection). When he rose, he left us the sure hope of rising ourselves, as it were an inheritance for his children after him. He will be the Prince of peace in eternity" (Sermons IV, p. 12).
What Airpod or Vegan Leather Handbag, what fuzzy sock or daily planner, can compare with that?
Updated on December 20 2022