Sermons for Sundays and Festivals IV.
Sermons for Festivals and Indexes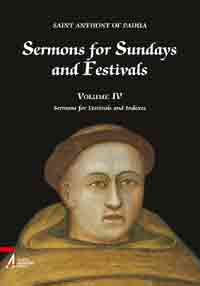 Editorial Reviews
St. Anthony of Padua (1195-1231) is one of the most popular saints of Christendom, renowned for his miracles and his concern for the poor. It is less well known that he was the first great theologian and teacher of the early Franciscan Order. Commissioned by Francis himself to teach theology to the friars, he fulfilled this task by composing his Opus Evangeliorum, a set of Commentaries on the Sunday Gospels. This fourth and final volume contains the Saint's unfinished work on the Festivals of the Church. He began it in the Autumn of 1230 at the request of Cardinal Rinaldo, later Pope Alexander IV. It was interrupted by the great Lenten Mission to Padua in the spring of 1231, and finally interrupted again when Anthony died on June 13. Starting with Christmas, it continues as far as the Apostles Peter and Paul.  
Author
St. Anthony of Padua
Price (not including shipping cost)
€ 20,00 - £ 17,00 - US$ 27,80 - CAN$ 32,45 - AUS$ 35,30
TO ORDER BY MAIL
please remit payment by postal money order or cheque to the appropriate address:
AUSTRALIA
The Messenger of St. Anthony
P.O.Box 200
Marden, S.A. 5070
Tel: 1800 080 200 Fax: (08) 8337 1171
e-mail: anthonian@picknowl.com.au
CANADA
Saint Anthony of Padua Mission Aid
1320 Leslie St. Suite 100
Toronto, ON M3C 2K9
e-mail: st.anthony@bellnet.ca
USA
Anthonian Association
101 St. Anthony Drive,
Mount St. Francis, IN 47146
Tel: (812) 923-6356 Fax: (812) 923-3200
e-mail: aafsap@aol.com
ALL OTHER COUNTRIES
Messenger of St. Anthony
Basilica del Santo – via Orto Botanico, 11,
I-35123 Padua, Italy
Tel. +39 049 822 5000
Fax +39 049 822 5650
e-mail: info@santantonio.org
Updated on October 05 2016