Shaped By Her Faith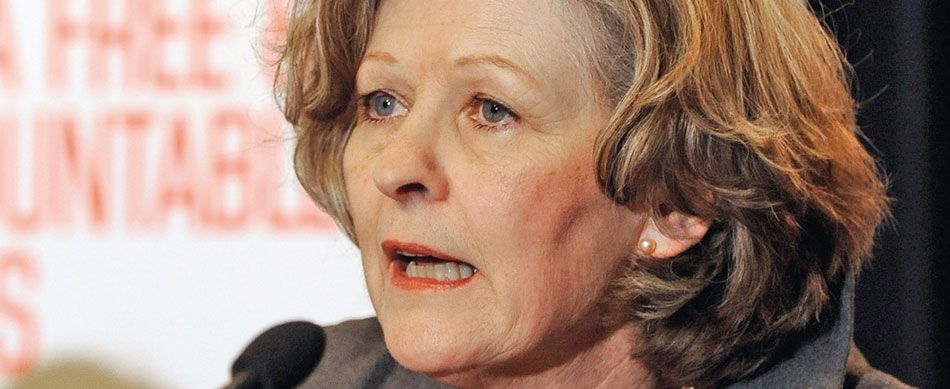 © Jonathan Brady – Getty Images
ABIGAIL Witchalls was walking in broad daylight with her 21-month-old son Joseph when she was suddenly stabbed by a man with a drug induced psychosis, leaving her paralyzed. She was pregnant at the time.
The horrific crime of 20 April 2005 shocked the UK and it thrust Abigail's family into the public eye, and they stayed there for at least the next five years, even though they would regularly object to intrusive and often inaccurate or sensationalist reporting.
Leading the battle for privacy was Sheila Clare Hollins, Abigail's mother. At the time she was also Professor of Psychiatry of Intellectual Disability at St George's Hospital, University of London, and founder of the Books Beyond Words project to help intellectually disabled children and adults.
Miracle survival
Like Abigail, Hollins was a dedicated Catholic, and she would later occasionally write for Catholic publications about how her faith had in some ways helped her to come to terms with the injuries suffered by her daughter.
"I don't think it did test my faith," she said, reflectively. "I think it deepened my faith. It is very hard to explain.
"I found it very hard when people wanted to make my daughter a saint, putting her on a pedestal. I said, 'Let her be – if she struggles it's just not fair to put the burden of being a saint on her'… She said to me 'we are all called to be saints', which we are. I think her idea was that we are all together in this journey in trying to play our part, and we all derive strength from God."
"Many people wanted a miracle and my point was that the miracle had already happened. She survived. It was extraordinary that she survived and I thought it was a miracle," she continues. "I was challenged, yes, of course I was challenged. I have been challenged at different times and I remember thinking to myself, 'Are you really expecting me to manage this? How am I going to do this? This is too much. I don't think I can do this. But when you look at people's lives most people have challenges, and we often don't know just how challenging their lives can be."
Huge sadness
Richard Cazaly, the man police believe carried out the attack on Abigail, took his own life before he could stand trial, leading Baroness Hollins to express the view that "his death was the tragedy of it."
"If he had help for his own problems maybe he wouldn't have been mentally disturbed on that day. That was called forgiveness, but I see forgiveness as a difficult concept. I feel huge sadness for him and his family. But it's not an intellectual thing. It's not something I could choose to do. It is an interior state."
After giving birth to her second son, Abigail went on to conceive a daughter, and although she remains paralyzed she recovered her speech and was able to educate her children.
She has now more or less obtained the privacy that for many years she craved, yet her mother's high profile never quite diminished.
Life peer
Five years after the attack on Abigail, Hollins entered the House of Lords as a crossbench life peer with the title of Baroness Hollins of Wimbledon in the London Borough of Merton and of Grenoside in the County of South Yorkshire.
She was elevated because she was distinguished by decades of years of clinical experience, first in general practice, but mostly in psychiatry. She is a past president of the British Medical Association (BMA), a past president of the Royal College of Psychiatrists, a former chair of the BMA Board of Science, and president of the Royal Medical Benevolent Fund. She is also the author of about 80 books for people who find pictures easier than words.
Now 76, she speaks in Britain's second political chamber mostly about mental health issues and intellectual disability. Because of her commitment and expertise in these fields she has emerged as a formidable opponent of attempts to change UK law to permit assisted suicide and euthanasia, arguing forcefully against the Assisted Dying Bill of Baroness Meacher from the floor of the house during a debate last October.
Huge threat
Baroness Hollins used science to demonstrate how dangerous such laws can be to vulnerable people, drawing on research which she had co-authored to warn fellow peers, for instance, that "autistic people and people with mild learning disabilities were given physician-assisted deaths in the Netherlands, rather than addressing the underlying issues of inequality, loneliness, feeling a burden or inadequate support."
She told the Messenger of Saint Anthony that any relaxation of the prohibition on doctor-assisted death would "undermine the value of human life" and would represent "a huge threat to people who are disabled" in particular.
"During the (Covid) pandemic people with Down's syndrome had a six times higher death rate than other people," she noted. "They were second to the over-80s in terms of death. One of the reasons for that was the Do Not Resuscitate notices served because of assumptions about quality of life.
"I think those assumptions get made. You only have to move the boundary very, very slightly to change the value that is given to a disabled person's life."
Clerical abuse
There can be no doubt of her commitment to weak and vulnerable people and her concern especially for those who are suffering mentally, and perhaps it was this, coupled with her professional expertise, that commended her to Cardinal Cormac Murphy O'Connor when the late Archbishop of Westminster was asked by Pope Benedict XVI in 2010 to undertake a visitation of the Catholic Church in Ireland in the wake of horrific allegations of clerical abuse.
The Cardinal had visited Abigail in hospital, and had come to know Baroness Hollins and her family a little. He asked if Baroness Hollins would accompany him to Armagh, telling her he wanted to take an expert who was also a woman.
Baroness Hollins had no intention of being a 'token woman' and they agreed that if she went she and the Cardinal would work together throughout the visitation, including organizing and holding public meetings and helping to write the final report.
Their work was thorough and also pioneering in its engagement with survivors of sexual abuse. In 2014 Pope Francis appointed Baroness Hollins as a founder member of the newly created Pontifical Commission for the Protection of Minors, which she served for four years, along with Marie Collins, a Dublin woman who was assaulted by a priest at the age of 13 and whose work the Baroness had helped to highlight.
For several years Baroness Hollins chaired the Scientific Advisory Board of the Centre for Child Protection in Rome.
It would be fair to conclude that her approach to her work is informed by professional and personal experience. It is also shaped by her Catholic faith and the example of her Jesuit-educated father and the ideals of free inquiry that he imparted to his children.
Jesuit spirituality
Baroness Hollins recalls how her father trained as a London solicitor before he went to fight as a captain in the Battle of Normandy, but returned wounded both physically and mentally. He suffered for the rest of his life from post-traumatic stress disorder after having seen his men slaughtered by "friendly fire," and he was disabled by injuries to his leg that were prone to recurrent infections which eventually killed him half a century after the war was over.
The family moved to South Yorkshire when Sheila was aged just 2, and she was educated by the Sisters of Notre Dame in Sheffield, while at home her father taught his children how to inform and use their consciences properly.
Sheila emerged from her formative years as a confident young woman who was determined to study medicine at university. But first she volunteered to spend a year in Nigeria and in 1964, at the age of just 18, she became head of science in a Catholic school for girls run by an order of Nigerian nuns.
She returned to the UK and trained as a doctor. She married Martin Hollins, who was not a Catholic at the time, and when their children were small she found herself gravitating toward the Jesuit spirituality of her father, often attending Mass at the Jesuit Church of the Sacred Heart in Wimbledon rather than at her own parish.
Benedictine charism
She was later attracted to the Benedictine charism when a friend from Sheffield became a monk and invited her family to spend Easter with him at Worth Abbey in the southern English county of Sussex.
"For the next 30 years we went to Easter there every year," Baroness Hollins says. "We became members of the Lay Community of St Benedict.
"Searching for a place to belong, a place to have other people who you can make sense of faith with, is really quite important," she says. "With the Jesuits and the Benedictines, they just feel like places I can be.
"With the Jesuits you have that discernment, and trying to work things out and thinking about things – not being afraid to question, and so on.
"The Lay Community of St Benedict has three charisms: creating holy space, one is about living Holy Communion and the other is about holy service. It is that hospitality – and that charism of hospitality which is so important for Benedictines, the idea that you can have a space where you can explore. I think it is a phenomenal community.
"It has been incredibly important and when my daughter was injured they made it absolutely sure that it was a safe place for the family and Abbot Christopher (Jamieson) made a monk available to visit her and the family whenever we needed."
Firmly anchored in the spirituality of two of the world's greatest religious orders, Baroness Hollins has emerged as a powerful example of how a Catholic woman can live her faith both in her professional and private life.
Updated on October 03 2022