Traveling with Pope Francis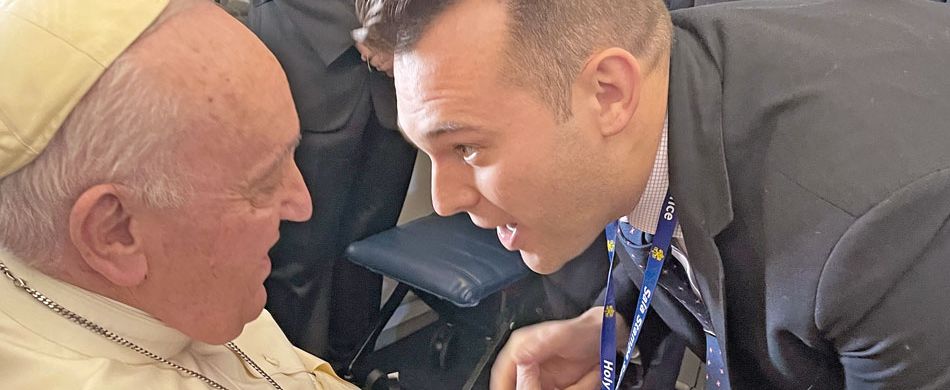 Our author with the Pope on board the papal plane; White holds a master's degree in ethics and society from Fordham University and a bachelor's degree in politics, philosophy and economics from The King's College // Courtesy of Christopher White
POPE Francis on February 5 returned from the Democratic Republic of Congo and South Sudan on a six-day visit to Africa that marked his 40th international trip since being elected pope in March 2013.
These journeys have taken him to places as remote as Iqaluit, in the Arctic Circle of Canada, to Madagascar, off the eastern coast of Africa, often drawing hundreds of thousands or even millions of onlookers that would never have the opportunity to travel to Rome to see the Pope on his own turf. Eighty-six-years-old, and despite struggling with ongoing mobility issues, Francis has shown no signs of wanting to slow down. En route back from Africa, he told reporters he hopes to visit Mongolia later this year in September, and India in 2024.
Shepherd One
As the Vatican correspondent for the National Catholic Reporter, I'm one of about 60 journalists privileged to accompany Francis on these journeys, where we get a front row seat to the strange and exciting world of papal travel.
En route back from South Sudan, Francis traveled with the Archbishop of Canterbury Justin Welby and the Moderator of the Church of Scotland Iain Greenshields after a historical ecumenical visit to beg for peace in the war-ravaged country. As we traveled back to Rome, the two men asked if they would be open to undertaking such a joint voyage together in the future.
"Certainly this is the best airline I've ever flown on," Welby jokingly replied. But a seat on the Pope's plane – "Shepherd One" as it is sometimes referred to in the American press – is a coveted one. Allow me to invite you inside for a short ride.
Not very comfortable
To begin with, traveling with the Pope is hardly luxurious. Unlike most heads of state, the Vatican does not own its own aircraft. When the Pope accepts an invitation to travel to a particular country, the Vatican has to charter an aircraft to take him there and bring him back to Rome. On the outbound flight it's almost always ITA Airways, the new national Italian carrier that replaced Alitalia. On the return, it's sometimes ITA or on occasion the national carrier of whatever country he is visiting. When we came back from Africa, we rode ITA the entire way. En route back from Bahrain, Gulf Air brought us back to Rome.
Journalists are required to arrive at the airport at an ungodly hour – often around four or five in the morning – and we go through check-in and security like all other flights. As we wait for a bus to take us to the aircraft, we sip espresso and eat cornetti, often chatting with one another about our expectations for the trip: "Will Pope Francis have the energy to make it through this? What do you think will be the highlights? What do you plan to say to the Pope when you see him?..."
Inflight entertainment
A colleague who has been on dozens of these trips under three Popes likes to joke that traveling with the Pope forces our news agencies to pay first class airfare prices for coach class service. Despite what many people seem to think, we don't travel for free. In fact, journalists traveling with the Pope subsidize the cost of papal trips, and those costs continue to skyrocket forcing some agencies to bow out of certain trips. But, my colleague likes to say, the inflight entertainment is unbeatable!
For starters, en route to wherever we're traveling, soon after take-off, Pope Francis comes to the back of the plane and individually greets journalists traveling with him. While historically the Pope would walk down the aisles, stopping at each row for a quick chat, now we file up to the front to greet him one-by-one as he remains seated, so as to not put any added stress on his bad knee. Some colleagues show Francis photos of their children and ask for a blessing. Other reporters beg for sit down interviews, while other colleagues bring gifts. Afterwards we trade stories about what the Pope had to say. If it's newsworthy, we'll report it, but most of the time, these exchanges are much more personal.
For the rest of the flight, most of us who are print journalists spend our time pre-writing our stories for when we arrive, as we are given that day's speeches under embargo when we board the plane. If it's an especially long flight, some colleagues watch a film or others sneak to the back of the plane for a chat over a prosecco or another coffee, depending on how much work there is to be done!
On arrival
When we arrive in a new country, photographers are the first off the plane, followed by the rest of us, as they have to be the first on the ground to be in position to capture those moments when Francis gets off the plane and greets the head of state or whoever is a part of the official welcoming ceremony on the red carpet. Most of us begin furiously snapping photos or videos to post on social media and quickly file our stories to our editors – there's seldom WiFi on board.
Almost always the first official event is the Pope's address to the country's leadership, diplomatic corps and civic society representatives. We journalists hurriedly file into buses and head to the event site ahead of Francis' arrival. En route, the streets are normally cleared for us as we zip our way to the location at lightning speed. In the Congolese capital of Kinshasa, hundreds of thousands (or maybe over a million – it's up for debate!) lined the city's chaotic streets for 15 miles in one of the most exuberant greetings I've ever witnessed.
During the course of any papal visit, those in the Pope's bubble are subjected to early wake-up calls, often having to check-in with the Vatican security handlers by five in the morning, ahead of heading out for the day's events. The days are extremely long and we sometimes work in bleak conditions (we've experienced severe rain, scorching heat and freezing temperatures), but it's a small price to pay to be able to have a front row seat to the action. Often while waiting for the Pope to arrive, I'm able to mingle in the crowds. I'm always stunned by how emotional some people get when describing what it means to them that Pope Francis has not forgotten their pain and suffering, and is willing to make the arduous journey to visit their country.
New standard
When the evening rolls around – and just as we're ready to unwind and have a bite to eat for dinner or a celebratory drink with a colleague – reality sets in when we check our email and receive the embargoed speeches for the next day. While we may still have a quick sandwich or a glass of wine, there's never too much fun to be had, as we're all too well aware of the fact that more work awaits us when we get back to our hotel room.
As the trip winds down to a close, one ongoing conversation among journalists is always about the Pope's in-flight press conference en route back to Rome. While Pope St. John Paul II started the tradition of informally speaking with reporters during trips, and Pope Benedict XVI answered questions that he received in advance, Pope Francis set a new standard when, in 2013, en route back to Rome from Rio de Janeiro, Brazil on his first international trip, he held a press conference without receiving any questions in advance.
Names out of hats
These press conferences at 30,000 feet in the air have now become a sacred tradition, as it's the only scheduled time when the Pope formally meets the press. Questions are asked by different language groups, and the reporters are divided among English, French, Spanish, German and Italian language outlets. As there are almost always reporters on board from whatever respective country the Pope is visiting, they are able to ask the first questions. Each language group has their own way of deciding who gets to ask the question and what the question will be. For the English language group, we now draw names out of hat to see who gets to put the question to the Pope.
For journalists, these moments are golden, giving us some of the best headlines to emerge in Francis' ten year papacy. There's something about the adrenaline rush of coming straight off a trip that I believe allows Francis to feel unshackled and free to speak his mind. It's also a chance for us – and the world – to better understand his thinking and his priorities. Of course it adds to the stress for the flight back home, as we quickly have to prepare our stories to be published upon landing back in Rome, but that's one of the main reasons our agencies pay top dollar to have us onboard.
In his 2022 message for World Day of Social Communications, Francis wrote that both in the world around us, as well as in the Catholic Church, "there is a great need to listen to and to hear one another. It is the most precious and life-giving gift we can offer each other." And as a Vatican journalist traveling with the Pope, I'm grateful that these trips give him an opportunity to put his own words into action.
Updated on April 11 2023