The 2018 Report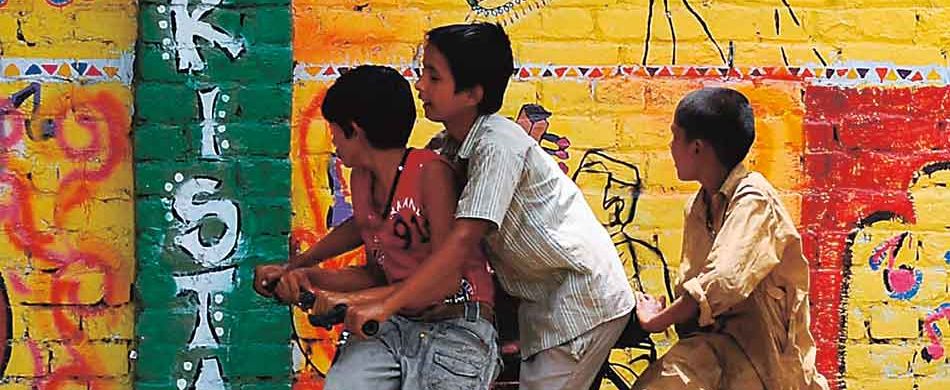 Arif Ali/ AFP/ Getty Images
EIGHTY projects in 32 countries around the world, for a total of over €1,660,000. These are the numbers of the St Anthony's Charities Annual Report for 2018 – a work of solidarity in the name of Saint Anthony supported by the readers of the Messenger of Saint Anthony and friends of our Saint.
"At the heart of our solidarity are three main subjects," explains Father Valentino Maragno, Director of St Anthony's Charities. "These are children, young people, and communities, who live mainly in two areas of marginalisation: the suburbs of large metropolises and in the isolated rural areas of Africa, Asia, and Latin America."
In fact, the countries in which St Anthony's Charities were most present in 2018 were the Democratic Republic of the Congo and India. Overall, 60 percent of the projects last year were carried out in Africa. Direct beneficiaries exceeded 1,200,000 people thanks to some health projects with far reaching impacts – these have significantly improved the ability to care for, and the survival of the population in areas lacking in dispensaries and hospitals.
Five sectors
The classic project areas of previous years were also confirmed in 2018, covering mainly five sectors: school and training, health and hygiene, human promotion, housing, and access to water. The school and training projects were of various types ranging from the construction of classrooms, to the consolidation of buildings, to the equipment of canteens. In the health/hygiene sector, the number of requests for toilets for communal buildings increased, as did those for specialised equipment for operating theatres and clinics. On the other hand, human promotion projects aimed to improve living and sustenance conditions of small rural communities, ranging from professional training centres to community halls and shared facilities such as a village mill.
Access to housing had a prominent place in 2018 as a result of the June 13 project on the occasion of the Feast of Saint Anthony, in favour of the families of campesinos in the forests – nuclei of very poor isolated farmers, often with one or more family members with severe physical or mental disabilities. Wells, cisterns and water networks are the last important commitment always on the agenda for St Anthony's Charities. "Drinking good water is the first requirement to avoid illness and mortality," says Father Valentino, "but not only that, having water at your fingertips often means allowing children, and especially girls, to go to school. In many villages, it is the youngest ones who have the task to find water, at the cost of having to walk miles and spend the whole day searching for it."
Importance of construction
The most requested project type in 2018 was building construction – not just schools and homes for families in need, but also dispensaries, dormitories, and hospital wards. "The places in which we operate suffer from a lack or absence of even minimal infrastructure," explains Father Valentino. "Construction of a building is a difficult undertaking both from the point of view of cost, and also logistics. It's not easy to find workers and materials, nor to transport machinery to areas where there are no roads. This is why the request for construction has such an important place and has become an essential lever of development."
As with the previous years, the majority of projects were micro-projects of under €20,000, confirming the commitment of St Anthony's Charities to supporting development carried out in small steps together with the local people and the local Church.
Two goals
In the near future St Anthony's Charities has two ambitious goals: "to work more with missions of local Sisters who have shown themselves to be the most active in the forefront of the most abundant and marginalised suburbs of our planet," says Father Valentino. "The other great goal is to take responsibility for a category of poor people for whom there is no assistance: those suffering from disabling mental illnesses. We are thinking about projects in Togo, Romania and Albania. The last frontier is to connect with the pan-Amazonian Synod convened by Pope Francis for October 2019." The meeting of the bishops who work with the great forest, the lungs of the world, and with its people, is an invitation to the Church to find, as the theme of the Synod suggests, new paths for integral ecology. "We have both the honour and the burden of having some of our friars working in the Amazon area," concludes Father Valentino. "We will make these experiences bear fruit in favour of our mother Earth and for the sake of forgotten peoples. We thank you for the help and support you constantly give us: without you, solidarity in the names of Saint Anthony and Saint Francis, would not be possible."
BOX:
USA & CANADA
The great generosity of our readers in North America went beyond itself in 2018, donating a lot more with respect to 2017. The Anthonian Association of the Friends of Saint Anthony of Padua (AAFSAP) in the USA donated a total of US$402,680 which is $146,779 more from 2017. Of this sum $68,990 were for projects within the US. Funds sent outside the US were $7,750 for India; $10,000 for Romania; $10,000 for Brazil; $25,000 for Peru; $25,000 for Papua New Guinea; $6,000 for Vietnam; $40,000 for Zambia; $20,000 for Kenya, and $39,940 for Ecuador (our June 13 Project). Finally $150,000 were donated to finance Antonius, the new multimedia Exhibition now drawing thousands of pilgrims to the Basilica of St Anthony in Padua.
Saint Anthony of Padua Mission Aid (SAPMA) in Canada donated a total of CAD$225,000. Of this sum, $105,000 went to initiatives within Canada (such as St. Clare Inn and St. Bernadette Centre). The rest of the funds were allocated to projects within the US ($114,000), and to Ecuador ($146,000: our June 13 Project). Then $15,000 were sent to Ecuador again for another project; $20,000 to Zambia; $15,000 to Uganda; $12,000 to Tanzania; $163,000 to Paraguay and $38,000 to Bolivia.
Our Saint continues to be proud of our readers and donors in North America!
Updated on April 24 2019