The 2021 Report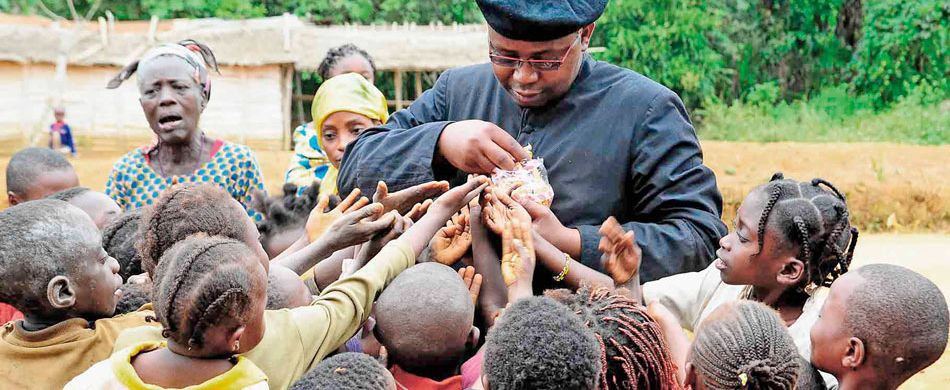 Paolo Floretta /Archivio MSA
ALTHOUGH 2021 was a challenging year for many, the success of the projects implemented through the generosity of the readers of the Messenger of Saint Anthony and St. Anthony's Charities speaks for itself – a total of 116 projects in 36 countries through donations of over four million Euros providing solidarity to over a million people around the world. The continuing COVID-19 pandemic may have changed some practices and priorities, but St. Anthony's Charities has continued its traditional mission of helping the world's poorest people not only with the day-to-day challenges they face, but also with the new challenges created by the pandemic, which has caused further poverty and marginalisation.
Africa privileged
As in previous years, Africa remains the continent which received most funds – €1,939,150 which amounts to nearly half the sum donated (48.65 percent). Seventy projects received assistance in 16 countries. The African country receiving the most funds was the Democratic Republic of the Congo at €414,700 coving 20 projects, many of which related to schools– construction of a new school, new classrooms, new toilets for schools, new desks, solar panels, and new desks – as well as projects for the supply of water through the construction of wells, health care service improvement, and providing help to abandoned children. Burkina Faso received the second greatest amount of funding, €429,050, but for only five projects. Why so much for only five projects? Well, most of the money granted went to the ongoing annual project initiated in June 2021 for the celebration of the feast of Saint Anthony, which is supporting street children in Koudougou.
The largest number of projects supported in 2021 relates to schools, but the type of project that has absorbed the most resources is aimed at human promotion – the promotion of community development from several points of view: social, health, and economic. These include, for example, projects to start work, to promote women, and training in agriculture or health. A great deal of attention has been given to the construction of houses and reception centres, but also to those initiatives that promote access to health, drinking water and improved hygiene in community buildings. Initiatives that are even more important in times of a pandemic.
Young people privileged
If schools and community projects are the two most significant achievements in 2021, it follows that the beneficiaries are also linked to these choices. Children and adolescents, the traditional recipients of our solidarity, are at the centre of 31 projects, and which have absorbed about 27 percent of the resources. There are 36 projects aimed at the general population, which take up 25 percent of the resources. Over the years, however, there has been a growing tendency to support projects not only for the youngest children, but also for higher education and getting young people into work.
"This is a choice that follows a consolidated trend because young people are often the most marginalised, and their life prospects are worse than those of their parents," says Father Valerio Folli, director of St. Anthony's Charities. "As for the projects aimed at the populations, they are mostly implemented in rural areas of Africa where just about everything is lacking. These areas are the periphery of the peripheries, where any help, even the smallest, is of vital importance and has an amplified impact."
Maximum effectiveness
Choices, therefore, that follow the principle of maximum effectiveness: "Supporting the scholastic, human and spiritual growth of children, adolescents and young people means creating the foundations for development," continues Fr. Valerio. "In the same way, intervening in the poorest suburbs means laying the foundations for change and curbing, as far as possible, migration towards the cities, which is a source of further poverty and marginalisation. The death of migrants attempting to cross the Mediterranean is one of the dramatic consequences of this."
This goes to show that what seems far away is actually close at hand, and that good done at the right time and in the right way is good for everyone. In terms of funding, St. Anthony's Charities remains a reality made up of micro-activities in close collaboration with both the Church and civil society in the beneficiary countries. Seventy-five out of 106 projects requested an average sum of between 10 and 30 thousand Euros, a sum that has risen compared to previous years due to the erosion of inflation in many poor countries.
The profile of the contact people in the countries assisted by St. Anthony's Charities is also changing. In 2021 there were 55 men. Twelve of these were from the Order of Friars Minor Conventual, the Order which actually manages St. Anthony's Charities as well as our two charitable associations in the USA and Canada: the Anthonian Association and Saint Anthony of Padua Mission Aid (see box).  A further 30 were other religious people, and 13 were lay people. But the interesting news for 2021 was that the number of women who are contact people continues to grow – 39 last year, of whom 32 were nuns and 7 lay people. Taking all the 94 contacts together, 21 percent were from western countries. What emerges from this is a picture of a Church that is on the move, synodal, less and less Eurocentric and more and more self-referential. "This is a Church of small steps, lived together, which takes into account the contribution of women and cultural diversity," concludes Fr. Valerio. "It is a Church that is close to the poorest and the most marginalised. A Church that is welcoming and that is willing to put itself out there. A Church that calls all believers together. I believe that Saint Anthony, who is the inspiration for our work, would be proud of what we are doing."
USA & CANADA
Our readers in North America have continued to demonstrate their great generosity and solidarity with those who are in dire need; they followed in St. Anthony's footsteps and put their faith into action and supported our mission of Gospel & Charity. Thanks to our supporters, in 2021 the Anthonian Association of the Friends of Saint Anthony of Padua (AAFSAP) in the USA, was able to distribute a total of US $319,500 toward humanitarian projects that provided much needed services, such as: access to quality education for marginalized school age children in India and Italy ($38,000); emergency pandemic relief food, housing, medical supplies, and job training for thousands of homeless individuals, abandoned youths, elderly, unemployed, underemployed, and for many ill and in recovery in Italy, United States, and Burkina Faso ($268,000); and hundreds of Catholics in rural India and Kenya received hope, support and spiritual guidance thanks to the hard work of our Franciscan missionary brothers who ministered to them ($13,500).
Saint Anthony of Padua Mission Aid (SAPMA) in Canada likewise acted in exactly the same spirit as their US neighbors, and donated a total of CAD$600,000. Of this sum, $95,000 went to initiatives within Canada (such as St. Clare Inn and St. Bernadette Centre). The rest of the funds were allocated to projects within the US ($62,600), specifically FrancisCorps and Saint Kateri Tekakwitha Shrine; $65,000 went to Burundi; $105,000 to Ghana; $100,000 to Uganda and $22,400 to Italy. Finally, a total of $150,000 were donated to St. Anthony's Charities, which include the June 13 Project in Burkina Faso.
AFRICA                     €1,947,150
Angola                                           €73,000
Burkina Faso                                 €429,050
Burundi                                          €37,000
Cameroon                                     €33,000
Chad                                             €68,000
D.R. Congo                                   €414,700
Ghana                                           €63,300
Ivory Coast                                   €131,450
Kenya                                            €150,150
Liberia                                           €15,500
Malawi                                          €64,500
Mozambique                                 €66,300
Rwanda                                       €133,000
Tanzania                                      €214,800
Togo                                             €14,000
Uganda                                        €39,400
ASIA                             €493,750
Bangladesh                                        €26,500
Philippines                                         €50,000
India                                                  €111,000
Israel                                                  €76,750
Lebanon                                             €49,000
Myanmar                                            €50,000
Pakistan                                             €74,800
Yemen                                                €55,700
AMERICA                   €206,200
Argentina                                      €20,000
Bolivia                                           €8,000
Brazil                                             €60,000
Chile                                              €20,000
Ecuador                                         €72,600
Paraguay                                       €15,600
Peru                                               €10,000
EUROPE                                       €1,354,995
Albania                                          €30,600
Italy:                                              €1,303,395                
Romania:                                       €21,000
TOTAL                                        €4,002,095                             
Updated on April 01 2022