Always Available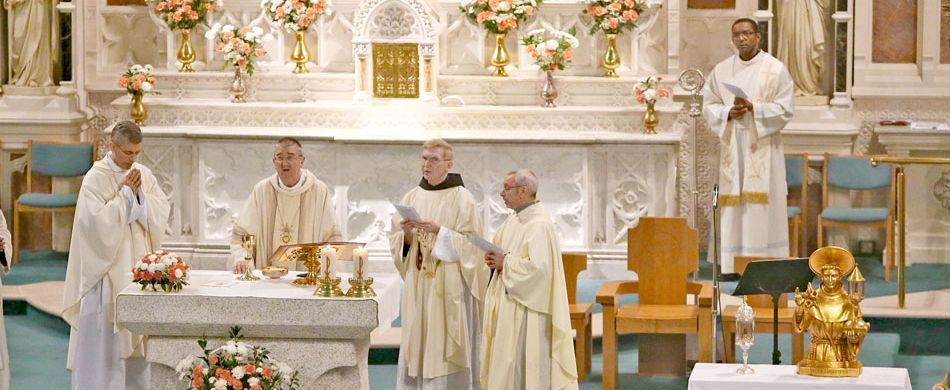 Then-Archbishop of Dublin and Primate of Ireland Diarmuid Martin says Mass to welcome the relics of St. Anthony at Fairview in 2013; to his right is Archbishop Brown, then-Apostolic Nuncio, while to his left is Fr. James McCurry, OFM Conv., and our Editor © Niall Carson/PA Images – Getty Images
"JOE, did you ever think of joining up?" That simple question prompted Joseph Fenton to approach the Conventual Franciscans about his vocation. He was helping the parish Sister tend the friary garden in Fairview, one of just two communities of Greyfriars in Ireland. Though originally from Cork city, Joe was working in Dublin and was a regular at Mass and devotions in Fairview parish which the Franciscans have been running in the Archdiocese of Dublin since 1987. He also volunteered his time when the parish needed a hand for fundraising events or for keeping the place ticking over.
Ten years later, Brother Joe is now a member of the very community where his vocation came to fruition. "I came to Dublin in 2000 to work, and by pure chance I arrived in this area. That is how I got to know the friars." Prior to that, he had never heard of the Greyfriars. But he always had a sense of vocation though he had never acted on it. It was that question, as he tended the soil in Fairview, that spurred him to reach out. Over the last ten years he has taken solemn vows, studied in the UK and in the US, been a member of the friary in Wexford before his journey came full circle with his return to Fairview, now wearing their distinctive grey habit.
Four friars
Fairview's parish team comprises four friars, parish priest Fr. Maximilian McKeown, who hails from Motherwell in Scotland; Fr. Marius Tomulesei from Romania, Brother Joe Fenton from Cork and 85-year-old Fr. Aidan Walsh from Dublin, who has been in Fairview since 2013. He spent 40 years ministering in Britain. Last July marked the golden jubilee of his ordination, a big celebration which had to be postponed twice because of the pandemic.
The Gothic revival Church of Our Lady of the Visitation in Fairview was officially opened on 14 January 1855 and dedicated on 12 October 1856. This area of Dublin was originally known as Ballybough, but it got its name – Fairview – thanks to the Church: Our Lady of Fair View.
The Franciscans first arrived in Ireland in the town of Wexford in 1255. Over time, they founded 32 houses across the country. However, the harsh anti-Catholic laws which followed
the English Reformation in 1534 led to the suppression of all these friaries, and the friars went into hiding. It was another 450 years before the Greyfriars returned to Dublin at the invitation of Archbishop Kevin McNamara in 1984. He had a special devotion to the Conventual Franciscan St Maximilian Kolbe, who had been canonised two years previously in October 1982.
Two friars, Fr. Patrick Griffin and Fr. Jarlath McDonagh, began working in Fairview in the 1980s and the Franciscans took custody of the parish in March 1987.
Covid after-effect
Today Fairview, like most other parishes in Ireland, is trying to rebuild its congregation in the wake of the multiple lockdowns of the Covid pandemic. According to Fr. Aidan, "They are coming back, it has improved, but it remains to be seen if the numbers return to pre-pandemic levels." Many parishioners are in the older age category and remain hesitant about congregating for public worship because the virus is still circulating. According to Brother Joe, "the bulk of our regular everyday worshipers would be in their 40s, 50s, 60s and upwards. There wouldn't be a whole lot in their 20s. There would be some families that come on a Sunday."  
At 37 years of age, Fr. Marius is the youngest member of the Fairview community. He arrived in Ireland in 2018 after spending time working at the Catholic chaplaincy at Aberdeen University in Scotland. His ministry with young university students has served him well in his outreach to young students in two local schools in Fairview. However, it is not without its challenges. "Close by we have St Mary's primary school for girls and St Joseph's primary school for boys. Before the pandemic, I would go to the schools with Sr. Joan for half an hour every week to promote the message of the Gospel. Most of the children in the school and their families don't go to church regularly – that is the reality. We try to engage with families when there are Masses organised by the schools. All we can do is propose and try to encourage, but the culture and the history of what happened in the Church in Ireland means they find many reasons not to go."
Synodal journey
Sunday morning Mass in Fairview sees a smattering of 'new Irish' in the congregation with Indian and Filipino families. But it is hard for young couples and members of the immigrant community to find accommodation in Fairview due to the high price of property. "We don't have a great many immigrants in this area because the property has been snapped up," Br. Joe explains. However, the friary has a number of Indians working for it. "Our manager is Indian, our cook is Indian, and our maintenance man is Indian too. They come to the Masses with their families." Fr. Marius would like to see more families involved in the parish. "A few years ago there were some families involved at the Family Mass on Sundays. There was a small choir of around 10-15 children. But then the pandemic came and some of the families moved away."
In October 2021, the Church officially launched its synodal journey in every diocese throughout the world. The consultations and discernment are underway in parishes, and they will culminate in a general assembly of bishops in Rome in October 2023. In Ireland, this process is running in tandem with a five-year lead-in to a National Synodal Assembly. Fairview parish, Fr. Aidan relates, has set up a committee involving parishioners and parish priest Fr. Max on synodality. The synodal journey is, he says, "a big project" and an opportunity to ask questions and have a say about what is needed.
Special devotion
Unsurprisingly, there is a strong devotion to St. Anthony in the Fairview parish, especially after the two visits of the Saint's Relics from Padua. According to Fr. Marius the numbers increase for devotions on a Tuesday. "You'll see more people than usual in the Church on that day. Everybody knows the prayers." The donations in the collection box at St. Anthony's shrine shows that those who have found something they lost don't forget their pledges to the Saint.
The church also hosts, however, a number of other devotions, and these draw different groups of devotees. One of these is Exposition of the Blessed Sacrament, which takes place from Monday to Friday between 6 to 7 pm. Many of those who come for Exposition are from other parishes where there is no adoration during the week. They like the fact that we hold it regularly."
There is also a dedicated group of 10 to 15 parishioners who say the rosary every day. Fr. Aidan highlights the "tremendous" devotion to Our Lady of All Nations as well as on Saturdays the Crusade of Mary Immaculate, founded by St. Maximilian Kolbe in 1917. The Polish Franciscan gave his life for a fellow prisoner in Auschwitz, the Nazi death camp, in 1941. The Crusade seeks to spread the Good News by dedication to Mary Immaculate. The community has also noticed an increase in the number of people coming for confession. Br. Joe told the Messenger of Saint Anthony, "We have confession after the 10 o'clock Mass every day, but it is especially busy on a Saturday. Fr. Marius was in the confessional for about two hours last Saturday. People appreciate the fact that confession is regularly available."
Availability
While the pandemic put a halt to the Franciscan's vocations programme for two years, the good news is that there are currently two students, one from Ireland and one from Britain, in formation in the Greyfriars' formation programme in Oxford. "We also have a priest who has decided to join us," Fr. Aidan relates. "Originally from South Africa, he was working in the Diocese of Westminster in London. He will be ready this year to proceed with his formation." They believe the communal life of the Franciscans is an important support for the friars in challenging times. This in turn benefits those who come knocking on their door. As Br. Joe explains, "It would be unusual to come to the door of the friary and there were nobody to answer it. There is always a priest available if someone wants to speak to one.
Updated on April 13 2022