Death of a Saint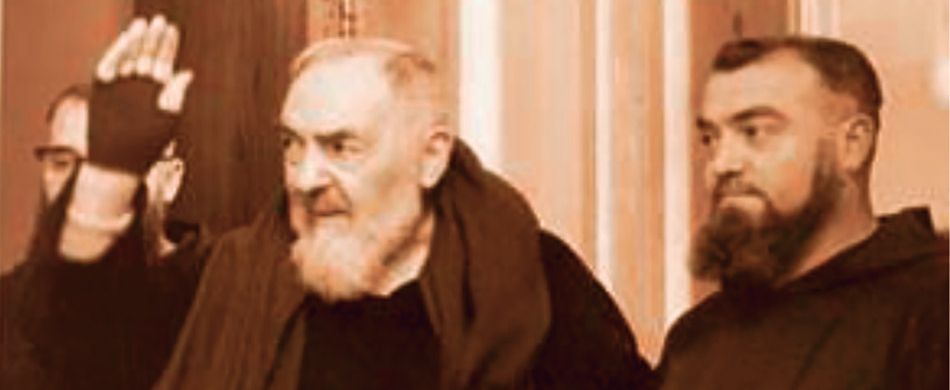 Fr. Pellegrino, right, heard Padre Pio's confession shortly before his death on 23 September 1968
EXACTLY 50 years ago, on 23 September 1968, Padre Pio of Pietrelcina, one of the best loved saints in the world, died in the small town of San Giovanni Rotondo in southern Italy. The town is marking this event, as well as the 100th anniversary of the saint's stigmata, with a host of celebrations.
Padre Pio lived with heroic zeal the Christian virtues and the teachings of the Gospel. From his youth numerous charismatic gifts surrounded his persona, like bi-locations, levitations, mind reading, premonitions, clairvoyance, healings, visions of heavenly and demonic beings and, of course, the stigmata. Because of all these gifts Padre Pio once remarked to a fellow friar that he was a "mystery even to myself."
It was particularly on account of the stigmata that Padre Pio was bitterly criticized and attacked by numerous people, including high ranking ecclesiastics in the Roman curia. Padre Pio, however, always bore these attacks with meekness, saying "The Church is mother, even when she punishes."
Enduring appeal
Padre Pio's fame and popularity has continued to grow even after his death. Hundreds of books and thousands of articles have been written on the Saint of Pietrelcina, as well as some films, documentaries, and even a TV series. There is therefore no lack of information about Padre Pio's life. However, not much is known about Padre Pio's last moments. How did Padre Pio face the mysterious threshold of death?
Today, after 50 years, all of Padre Pio's religious brothers have passed away, so there is no one left who can give details of his last moments. This author is probably the only journalist in possession of unpublished material regarding the saint of Pietrelcina's last hours. I have personally met Padre Pio twice. This was in the last years of his life, and my articles published in Gente, a major Italian periodical, were appreciated by Padre Pio's fellow friars. After the saint's death I had the opportunity to interview Father Pellegrino Funicelli a number of times. Father Pellegrino was a Capuchin friar who attended Padre Pio for many years and assisted him in the last hours of his life. He passed away in San Giovanni Rotondo in 1988.
I have always taped my interviews, and so I am able to give an outline of the last hours of Padre Pio's earthly life in extraordinary detail. The evidence I have proves that the saint knew he was about to die, and that he was assisted in his last moments by his 'invisible friends'. Here is my interview with Father Pellegrino Funicelli.
A Capuchin friar
Father Pellegrino, could you describe Padre Pio in the last days of his life?
Padre Pio was 81, and his body was worn down by many diseases and, above all, by the stigmata, which often bled copiously. In the last months of his life he was barely able to walk, and had to use a wheelchair to move around the friary.
September 20 was the 50th anniversary of his stigmata, and devotees had flocked to San Giovanni Rotondo to celebrate the event. However, Padre Pio was so ill that the feast had to be moved to the 22.
On that day Padre Pio celebrated Mass, but with great difficulty. At a certain point he became confused and got his lines mixed up. At the end of the Mass he even fainted, and had to be carried to his room, where he rested for a few hours, after which he came down with his wheelchair to bless the faithful, but his strength failed him again, and he fainted once more.
And what actually happened on the 23, the day he died?
For the past three years I had been sleeping in a room connected to that of Padre Pio by an internal phone so that I could help him at any time. That night I turned in at around 9:00 pm, and Padre Pio was already in his bed. In his room there were some people who left when I arrived.
From 9:00 pm till midnight Padre Pio called me about 5 or 6 times to ask me what time it was.  He did not show any evidence that he was about to die, to the contrary, he seemed quieter than in the previous nights. He was more concentrated, and his eyes were watery, but this was often the case because he was always in prayer.
At midnight he asked me with some anxiety, as though almost afraid I would say no, if I could remain with him, and of course I reassured him that I would. I usually sat on a couch next to his desk, but that night Padre Pio asked me to sit on a chair next to his bed. He then took my hand among his and held it tight: he was trembling like a child with fever.
From midnight to one o'clock he asked me every two or three minutes what time it was. It was as if he had an appointment he did not want to lose. His eyes were weeping gently, and I dried them.
Around one he said to me in his usual dialect, "Young man, has Mass been said?" "It's too early for Mass, Father" I answered. He added, "You'll say it for me this morning."
The star-lit sky
So it was as if he knew his last hour was fast approaching.
Absolutely. Shortly after he told me he wanted to confess himself. I was not his usual confessor, even though I had confessed him various times in the past. After his confession he asked me to renew for him the 'Act of Religious Profession'. This request alarmed me deeply, because we Franciscans do this on our deathbeds.
I complied with his wish, and then Padre Pio told me, "My son, if the Lord calls me today, please ask forgiveness on my behalf to my fellow friars for all the troubles I have given them. Please also ask them to say a prayer for my soul."
I replied, "I am sure, Father, that the Lord will give you many more years of life. However, should you be right, I ask you to give one last blessing to our fellow friars, to your spiritual children and to the sick."
"Yes," he said, "I bless them all. Ask the Superior to give this blessing on my behalf."
Shortly after one o'clock Padre Pio told me, "I can't breathe well on this bed, please help me up." I insisted that he remain lying down on his bed, but I then complied with his wish. I helped him to put his clothes on; then he went to the sink and washed his face with fresh water, combed his hair and sat down on the easy chair. He then asked me if it was a starry night, and when I told him that the night sky was full of stars he asked me if we could walk out.
Did you comply with this wish?
Yes. He got up from the easy chair by himself and straightened up completely, which was something he had not done for years. I got close to him to sustain him, but I found out with surprise that he didn't need any help. He was walking straight, without any problems whatsoever; in fact I had never seen him walk so beautifully. He stepped onto the corridor and went toward the door of the verandah, where he turned the lights on, which was something he never did.
When we were under the star lit sky he looked around with a powerful, luminous gaze. He remained for a few minutes in silent contemplation of the night sky, and then sat down on the couch. Generally, when he was in the verandah he was there to pray. That night he watched the star-lit sky, and then a specific spot of the verandah, precisely that point where his body would be laid after his death.
How long did you remain in the verandah?
After about 10 minutes he became pale. "Let's go back to my room," he said. So I helped him up and realized he had grown heavy again. He was no longer able to hold himself up, and I was unable to sustain him, so I seated him on his wheelchair. Once back in his room I managed to lower him on the easy chair with great difficulty.
Jesus, Mary
When did you become certain that Padre Pio was dying?
It was actually then that I realized that Padre Pio was dying, because I could see that he was becoming paler and paler on the easy chair, and that his lips had become bluish, so at that point I became  very alarmed. He started repeating to himself, "Jesus, Mary, Jesus, Mary" while his voice was becoming feebler and feebler.
I will now tell you one detail that I have never before revealed to anyone else save to my fellow friars because of its peculiar nature. On the wall facing the couch Padre Pio had a portrait of his mother. On looking at the picture he asked me, "Who's in that portrait?" "Your mother," I answered. "I see two mothers there," he replied. I was thinking that his gaze had become blurry. I got closer to the picture and told Padre Pio. "You see, Father, this frame contains the photo of your mother." Padre Pio looked at me squarely in the face and said, "Don't worry. I can see very well. And I can see two mothers there." Then I understood that the other mother he was seeing there was none other than Our Lady. I asked Padre Pio for more details, but he refused to continue on that subject.
It is a widely held opinion that Padre Pio often saw Our Lady. All I can say is that his way of praying, when he was alone and did not know that people were looking at him, was very strange. When he prayed he was actually talking as if he was speaking to someone in front of him. I spied on him a few times, and every time I heard these wonderful conversations that Padre Pio was having with the Virgin Mary.
So what did you do when you realized he was dying?
When I saw that Padre Pio was losing all his forces I started to get really worried, and so I went to the door to call people, but he said to me, "No! Do not disturb anybody." So I waited a few more minutes, but then I decided to go out. I called Friar Guglielmo, a very strong and sturdy American friar who was able to lift Padre Pio, and then I called Doctor Sala, his personal doctor, and the two doctors who were on night duty at the Casa Sollievo della Sofferenza, the hospital that had been established by Padre Pio himself. I also called Father Superior and a few other friars.
The doctors arrived immediately, and they gave Padre Pio oxygen in the attempt to keep him alive; they even gave him some shots, but it was all to no avail.
Padre Pio died peacefully at 2:20 am without any tremors, complaints or difficulty in breathing. I understood that he had died because his head was bent toward his shoulder, and he was completely still.
Dr. Giovanni Scarale
Another extraordinary account of Padre Pio's death was given to me by Giovanni Scarale, who was an anesthetic doctor at the Casa della Sofferenza at the time. Dr. Scarale is now 82, and is the last, still living person who was with Padre Pio when he died. Dr. Scarale has very vivid memories of that night, and was very happy to share his experiences with our readers.
Dr. Scarale, what memories do you have of Padre Pio's last moments?
I can truthfully say that Padre Pio "died in my arms." I remember that in the room where he died there were his personal doctor, Dr. Giuseppe Sala, Padre Pellegrino, Padre Carmelo da San Bartolomeo in Galdo and a few other Franciscan friars.
I immediately applied an oxygen mask to his face while standing behind him, and I was encouraging him to breathe, but Padre Pio seemed oblivious to all and everyone around him.
With my left hand I was holding the mask and with the right I was sensing the pulse of his carotid artery. While I was doing this Father Paolo Covino was giving him the Anointing of the Sick.
While all this was going on I was in great fear, but outwardly I was calm. Suddenly, I felt the pulse of the carotid artery disappear. Then Padre Pio reclined his head slowly on my left forearm, and died.
What did you do after this?
After the initial shock we lifted Padre Pio and laid him on his bed. We were all in deep sorrow, but we had no time to linger on what had just happened because we all had plenty of things to think about for the day that was soon to begin. In the meantime other friars had arrived, and they were praying in the room and along the corridor.
When Padre Pio was laid on his coffin three friars and I loaded it on our shoulders and took it to the church. However, the place in the church was not yet ready, and so for the moment we placed it in a room next to the sacristy. It was there that, as curious young doctors, Dr. Giovanni Grifa (the sanitary official) and I took advantage of the situation to investigate into the stigmata. This was my only chance to take a closer look at them.
The last mystery
And how did you manage to do this?
Dr. Grifa and I furtively entered the room and closed ourselves in. With hands trembling with emotion I removed Padre Pio's gloves. I removed his socks and then looked at his side by raising a part of his habit.
Of the stigmata, however, no trace could to be seen. Not only that, but the skin was even smooth. It was perfect, without trace of any scar. I was breathless. We had all seen those signs many times when, during Mass, he used to take off his half-gloves, but those signs were now gone.
And what do you make of this?
At first I was surprised and confused. Only later did I understand the meaning of what had happened. The stigmata are signs of suffering that are given while a person is alive, and they remain until death, the moment when suffering ends. I understood that their disappearance, the total absence of any scars, was one more mystery, another great miracle. One of the many, very beautiful mysteries surrounding the life and death of Padre Pio.
Updated on September 05 2018