The Economy of Francesco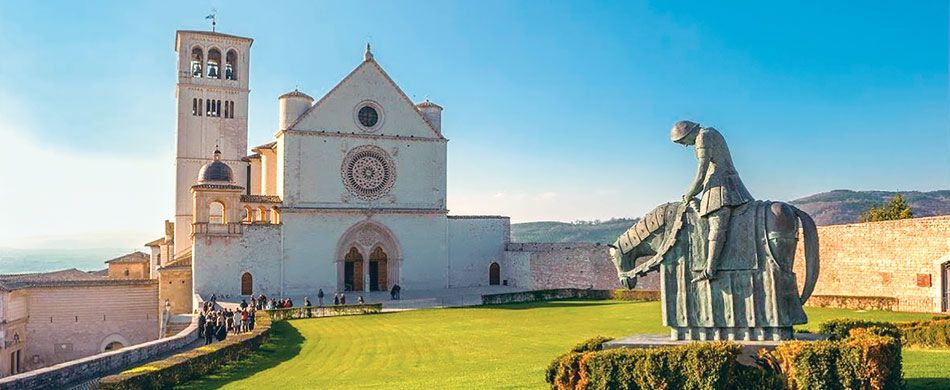 Pope Francis has selected Assisi as the most suitable place to inspire a new economic order built on the values of justice, solidarity and safe guarding of the environment
EIGHT centuries ago, the future Saint Francis of Assisi publicly renounced his family fortune, stripping naked in front of his father and the local bishop to symbolise his decision to embrace a life of poverty and simplicity. His dramatic gesture of removing his fine clothes was all the more symbolic since his father, Pietro di Bernardone, was a wealthy silk merchant, hoping his son would become a worthy heir to the flourishing business. But the young Francis, who had already grown disillusioned with the excesses of lavish living, knew that from that day forward, he wanted to dedicate his life to serving those most in need.
The location where this event is believed to have taken place, a room inside the bishop's palace, has now been made into a shrine, known in English as the Shrine of the Renunciation. During a visit to this 'stripping room' just months after his election to the pontificate, Pope Francis called on the whole Church to imitate his namesake by renouncing 'the spirit of the world'.
Speaking on the feast of St Francis, October 4, 2013, the new Pope said Christians should strip themselves of both spiritual complacency and material riches. Worldliness, he added "leads us to vanity, arrogance, pride. And this is an idol, it is not of God." As he spoke to a group of poor and homeless people, assisted by local Catholic charities, he recalled the tragic deaths of many African migrants fleeing from poverty and conflict who had drowned off the southern Italian island of Lampedusa on the previous day. Like those victims, he told his listeners in off-the-cuff remarks, "many of you have been stripped by this savage world, which doesn't provide work, which doesn't help, which is indifferent when children die of hunger."
A different economy
Now, as he marks the 7th anniversary of his pontificate, Pope Francis has invited young economists and entrepreneurs from across the globe to come to Assisi to discuss a "different kind of economy," one that is more "inclusive, humane and cares for the environment." From March 26 to 28, several thousand young people from around 50 countries will gather in the Umbrian hill town to brainstorm and come up with a declaration designed "to change today's economy and to give a soul to the economy of tomorrow."
The event, pioneered by the current bishop of Assisi, Domenico Sorrentino, and Italian economist, author and professor Luigino Bruni, is entitled The Economy of Francesco (https://francescoeconomy.org), recalling both the 13th century saint and the current pontiff's call to reform and 'rebuild the Church'. Just as Saint Pope John Paul II chose Assisi as the city of peace to call the world's religious leaders together in prayer, so Pope Francis has selected this iconic location as the most suitable place to inspire a new economic order, built on the values of justice, solidarity and safeguarding the environment.
Deaf ears
In a letter, sent last May to launch the event, the Pope says the initiative is "very close to my heart." Coming in what some Vatican-watchers point to as a pivotal year for this pontificate, it brings together the key concerns that the Argentinian pontiff outlined immediately after his election, telling journalists that he had chosen the name Francis because of the saint's focus on poverty, peace and the protection of creation. In his widely acclaimed 2015 encyclical Laudato Sì, inspired by the words and deeds of Saint Francis, the Pope explores the interconnectedness of people and our planet, stressing that "safeguarding the environment can never be divorced from ensuring justice for the poor" and reforming the global economy. "We need to correct models of growth incapable of guaranteeing respect for the environment, openness to life, concern for the family, social equality, the dignity of workers and the rights of future generations," Pope Francis says in his invitation to young people. Sadly, he continues, "few have heard the appeal to acknowledge the gravity of the problems and, even more, to set in place a new economic model, the fruit of a culture of communion based on fraternity and equality."
Circular economy
Dubbed 'a papal anti-Davos' by The Economist magazine, the event hopes to be the start of a long-term process that will encourage a more sustainable way of living and end the short-sighted exploitation of natural resources. The circular logo represents the idea of a 'circular economy' where waste, pollution and dangerous emissions are eliminated through reuse, recycling and sharing of goods and resources. The simple, open-ended design also recalls the corded rope belt that Franciscan friars wear around their hooded habits, with three knots symbolising their vows of poverty, chastity and obedience. The Franciscan friars will play a key part in the three-day event, alongside the diocese of Assisi and the City Council. Mayor Stefania Proietti proudly describes the city as "a beacon for a new humanism," open to "new solutions for the care of creation, for new pathways of peace, for new schemes of sustainable and integral human development."
Intense preparations for the international encounter have been going on in Italy and elsewhere, with a host of workshops, seminars and conferences designed to spread the word and encourage as wide a participation as possible within the Catholic world and beyond. In a similar vein over the past decade, an ecumenical panel of experts in finance, economics and theology has been working on these themes, producing a 2014 report entitled Economy of Life for All Now: An Ecumenical Action Plan for a New International Financial and Economic Architecture, or NIFEA for short. The plan maps out areas for advocacy and engagement by Churches in the areas of financial sector regulation, public finance and debt, and global economic governance, with a view to transforming international financial structures, countering a culture of greed and linking economic priorities to sociological and environmental concerns.
Big names
The Assisi event has attracted some big names, including Nobel prize winners Muhammad Yunus from Bangladesh and Indian economist and philosopher Amarthya Sen. Yunus, who founded the Grameen Bank which pioneers microcredit for the poorest people in Bangladesh, notes that around 99 percent of the world's wealth is concentrated in the hands of just 1 percent of the population. "Poverty," he says, "is not created by the poor people, poverty is created by the system we have built… Pope Francis has challenged young people to find ways of changing this unjust economic system." Other well-known names expected to draw the crowds for their key-note speeches are Jeffrey Sachs, renowned for his work in combatting poverty and hunger, environmental activist Vandana Shiva, recipient of the Right Livelihood Award, and Carlo Petrini, founder of the global Slow Food Movement.
Work in progress
On March 25, ahead of the main programme of events, over two thousand young participants are expected to start gathering in Assisi – that's twice the number of inhabitants who live within the ancient city walls. Organisers will be pulling out all the stops to welcome this huge crowd of pilgrims, putting on mini retreats and visits to the many sites associated with the lives of Saints Francis and Clare. Italian Architect Antonio Caschetto, from the Global Catholic Climate Movement (https://catholicclimatemovement.global) is the coordinator for Assisi's Laudato Sì programme, helping visitors all year round to deepen their experience of St Francis and the Canticle he wrote praising God for "Brother Sun… Sister Moon" and all of the created world. He takes pilgrims around the Basilica where the saint is buried, as well as to the church of San Damiano where Francis first heard God calling him to "repair my Church" and where he wrote the words of his famous Canticle. He stresses that the Assisi encounter will be less a traditional conference and more a 'work in progress,' giving young entrepreneurs, economists and change-makers a place to exchange ideas and challenge each other to put their creative talents at the service of the common good.
Thematic villages
Around the city there will be a dozen 'thematic villages' where discussions will focus on apparently contrasting topics such as Finance and Humanitarianism, Energy and Poverty, Profit and Vocation, or Business and Peace. Participants will share views on current issues such as the school strikes for the environment and disinvestment from fossil fuels, reflecting on how the Church can continue to follow St Francis' example and be a prophetic voice for those on the margins of society today. Pope Francis will travel to Assisi on the concluding day to meet and pray with participants, before witnessing the signing of a covenant of commitment to work towards a more just and participatory economic system. That is expected to include concrete ideas for a monitoring process that can bring people together regularly at national or regional level to verify progress towards these ambitious goals. But Caschetto insists that there will be no foregone conclusions to this unprecedented gathering, which he hopes will generate bold new ideas and ways of working together.
Universal fraternity
In his letter of invitation, Pope Francis tells young people not to be afraid to take risks as they work to build a more inclusive and caring society. "I know that you can hear in your hearts the ever more anguished plea of the earth and its poor, who cry out for help and for responsibility, for people who will respond and not turn away," he says. "Given this urgent need," he continues, "each one of us is called to rethink his or her mental and moral priorities, to bring them into greater conformity with God's commandments and the demands of the common good." But the Pope appeals to young women and men in particular to continue taking the lead and become "protagonists of this transformation." He urges them to listen to their hearts, saying, "Your universities, your businesses and your organizations are workshops of hope for creating new ways of understanding the economy and progress, for combating the culture of waste, for giving voice to those who have none and for proposing new styles of life. Only when our economic and social system no longer produces even a single victim, a single person cast aside, will we be able to celebrate the feast of universal fraternity."
Updated on March 22 2020