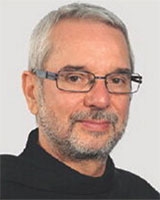 May 23 2016
A Saving Hand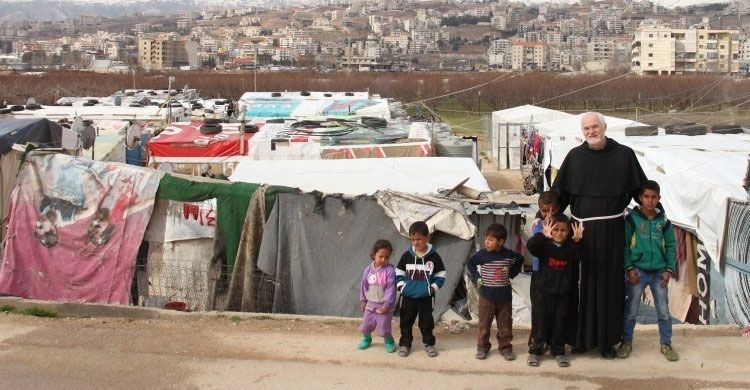 Fr. Giancarlo with some little refugees © Fadi Yabroudi/MSA
IN 1977 the Rector of the Seminary where I was studying gave me and other young friars the possibility of going to our mission in Ghana to help set up a small ward in a leper colony. That was a very powerful experience because, even though we did not nurse the lepers medically, we had the chance to meet and chat with them.
At the end of each day's work, we would go and swim in the ocean. One late afternoon, while swimming, I realized that the current was stronger than usual, and that, no matter how hard I swam, I was unable to reach the shore. I soon started to panic, and the fear became so great that I was unable to cry out for help! I was drowning. Suddenly, a strong hand grabbed mine and pulled me safely ashore. That hand had saved my life!
It is possible to save people's lives not only by rescuing them from certain death, but also by offering them the chance of a better future or a way out of some hopeless social-economic situation.
This is what St. Anthony's Charities is trying to do with its projects around the world. This year, in answer to Pope Francis' call, St. Anthony's Charities has decided to respond to "the cry for help of tens of thousands of refugees fleeing death by war and famine."
At the beginning of this year, on behalf of St. Anthony's Charities, the General Director of the Messenger of St. Anthony, Fr. Giancarlo Zamengo, went to Lebanon in order to bring the promise of concrete help to Syrian refugees living in an informal camp near the city of Zahle, 34 miles from Beirut. There are about 500 of these refugees, mostly women and children. Many of these displaced Syrians come from Aleppo, Homs, Raqqa…. They are living in tents or makeshift dwellings of their own making, and they must pay $100 a month to the owner of the plot of land where they are staying. They are living in dismal conditions. Most notably, the water is contaminated with raw sewage running along ditches between the tents.
These people have lost everything: their country, their homes, their jobs… their dignity. Our Franciscan friars working in that Camp are doing their best to help them: they visit families, help the elderly, organize games for the children. They have even set up a small missionary school under a tent, aided by a small team of volunteer teachers.
Obviously, this is not enough, as Fr. Giancarlo saw and understood quite clearly while talking to some of these refugees.
Our Franciscan friars in Lebanon have asked St. Anthony's Charities to help them create the St. Anthony Social Center. This is where many warm meals will be cooked, decent clothing distributed and psychological assistance offered to those traumatized by the conflict. In addition, arts and trades will be taught to the older boys and girls. The friars would also like to bring safe, drinkable water inside the camp, and above all upgrade the school in the camp because there is no future without education.
It is only through your help that Fr. Giancarlo will be able to respond to the cry of help of these Syrian refugees living in this camp on the outskirts of Zahle.
Thanks to your generosity it will be possible to give a future to so many children, in the hope that they will soon be able to return to their homes in Syria. For more information on our June 13 Project, see the article on p. 14.
Fr. Giancarlo is truly a good, trustworthy person, and, by the way, the hand that saved my life way back in 1977 when I was drowning in Ghana was Fr. Giancarlo's hand!
So please, through your donations to St. Anthony's Charities, give Fr. Giancarlo a hand in helping the displaced Syrians living in the camp near Zahle… St. Anthony will reward you. A blessed feast of St. Anthony to you and your families.
Updated on September 30 2016