Team Building
Our charitable organisation's 2016 balance shows increased emphasis in favour of needy communities in rural and abandoned corners of our planet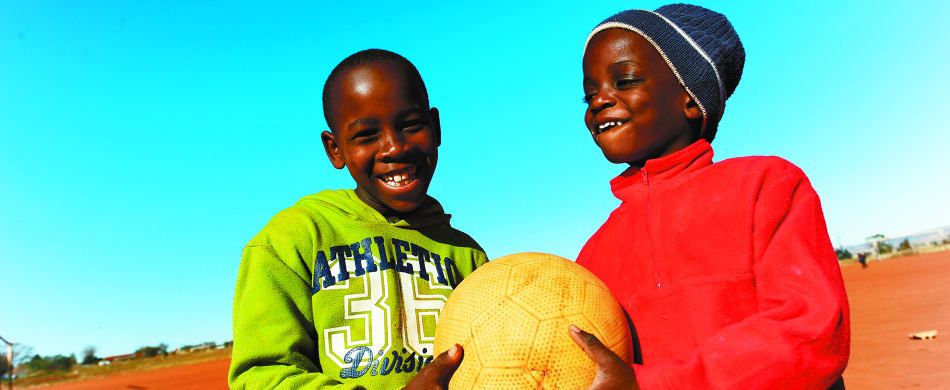 Liewig Christian / Corbis via Getty Images
THERE IS something new to report from St. Anthony's Charities, something unrelated to the amount granted – which remains virtually unchanged – but the direction and the quality of what St. Anthony's Charities achieved in 40 countries around the world during 2016. The report for the year shows a slight increase in the number of projects, 124 compared to 121, and a slight decrease in the amount approved: €2 million 640 thousand compared to €2 million 853 thousand. As in 2015, St. Anthony's Charities followed the geography of poverty, mostly in Africa (71 projects), particularly in Sub-Saharan Africa, and in the rural regions of Asia (26 projects). What changed was the type of action and beneficiary.
For the first time, more resources went to interventions defined as 'human development' (almost 27 percent), and then to hygiene and health (about 26 per cent). Slightly behind (23.5 percent), but still in third place, is the classic workhorse of St. Anthonys Charities: schools. It is worth clarifying what kind of projects make up 'human development': a large part are training centres and multi-purpose community halls. "Many of our projects are in the suburbs," explains Fr. Valentino Maragno, director of St. Anthony's Charities, "and especially in small isolated agricultural towns with a sparse population, condemned to endemic poverty and deprived of everything: from roads to medical dispensaries, water, energy, work and transport. In these cases, community centres are very important because they allow people to meet, seek common solutions, receive training ranging from farming techniques to health awareness, organise small productive systems and, finally, acquire awareness of their rights."
Local economies
In other cases, the project is aimed precisely at the construction of a small local economy. For example, in a village in Mozambique, help from our charitable organisation has allowed a local association, founded to help children in the post war period, to undertake a community agricultural project. The project now employs 15 farming families and 20 families of small traders. The association bought two plots of land close to a river to ensure access to water in case of drought, then organised vocational training involving high schools and universities. St. Anthony's Charities was asked to contribute to the cost of preparing the land, the purchase of seeds, plants, and work equipment. The system has improved the nutrition of 500 children and abandoned adolescents who are looked after by the association. Today, they are reinvesting the agricultural surplus in new plants and jobs, gradually widening the chain of beneficiaries.
Community projects may also involve energy supply, for example, by building electrical or photovoltaic units: "Having available electricity changes outlooks," continues Fr. Valentino, "it enables the previously impossible, and even saves lives. Thanks to our charitable organisation there are now operating rooms and delivery rooms in many third world rural towns which are even open during the night. It's hardly necessary to explain the benefits of such a simple, but important intervention."
Community radio stations, such as Radio Lusambo, in the Diocese of Kabinda in Democratic Republic of the Congo, which reaches more than 10,000 people, are also included in this category: "They are important in places where the population is scattered over a vast territory and does not have access to vital information. For example, they can advise about visiting doctors, raise alarms, propose solutions, and provide training on health or literacy."
The type of projects impacts on the type of beneficiary. The majority of resources (40 percent) goes to 40 projects supporting disadvantaged populations and communities in rural areas, and the beneficiaries of St. Anthony's Charities are, as usual, children and adolescents, with 40 projects and 27 percent of resources. However, vocational training, which is typically for older children, with 9 percent of resources and 12 projects, continues to tell us that education at all levels is an essential part of the work of our charitable organisation. In any case, every project, even where there is no school in its strictest sense, provides some kind of training.
Increased demand
Why this increase in attention to community projects? "Partly because the demand from missionaries has grown," continues Fr. Valentino, "and partly because we realised these projects are able to attack the root causes of poverty from several directions. If you allow a community to organise itself, to train, and to have the essential equipment, it will slowly build its own development. This gives greater confidence to the beneficiaries, and even more investment in people to make them the protagonists of their own future." An intuition that matches data provided by IFAD, the International Fund for Agricultural Development, which notes that three quarters of the 800 million people living in extreme poverty are found in agricultural zones. This means, simply, that development of these areas and communities provides great results in terms of poverty reduction.
The second major area of intervention in 2016 was 'Health/Hygiene'. "As last year, the demand for bathrooms and toilets, especially in schools and community spaces, kept growing," say Fr. Valentino. "Today there is awareness that hygiene standards are essential to prevent illness. Until a few years ago, it was not so. It was common, for example, to build a school for thousands of students without a single toilet." This category of intervention also includes: construction of dispensaries, halls in country hospitals, laboratories, and delivery rooms to reduce maternal and child mortality.
Development favoured
Ninety-six percent of St. Anthony's Charities accomplishments are development projects:  most of the funds were spent on buildings and equipment to provide the community with basic infrastructure. This also explains the higher cost of these projects: 34 percent are from ten to twenty thousand Euros, and 28 percent from twenty to forty thousand, although a few are above fifty thousand.
The country with the most projects (21) was the Democratic Republic of the Congo, one of the richest countries in raw materials, but with the highest poverty rates in the world. In human development it occupied the 174th place out of 186 countries (UNDP 2016 data): "It is a very difficult country in which to operate because of its violence and corruption," confirms Fr. Valentino, "but we can do it through a reliable contact person, a very scrupulous local priest who heads up the interventions by our charitable organisation in ten dioceses thanks to an agreement with 48 bishops, whom I met in person at the bishops' conference held in Kinshasa in June. St. Anthony's Charities often needs local churches fighting on the front lines for its people. And we're proud of that."
Our horizon
The world's suburbs are now St. Anthony's Charities' horizon. It is no coincidence that the benefactors, friends and readers of the Messenger of Saint Anthony, welcomed with great enthusiasm the June 2016 project, organised by our brothers in Lebanon in service to the Syrian refugees. "Thanks to the help of so many, today we are bringing schooling, vocational training and entertainment to children in the camps. We have built a charity centre, complete with cooking and laundry facilities, and this centre has become the beating heart of the camp there."
And where will our charitable organisation operate this year? "In other suburbs; the places indicated by Pope Francis, that is, among persecuted minorities and countries oppressed by fundamentalism," says Fr. Valentino. "We are convinced that peace should and can be built from below upwards; with simple but concrete gestures: the promotion of women, inter-religious dialogue, and the protection of minorities. This is the frontier where we Franciscans want to be in these difficult and uncertain times, as indeed St. Francis and St. Anthony would also want to be if they were living among us today."
USA & CANADA
Our readers in North America were even more generous than last year. The Anthonian Association of the Friends of Saint Anthony of Padua (AAFSAP) in the USA donated a total of US$256,154 of which $15,000 went to projects in the US. Funds sent outside the US were $15,000 to Colombia; $3,500 to India; $5,962 to Israel; and then $98,738 (Kenya), $44,145 (Lebanon – our June 13 Project which funded the refugee camp there), $12,000 (Liberia), $6,800 (Vietnam) and finally $55,000 to Zambia.
Saint Anthony of Padua Mission Aid (SAPMA) donated almost double from last year, with a total of CAD$950,000. Of this sum, $190,000 went toward initiatives within Canada (such as St. Clare Inn). Some of these initiatives, however, also have an outreach to third world countries (such as Shifra Homes). The rest of the funds were allocated as follows: $297,000 to projects sponsored by St. Anthony's Charities, and an additional $144,000 for the June 13 Refugee Centre in Lebanon.
Then $87,500 went to various charitable and spiritual initiatives in the USA, such as the St. Kateri Tekakwitha Shrine in Fonda, New York; $12,000 went to Tanzania; $163,000 to Paraguay; $38,000 to Bolivia and finally $18,500 to Zambia.
Our compliments to the big-heartedness of our readers and donors in North America!
Updated on April 03 2017