Tough Days for the Press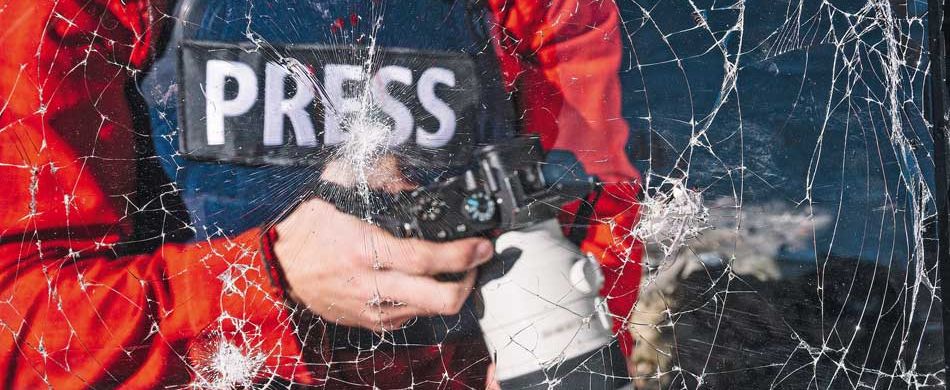 © Karrastock – Getty Images
LAST year was "a challenging" one for the press according to the Committee to Protect Journalists (CPJ). The media watchdog has revealed that more than 360 journalists were deprived of their freedom in 2022 – a new global high – and at least 67 journalists and media workers were killed. That is a steep rise compared to 2021, when 45 journalists or media workers were killed. Many would presume the war in Ukraine is responsible for the spike in deaths.
A case in point is Irish-born photojournalist Pierre Zakrzewski, who was killed while covering the Ukrainian war for Fox News in March 2022. He died when the vehicle he was travelling in was hit during Russian shelling of the Ukrainian capital Kyiv. His colleague 24-year-old Ukrainian journalist Oleksandra 'Sasha' Kuvshynova was also killed in the barrage while British journalist Benjamin Hall was seriously injured.
Work of love
Pierre Zakrzewski's parents were French and Polish. They brought their six children up in Dublin. The 55-year-old was a veteran war correspondent who had previously covered conflicts in Iraq, Afghanistan and Syria for Fox News. "Truth-telling is a work of love, and love always comes at a price, and what a terrible price," Fr. Kieran Dunne told mourners at Zakrzewski's funeral at the Church of Our Lady of Perpetual Succour in Foxrock in Dublin.
On the first anniversary of his death, Zakrzewski's wife Michelle and his sister Karola said they want to know "exactly what happened" and what Russian units were operating in the area. Aware of the dangers posed by the conflict, Pierre had told them, "I have to stay. I have to tell people what is happening here and the atrocities I'm seeing." In an interview with the Irish Independent to mark the anniversary of his death, Michelle recalled that Pierre had wanted to go on the missions, "not for religious reasons, but because he wanted to help people." He was a humanitarian and for him, the most important thing was "giving a voice to people that didn't have a voice." His family want to keep his memory alive, and as part of this they are setting up a bursary for aspiring photojournalists, which will be launched later this year.
Latin America
However, despite the heavy toll on media workers in Ukraine, the surprising truth is that more journalists were killed in Latin America and the Caribbean (30) last year than in any other part of the world, including Ukraine. According to the Committee to Protect Journalists (CPJ), while at least 15 journalists were killed in Ukraine following Russia's invasion in February 2022, almost as many journalists (13) were killed in Mexico, which as the Guardian newspaper pointed out is "a country officially at peace." In an interview with the British newspaper, Carlos Martínez de la Serna, Director of the CPJ, warned that "the cost of attacking or killing a journalist is extremely low. Most of the cases are never solved. There is never justice – and those responsible… are not held [to account]" in countries like Mexico and elsewhere in Latin American and the Caribbean.
World Press Freedom Day
The deteriorating conditions for journalists and the press in places like Mexico gives this month's World Press Freedom Day a special significance. Over 2,193 journalists and media workers have been killed worldwide since 1992, including at least six so far in 2023. World Press Freedom Day on May 3 pays tribute to those who have lost their lives in the exercise of their profession. It also highlights the principles of press freedom, evaluates press freedom and defends the media from attacks on their independence. It is a day that reminds governments of the need to uphold their commitment to press freedom.
World Press Freedom came about thanks to the efforts of a group of African journalists who issued the Windhoek Declaration on 3 May 1991. The document outlined principles protecting the press from interference by governmental, political or economic interests. It considered a benchmark for ensuring press freedom around the world. In an acknowledgement of the pivotal role of the Windhoek Declaration in promoting freedom of the press, May 3 was subsequently designated World Press Freedom Day by the UN General Assembly in 1993, following a Recommendation adopted at the twenty-sixth session of UNESCO's General Conference.
 Crucial component
In a statement issued on World Press Freedom Day 2021, the 30th anniversary of the Windhoek Declaration, the Media Freedom Coalition said the landmark document upholds press freedom as "a crucial component of the right to freedom of expression, as enshrined by Article 19 of the Universal Declaration of Human Rights, and underlines that an independent, pluralistic and free press is essential to the development and maintenance of democracy and to economic development."
According to the Media Freedom Coalition "access to reliable and independent information is paramount," as the Covid pandemic showed. "We need journalists to report the facts, keep us informed and to hold those in power to account," the partnership said. But the Media Freedom Coalition also warned that journalists and media workers "increasingly face physical and verbal violence, threats and intimidation, lawsuits and imprisonment with the aim of silencing them. Online harassment against women journalists has increased exponentially. The repeated use of anti-media rhetoric by some politicians and government leaders is eroding media freedom and is putting individual journalists at risk." As the French philosopher Albert Camus once opined, "Freedom of the press is perhaps the freedom that has suffered the most from the gradual degradation of the idea of liberty."
Principal pillar
The need for World Press Freedom Day has never been greater. In 2022, following its invasion of Ukraine, one of the first moves the Russian Federation made was to impose a crackdown on independent journalism. On 4 March 2022 the authorities fast-tracked laws that criminalise the use of information sources other than official propaganda outlets. Media outlets were closed or their operations suspended, and many journalists who criticised or wrote factually about the war were harassed, detained and given harsh prison sentences. Foreign journalists were stripped of their accreditation.
The words of 18th century political philosopher and founding father of the United States, Benjamin Franklin, come to mind. He argued that freedom of speech "is a principal pillar of a free government; when this support is taken away, the constitution of a free society is dissolved, and tyranny is erected on its ruins. Republics and limited monarchies derive their strength and vigour from a popular examination into the action of the magistrates."
But it is not just Russia and the conflict in Ukraine that threatens the freedom of the press. The list of countries eroding press freedoms or actively undermining the work of the press is long and varied, from China to Hungary, from Turkey to Iran, from Myanmar to Nicaragua. It matters because as Joseph Stiglitz, 2001 Nobel Prize laureate in Economic Sciences has said, "Free speech and a free press not only make abuses of governmental powers less likely, they also enhance the likelihood that people's basic social needs will be met. Secrecy reduces the information available to the citizenry, hobbling people's ability to participate meaningfully. Essentially, meaningful participation in democratic processes requires informed participants."
Barbaric deeds
In Afghanistan journalist Hosein Naderi died in a bomb attack on a press event on March 11 this year. The bomb exploded at a cultural centre in Mazar-e-Sharif, the capital of northern Balkh province, while members of the press gathered to mark National Journalists Day. The militant Islamic State terror group claimed responsibility for the attack, stating that it targeted journalists "working in agencies involved in the war and instigation against IS." A total of 16 members of the press were injured in the explosion, including nine who received serious injuries, with some suffering hearing loss.
Calling on the Taliban to ensure that those responsible for the bombing of the press award event and the killing of Hosein Naderi are brought to justice, the Committee to Protect Journalists said, "It's barbaric to target journalists at an event meant to celebrate their courage and determination to keep the world informed about Afghanistan." Afghanistan is ranked fourth on CPJ's 2022 Global Impunity Index, which spotlights countries with the worst records for prosecuting murderers of journalists.
CPJ's Asia programme coordinator, Beh Lih Yi said, "The recent deadly bombing is a painful reminder of the hostile climate for journalists and the drastic decline of press freedom since the Taliban takeover. The Taliban must do everything they can to protect journalists and let them work safely." Sadly, that is a call that resounds in many countries across the world in 2023.
Updated on May 08 2023