Venerable Teenager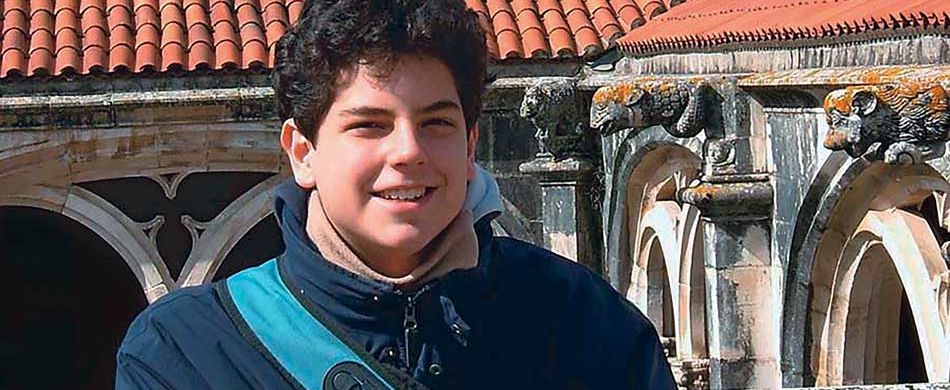 Carlo was a typical, 21st century teenage boy with a love for all matters technological
"THE EUCHARIST, as Christ's saving presence in the community of the faithful and its spiritual food, is the most precious possession which the Church can have in her journey through history," Pope St John Paul II wrote in his 2003 encyclical Ecclesia De Eucharistia. The document must have deeply influenced young Italian teenager, Carlo Acutis. Though he tragically died from leukaemia three years later in 2006 at just 15, he had already embarked on a project to catalogue every Eucharistic miracle around the world. A computer whiz, Carlo set up a website to bring this information together in one online location. "Carlo was gifted at anything related to computers so that his friends, and those adults with computer engineering degrees, considered him a genius. Everyone was amazed by his ability to understand computer secrets normally accessible only to those who have completed university," the website promoting Carlo's canonisation recounts.
Digital apostle
How did an ordinary teenager with an interest in web development, computer programming, and graphic design become such a powerful evangeliser? How is Carlo Acutis already on his way to sainthood? The simple answer is he was Eucharist-loving, and from a very young age he showed himself to be something much more than ordinary. He became a digital apostle. "To always be close to Jesus, that's my life plan," he explained. The Church recognised his unstinting devotion to his faith when Pope Francis declared him Venerable on 5 July 2018. As a bit of a computer geek who was bright, kind and vivacious, he truly is a model for our times.
Venerable Carlo Acutis was born on 3 May 1991 in London to Italian parents, Antonia and Andrea Acutis. The couple, who were not particularly devout, soon returned to Italy and settled in Milan. From a very young age, Carlo showed himself to be a good and pious child, attending daily Mass, frequently praying the rosary, and making weekly confessions. He was educated by the Jesuits attending the Istituto Leone XIII in Milan, where he was noted for his cheerfulness and his considerable compassion and concern for the less fortunate. Even as a young boy he had the courage to speak up in defence of those who were disabled and were being bullied and mocked by some of their peers. One of Carlo's favourite places was Assisi, the birthplace of St Francis in Italy's Umbria region.
Miracle of Lanciano
Paying tribute to her son's "immense generosity," Antonia Acutis said it "made him interested in everyone: foreigners, the disabled, children, beggars. To be close to Carlo was to be close to a fountain of fresh water… [he] understood the true value of life as a gift from God, as an effort, an answer to give to the Lord Jesus day by day in simplicity." But she also underlined, "he was a normal boy who was joyful, serene, sincere and helpful, and loved having company, he liked having friends."
After making his First Communion when he was seven years old, Carlo began to attend daily Mass. Unusually for a child so young, he also began to spend time in prayer before the Blessed Sacrament in the Tabernacle after Mass in Eucharistic devotion. He also had a great devotion to Our Lady. No surprise then that he became a catechist when he was just eleven.
A miracle which occurred in the 8th century in the Italian city of Lanciano sparked his interest in Eucharistic miracles. According to tradition, a monk who had doubts about the real presence of Christ in the Eucharist found that when he said the words of consecration at Mass, the bread and wine changed into flesh and blood which coagulated into five globules. The miracle was investigated and confirmed by the Church. Down the centuries, other investigations were undertaken, including one in 1971 by Professor Odoardo Linoli, a former head of the Laboratory of Pathological Anatomy at a hospital in the Italian city of Arezzo. He found that the flesh in the specimens was human cardiac tissue.
Virtual museum
Carlo was convinced that if people really understood that Christ is present in the tabernacle, they would be transformed, and churches would be full. He was determined to make this and other Eucharistic miracles more widely known. He set about researching and cataloguing all of the authenticated Eucharistic miracles and publishing information about them on a website he specially developed as part of his evangelisation outreach: www.miracolieucaristici.org. The promotion of the faith through the media was a ministry he believed in, and he was inspired by Blessed James Alberione (1884-1971), founder of the Pauline family, notably the Society of St Paul and the Daughters of St Paul, whose apostolate is to use the media to evangelise and proclaim the Gospel.
Carlo started the project when he was 11 years old, and two and a half years later the project was completed. "The more Eucharist we receive, the more we will become like Jesus, so that on this earth we will have a foretaste of Heaven," he wrote. The young teen asked his parents to take him to some of the places associated with Eucharistic miracles. In all, there are 136 Eucharistic miracles that occurred down the centuries in different countries around the world and which have been confirmed by the Church. His website brought all this information together and became a sort of a 'virtual museum' for people to visit and learn about these miracles. Another resource Carlo developed was a set of information panels which could be downloaded for exhibition.
Marian devotion
The first international exhibition of his work was titled The Eucharistic Miracles of the World and perhaps unsurprisingly it began in Rome and then made its way to churches and colleges on five continents thanks to its downloadable content. He prepared material for three further exhibitions: Angels and Demons and Paradise, Hell and Purgatory. In an increasingly sexualised culture, Carlo was willing to stand back from the crowd and declare, "The Virgin Mary is the only Woman in my life." It was fitting that his last project was to document the apparitions of Our Lady. Sadly, this last venture was incomplete when he died, and it was left to his mother Antonia to complete his last mission.
Carlo contracted leukaemia, M3 fulminant leukaemia, a rapidly progressive form of the cancer that primarily affects young people. There was much suffering, and yet when the doctor treating him asked if he was in much pain, Carlo told him, "there are people who suffer much more than me." He stoically offered up his pain, saying "I offer all the suffering I will have to suffer for the Lord, for the Pope, and the Church." Carlo Acutis died in Milan on 12 October 2006. Battling with the disease, he commented, "I'm happy to die because I've lived my life without wasting even a minute of it doing things that wouldn't have pleased God." As part of the process which saw him declared Venerable and might ultimately see him canonised, Carlo's body was exhumed and transferred to the Shrine of the Renunciation in St Mary Major's in his beloved Assisi. The shrine is where St Francis of Assisi renounced all claims to his inheritance and embraced poverty. Pope Francis has described the Shrine as a "precious place where young people can be helped in the discernment of their vocation."
Dr. Francesca Consolini
The current postulator for Carlo Acutis' cause is Dr. Francesca Consolini. In an interview she stressed, "Carlo wasn't born a saint, but he worked hard at it. Chastity for him was a result of friendship with Christ. He understood, and that's what he told whoever met him, that to be faithful friends of Christ one must meet certain demands. Naturally, this was difficult for him. It was difficult, but he passed the tests with flexibility. His family and friends highlight his simplicity and capacity to pray in a not-so-Christian environment." She added that he has become an example of a young person who is capable of making new technologies an instrument to talk about God. Carlo designed web pages dedicated to Eucharistic devotion and the Virgin Mary. Pope Francis declared him venerable on July 5, 2018, and this means he considers him as a public example to follow.
Abbot Michelangelo Tiribilli of Monte Oliveto Maggiore, who wrote the foreword to a biography of Carlo, highlighted that, "By looking at this adolescent as one of them and as someone who was captivated by the love of Christ, which enabled him to experience pure joy, [today's adolescents] will be in contact with an experience of life that doesn't take anything away from the richness of their teenage years, but which actually makes them more valuable."
Holy but normal
In his recent exhortation Christus Vivit (Christ Lives) Pope Francis wrote that young people did not need to look far for role models who avoided the traps of "self-absorption, isolation and empty pleasure" that abound in the digital age. The life of Venerable Carlo Acutis showed that young people could use the power of social networking and communications with "creativity and even genius."
"Carlo was well aware that the whole apparatus of communications, advertising and social networking can be used to lull us, to make us addicted to consumerism and buying the latest thing on the market, obsessed with our free time, caught up in negativity," the Pope said. "He knew how to use the new communications technology to transmit the Gospel, to communicate values and beauty."
Carlo Acutis remains an inspiration, especially to teenagers who aren't sure whether they could be both holy and 'normal' and individually unique. "Everyone is born as an original," Carlo said, "but many die as photocopies." To die as an "original," he maintained, was to be guided by Christ, and to look at Him constantly. "Our aim has to be the infinite and not the finite. The Infinite is our homeland. We have always been expected in Heaven."
Updated on September 14 2019