The 2020 Report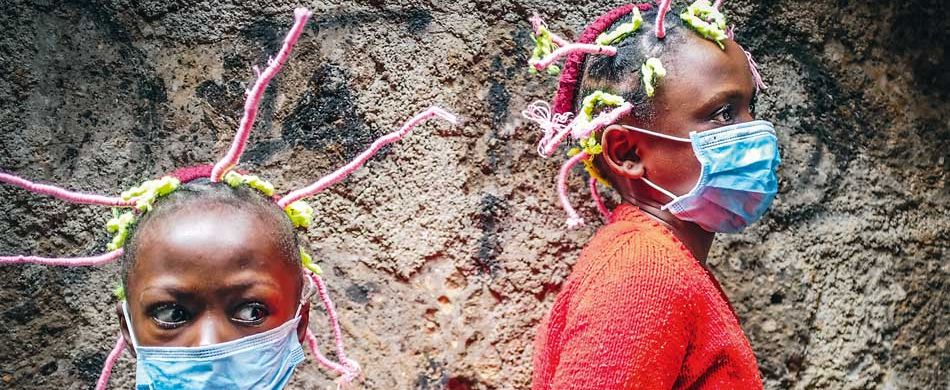 Copyright: Getty Images – 2020 SOPA Images
THE YEAR is one that will undoubtedly be remembered for the COVID-19 pandemic. Yet, in spite of both personal and financial difficulties faced by many, 2020 was another generous year. The result? Ninety-six projects assisted, covering 31 countries through an expenditure of €2,645,944 providing concrete support to the poor of the world in spite of delays and problems caused by the pandemic.
Africa was once again the continent which received most funds: €1,440,000, 57 percent of the total. From Angola to Zambia, a total of 66 projects were assisted in 17 African countries. More than half of those projects were aimed at strengthening the health service and improving the hygienic conditions of the population. These projects included new structures – an isolation ward for a Kenyan hospital, a dormitory for patients requiring longer recovery times in Tanzania, and dormitories for doctors in Uganda, for example; equipment for health centres and hospitals – including an ultrasound machine in the Ivory Coast and hospital beds in Malawi and Congo-Brazzaville; access to healthy water – wells in Burkina Faso, Ghana, and Zambia to name but three countries where projects were successfully completed; and the construction of many toilets in community places – a school and a health centre in the Democratic Republic of the Congo for instance.
Traditional lines
Expenditure throughout the world followed the 'traditional' lines of St. Anthony's Charities: 26 projects for schools and vocational training – including IT equipment for a school in Ecuador and the construction of a primary school in Tanzania; 25 projects for health and hygiene; 20 projects for human development; 18 projects for access to water; and 5 for housing construction.
Children, adolescents and young people are the protagonists of the 2020 report, confirming once again St. Anthony's Charities' focus on the youngest. To ensure a better future for them, support goes not only to formal education, but also to informal and vocational education. However, the report records an increasing attention to projects that aim to promote living conditions – especially the most isolated and rural communities. These are not only projects concerning health and access to water, but also projects to improve local agriculture – for example, providing agricultural training to families displaced by war in the Democratic Republic of the Congo; projects to provide spaces for people to meet – including multi-purpose rooms in Cameroon, Malawi, Rwanda and Uganda; and projects encouraging the start-up of micro-enterprises.
Small steps
St. Anthony's Charities works by taking small steps, responding to the needs of the people – projects which arrive via lay and religious missionaries. They are short stretches of road taken together to eliminate perhaps one of the many causes of underdevelopment. This is why most projects cost less than € 20,000: the construction of a well or a clinic, equipment for a maternity ward or an agricultural project, bathrooms for a hospital or desks for a school.
Each small piece is part of a larger project carried out locally by the Church, together with associations, authorities and individual citizens. This interaction allows the project to continue and improve over time, avoiding projects that are far removed from the level of development of the local population and the so-called "cathedrals in the desert," that is, projects imposed from above and then abandoned.
June 13 Project
St. Anthony's Charities works on a number of projects that are not only economically, but also socially and culturally significant. These include the June 13 projects, launched on the feast day of our Saint. For example, last year, just after the first phase of the COVID-19 pandemic, the friars chose to support a project in Sri Lanka to help the victims of fundamentalist attacks: the aim was not only to help very poor people who had been torn apart in body and soul by violence, but also to remove the propellant of religious and ethnic hatred – a very powerful virus which is now under the radar precisely because of the pandemic. The good news is, that as of December 31, 2020 several phases are already complete. A scholarship programme has been put in place for 27 children, the livelihood of nine families has been secured, the first block of housing consisting of six houses has been completed and is now occupied, and the second and third block – 12 new houses – are now underway.
Other more costly projects are those intended for new buildings or extensions in poor countries, or those, numerically much smaller, carried out in areas of medium and high development, where the cost of materials and labour is higher.
Continuing mission
In 2021 St. Anthony's Charities will continue to pursue its mission to be present "where there is no hope" and reach the "poorest of the poor" through projects tailor-made for local communities – those requested by the communities themselves. Health, education, access to water, and the promotion of rights and dignity will remain at the core, even if projects may lead into other fields, or emergencies dictate swifter action. Rather than simple assistance, the key strategy will remain development, helping build a better future for beneficiaries, their families, and their countries.
USA & CANADA
Our readers in North America likewise did not allow their own woes with the pandemic to dissuade them from heroically thinking about the needs of people in other countries. They have continued to demonstrate their fidelity to St Anthony's motto of Gospel & Charity. The Anthonian Association of the Friends of Saint Anthony of Padua (AAFSAP) in the USA donated a total of US$230,500. Of this sum $54,000 were for projects within the US. Funds sent outside the US were $15,000 for Guatemala; $10,000 for Ukraine; $25,000 for Tanzania; $10,000 for Guinea; $12,000 for the Philippines; $3,500 for India; $56,000 for Kenya; $15,000 for Italy and $30,000 for Sri Lanka (the June 13 Project).
Saint Anthony of Padua Mission Aid (SAPMA) in Canada donated a total of CAD$510,000. Of this sum, $85,000 went to initiatives within Canada (such as St. Clare Inn and St. Bernadette Centre). The rest of the funds were allocated to projects within the US ($65,000), specifically FrancisCorps and Saint Kateri Tekakwitha Shrine; $50,000 went to Malawi; $44,000 to Tanzania; $78,000 to Ecuador and $63,000 to the Democratic Republic of the Congo. Finally, a total of $125,000 were donated to St. Anthony's Charities, which include the June 13 Project in Sri Lanka.
Updated on April 26 2021