A Big Thank You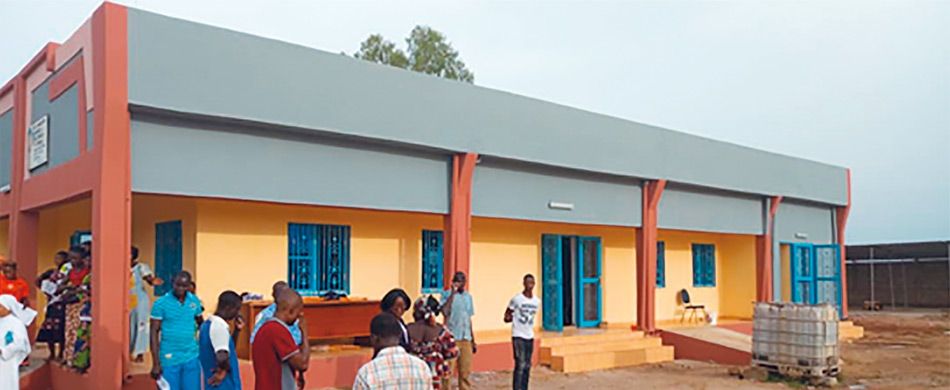 The completed Salle Polyvalente Saint Antoine de Padoue
IN THE Centre-Est region of Burkina Faso, many people still think that a woman's place is in the home to take care of children and prepare the meals. The empowerment of women through remunerative income activities is quite low and often perceived badly. "The region is plagued by multiple flaws that are the result of ignorance and obscurantism in the population," says Father Matthieu Sidbewende Balima, Executive Secretary of OCADES. "The main obstacles to development in the region include retrograde practices, and a hostile mentality to change – particularly regarding health, education, and even agro-pastoral production."
OCADES, The Catholic Organisation for Development and Solidarity, has as one if its aims the realisation of new training infrastructure and increased training capacity for the Centre-Est region. "This will enable new initiatives and activities which promote human development," says Fr. Matthieu. The building of a new multipurpose hall in Tenkodogo, Boulgou Province, will benefit women's associations and groupings, young job seekers, disabled people and associations, and the local community in general.
"We planned the multipurpose hall for the village of Kougsapla as a natural continuation of other projects there," explains Father Matthieu. Previous projects included improving access to drinking water (a project partially funded by St. Anthony's Charities), and the provision of a canteen to support disadvantaged schoolchildren and young people in education. The village has a population of around 900, most of whom are from the largest ethnic group in Burkina Faso, the Mossi, who make up about 40 percent of the country's whole population. They follow various faiths, including Catholicism, Protestantism, Islam and Animism. The main economic activities are agriculture and livestock. Agriculture is based on the cultivation of sorghum, millet and maize, which are the main food crops. Some cash crops are grown, including peanuts, haricot beans, and ground-beans. Animal husbandry is quite common in the village, with most families owning sheep or goats. However, revenue generating activities are rare and have proven to be unsustainable. Generally, the villagers are poor.
3-year action plan
OCADES has developed a three-year action plan from 2019 to 2021 to improve the effectiveness of its priority actions for the benefit of the population, irrespective of religion and ethnicity. "We have good cooperation with various State services such as the mayors, social services, and women's organisations," says Fr. Matthieu. "Our overall goal is to build better living conditions for communities while respecting human dignity and the environment. The actions of OCADES in Tenkodogo are directed towards the most vulnerable people and especially to those with disabilities." For the three years of the plan, focus will be on five axes and strategic planning to make development possible; promoting human potential, social cohesion, access to drinking water and sanitation, sustainable and ecological development, and the social inclusion of disabled people.
"We intend to organize training sessions for women based on breast cancer, cancer of the uterus and other diseases that women are exposed to," says Fr. Matthieu. "Further training will also be provided to mothers about nutrition." In addition to providing training to women, OCADES works with associations and with employers who operate in the territory of the diocese organising training for young people, including the promotion of inter-religious dialogue and religious tolerance. "We are also raising young people's awareness about HIV, AIDS and other diseases," he adds. In order to promote social cohesion in the community, courses will also be organised on crisis prevention, good governance and citizenship, and to foster a spirit of entrepreneurship in the young people. OCADES works with many organisations and groups in Tenkodogo: "We help women's associations develop micro-projects," continues Fr. Matthieu, "and we also work with women and young people who grow vegetables to improve the family's diet or to generate a small income. We urge the integration of disabled people into the life of the community, and support the parents of children with disabilities. Our three year plan will, in particular, focus on empowering women."
Training essential
Before construction of the multipurpose hall it was necessary to rent rooms from municipalities in the area to carry out this type of activity. "This was expensive for us, and sometimes we had to postpone our activities because the activities of the mayor came first," Fr. Matthieu explains. "It made it difficult, if not impossible, when we needed to group sections of the population for training. We provide educational and literacy training for young girls, for example, and the lack of a dedicated space hindered this kind of activity and limited the number of people we could reach out to. Yet, training is essential for these rural women and young people." He goes on to say that dialogue between the diverse religious groups in the region is also central to the needs of the community, including cultural meetings, emphasising how it is important that the multipurpose hall meets everyone's expectations and needs.
€29,000 donation
Initial local participation in the project came through the donation of building land, and collaboration with the Tenkodogo municipality. Sand for the building work was also collected locally. Much of the equipment for the hall, in particular, specially adapted furniture and the sound system, were also funded locally. In January 2019 St Anthony's Charities granted a total of €29,000 towards building costs and remaining equipment costs. A contractor was found to carry out the building work and, not having expertise in construction work, OCADES hired a technician to regularly monitor the ongoing project. This was to ensure that the contractor took into account Burkina Faso construction standards and that project deadlines were met. In fact, the building work proceeded without any major hitches and, although it was a couple of months later than scheduled, it was brought to a successful conclusion in the middle of July. Going forward, OCADES will be responsible for maintenance costs, and women from the village have agreed to take on the cleaning.
Sincere gratitude
Even before the final completion of the exterior of the building, a two-week sewing course for two groups of 50 girls took place there. "A big thank you to St. Anthony's Charities for the multipurpose hall," says Chantal, one of the many satisfied participants from the training course, "Thanks to you, we were able to do our sewing training. Thank you all for our hall!"
At the end of the course, on 13 July 2019, Prosper Kontiebo, Bishop of Tenkodogo, blessed the hall. Many of the course participants were in attendance. "My sincere thanks for the funding of our socio-educational hall, now named Salle Polyvalente Saint Antoine de Padoue (The Saint Anthony of Padua Multipurpose Hall)," he concludes. "I am very happy that you were able to provide financing. It will be very useful for young people, women, people with disabilities and the various associations that will carry out training there. A thousand thanks to St. Anthony's Charities and the readers of the Messenger of Saint Anthony for your support to vulnerable populations. May God bless you all in this coming year and accompany you always."
Updated on January 26 2020