Casa Mamma Mia
The generosity of our readers has made a refuge home and clinic available to the poor in a highly deprived area of Peru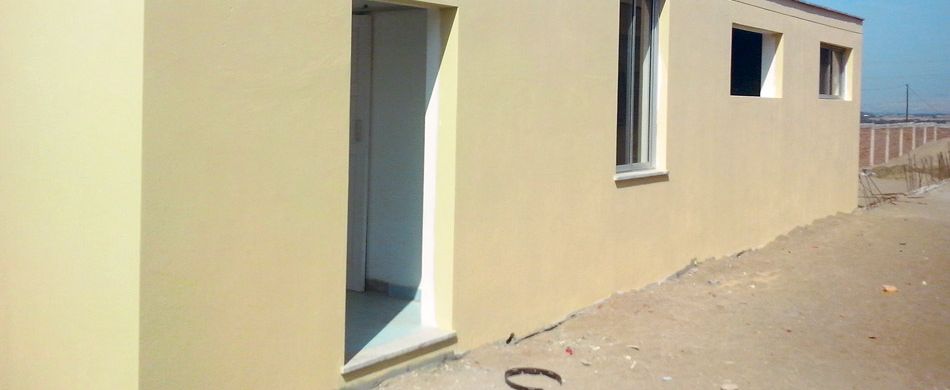 The new building of La Casa Mamma Mia in Chimbote, built through the generosity of the readers of this magazine
CHIMBOTE, Peru, has grown dramatically over the last 40 years from a town of 30,000 in the 1970s to its current size of 800,000. But the migration process has been completely disorderly, with many families settling in the desert, occupying land owned by the state. "Initially, settlements are completely precarious and often the police are sent in to evacuate the area," explains Father Armando Zappa, parish priest of the Asución de la Virgen Maria parish in Nuevo Chimbote, and project manager. "After that first phase of uncertainty, these asentamientos humanos (human settlements) as they are called here, begin to take on a structure, but are not yet recognised by the municipality. There is, however, almost certainty that they will not be sent away." These settlements are provided with light, but no other services.
After up to five more years, the settlement is recognised and an urban plan put in place. Shacks are dismantled, and each family is assigned a 108m2 plot of land. The municipality then provides rubbish collection. "A sewage network is not developed, nor distribution of drinking water," continues Fr. Armando, "and there is a complete lack of social services such as kindergartens, schools, and public clinics. Only after all legal problems have been solved and there is the political will, is the family able to buy their allocated plot, and the complete urbanisation process starts: sewage system, drinking water, schools, and other services. Generally, for all this to happen, at least 10 years have passed since the first settlement."
Fr. Ugo de Censi
Operation Mato Grosso (OMG), whose presence began in Chimbote in the early 1990s, is a movement that, through voluntary work for the poor, offers young people the possibility to embark on a path that leads them to discover and acquire fundamental values for their lives, including respect and collaboration with others, sensitivity to the problems of the poorest, and learning to love people. After the construction of a cathedral in Nuevo Chimbote, and an agricultural technical college in the rural area of Tangay, Father Ugo de Censi, an Italian priest living in Chacas, challenged the youth to build five kindergartens in Chimbote to serve the poor. In 2015 over 2,000 youths worked on the project, some staying for only a week, others a month, and 30 for the whole period. At the start of the school year the kindergartens were in operation and were inaugurated some five months after the project began.
In 2016 Fr. Ugo, entrusted with the parish of Asunción de la Virgen Maria, dreamt of a big intervention with educational and religious activity. Two main projects were identified. The first, the construction of a technical school for 100 children to be taught not only the regular subjects, but also everything to do with construction, is now complete. The second, a project entitled La Casa Mamma Mia, will become the heart of all OMG's interventions in Chimbote. The project includes: a canteen accommodating 300 people and distributing 1,000 free meals per day; public wash rooms; housing for volunteer workers, the kindergarten workers, and for teachers; and a clinic which will act as the first step in health assessment of the population. St Anthony's Charities was asked to provide funding for the construction of the clinic, and awarded a grant of €22,000.
Two instalments
The first instalment was received in June 2017 and work began. First, the foundations were excavated, and then cast in concrete. This was followed by the erection of pillars and the external walls using special 18-hole bricks which provide resilience in case of earthquakes. Internal and external plastering of the walls, waterproofing of the roof, and laying of water and waste pipes came next, followed by installation of the concrete floor, and finally laying of ceramic tiles. Much of the unskilled work was carried out by volunteers, and everything went entirely to plan.
With the second instalment, all the works to complete the clinic were carried out: installation of the electrical system, aluminium window frames, painting of the interior rooms and the external walls, fitting of external and internal doors. Although there were some delays due to persistent rains, the clinic was completed on 18 February 2018.
"The clinic is managed by voluntary nursing staff," says Fr. Armando, "and serves children, adults, the elderly, and the disabled. Its proximity to the hospital makes it a focal point for assisting people who cannot access paid services. The work of the volunteers is also in the homes of the patients – something not seen before in this area."
Two nurses
Two volunteer nurses wrote to St. Anthony's Charities to explain the importance of the clinic: "Many people do not have any health insurance and are completely helpless when faced with a serious health problem. We accompany these people to the health centres, to help them to get state insurance cover, or to get the help they need. We started with a few patients, and little by little we have been getting to know them better, but we feel inadequate as we are not able to provide everything they need. Entering their homes gives us an insight into a world of poverty and despair. The chronically ill and elderly who spend their lives lying in bed in a house with a sand floor worry us in particular. Accompanying these people, bathing them and medicating them has become one of our main activities. You can only imagine how difficult this is with a person of reduced mobility in a house that has neither running water nor a bathroom, where everything is dirty, where the floor is just sand. The clinic, thanks to your generosity, has become a place where any patient can get the attention and affection they need. What we are able to do is always very little in the face of the great needs of these people, but thanks to the clinic, we can now do it in the best possible way."
Huge task
"In its simplicity the clinic is beautiful and we can finally welcome and treat people in a clean, functional and decent environment," concludes Father Armando. "I would like to offer St Anthony's Charities and its countless benefactors a heartfelt thanks for your help which will enable us to alleviate some of the suffering for the poorest of the poor of Chimbote.
"I do not think I can express all my gratitude that comes not only from having received significant concrete help, but above all from the thought that through St Anthony's Charities many people who I do not know can help a multitude of poor people who they do not know and who will never be able to thank them. This seems to me a very beautiful sign of Providence that moves in a mysterious way, but which always arrives at times when you feel most in difficulty.
"Just as the building of the infirmary ended, the bishop of Chimbote entrusted me with another parish with another 20,000 souls. Everything is growing at an impressive rate and I get scared when I see how big the need is and how little I can do. Sometimes there is a temptation in the heart to close yourself in the little that you can do, the temptation to pull in the oars of the boat, but it is the generosity of many people that drives me to continue and to go far beyond my own strengths and possibilities. I thank you for all this, I will keep you close in my thoughts and I will pray for all the benefactors who work through St Anthony's Charities."
Updated on October 10 2018