Decent Homes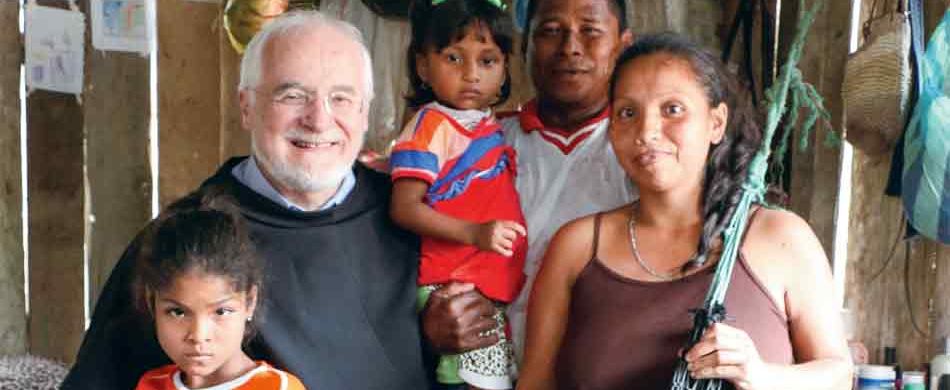 Fr. Giancarlo with a poor family from the earthquake-struck region of Ecuador
AT ONLY 9-years old, Isabel is just a child, yet she singlehandedly cares for her parents and brothers who depend on her completely: she is the only member of the family who is not deaf and mute. "She remains in my heart," says Father Giancarlo Zamengo, General Director of the Messenger of Saint Anthony, who met Isabel on his recent visit to Ecuador. "In contrast to other children who hide behind their parents, she put herself in front of the rest of the family – her mother, and her three older brothers, and looked me directly in the eyes." Isabel is just one child in one family of many in the remote communities of Ecuador who are not only desperately poor, but also coping with severe disabilities. Life for Isabel is extremely hard, but she is strong and determined. Even when her family's already rickety house was destroyed in the earthquake, she would not give up. Isabel demonstrates the enduring spirit of these forgotten people.
While in Ecuador, Fr. Giancarlo visited some of the remote villages in Manabí Province and witnessed first hand the widespread damage caused by the 7.8 magnitude earthquake in 2016. Official records count 676 people killed and 16,600 injured. Many structures, even hundreds of kilometres from the epicentre, collapsed. He recalls his first impression on arrival in Jama, a town of 10,000 inhabitants, "We were immersed in dust from the town roads which have never been tarmacked. I was struck by the voids that interrupt the succession of small low houses: the earthquake destroyed half the town. The streets had been cleared of rubble, but then work stopped. There were just not the resources for reconstruction."
Great heart
Father Walter, who is responsible for the June 2018 project, welcomed Fr. Giancarlo to Jama. Fr. Walter had recently visited Padua to ask St. Anthony for grace, and it seems now that it has been granted. His is a face already known to St. Anthony and to St. Anthony's Charities. After his ordination, his bishop asked him to go on a mission to Amazonia, where he was joined by the Messenger, which reported on his work. More than eighty villages had to be reached, and Fr. Walter did so by whatever means were necessary: by car, horse, and boat. After the earthquake, the bishop asked him to return. So many communities had been devastated by the earthquake, with houses and churches destroyed. His expertise was needed and, above all, his heart.
Tireless priest
"Walter does not stop for a moment," says Fr. Giancarlo. "He has been the pastor here for some years. His strength comes from his extraordinary cordiality and his total openness to service. He faces the most problematic and difficult situations with a huge smile. He tells you his emotions, his limits and his fears without shame. He does not think of himself as a hero for dealing with the consequences of the earthquake, reaching out to those who can help rebuild homes, schools and churches, but rather, he knows he is an instrument in the hands of Providence, of the Lord. And he knows he can count on the great heart of St Anthony's great worldwide family."
Fr. Walter explains that the people here, although they are poor and have lost everything, are generous in their offerings. He says that one of the largest collections made at the church was for the victims of an earthquake in Mexico. People here don't worry about their own needs, but instead open their hearts to those even poorer than themselves. "This is a lesson of life that I learn every time I visit the poor of the world," says Fr. Giancarlo. "In the depths of their poverty, they always have a crumb to give to those who are worse off than them. I have never met communities who only ask, but rather, also give what little they have for the love of the Lord."
Forsaken village
Isabel's village is much smaller than Jama, just fifteen or so families, about 100 people, an hour away from the main road in the middle of the forest. Isolated from the world, they cultivate the land by collecting cacao. The earthquake has forced them to come out of their isolation, but it has also sharpened their perception of not being important to anyone. Fr. Giancarlo recalls the words of the village chief: "No one has ever come to help us. Many came and made promises, but nobody did anything." The chief is proud that even after his own roof fell over his head, he was able to quickly escape from the rubble, and with the help of the whole village an 80 year-old lady was rescued from the neighbouring house. Although there are official figures for deaths, the true number of victims is unlikely ever to be known. In many villages, the dead were recovered from under the rubble and simply taken to their families so they could mourn.
Isabel's village has a disproportionate number of families living with disabilities. "This could have been as a result of the isolation leading them to marry too closely, or perhaps from bad nutrition. Nobody knows the cause. Clinical tests would be necessary and there is simply no money for the analyses," explains Fr. Giancarlo. "But three nuns have succeeded in accompanying these families towards the light. They tell me their dreams: new houses, a chapel, a common room, a dispensary, a school... but the resources are always too few in a territory devastated by an earthquake."
Misery everywhere
Accompanied to another village by Sister Mirian, Fr. Giancarlo was struck by her simplicity: "She was dressed like one of the local women, the only sign being a large cross on her chest. She has been entrusted by the bishop with a large family: a parish of more than 12,000 people scattered across the mountainous terrain. Any time she needs to move around, she has to ask one of the villagers for help as she has no transport of her own. She has no economic means to live, relying on the charity of the people she serves." In this particular village everything was destroyed by the earthquake: the church, the school, the small huts in which the people lived. "Some temporary huts have been constructed while they are waiting to rebuild their houses," Fr. Giancarlo continues, "but they will never have the means to rebuild them alone."
In another village, Fr. Giancarlo encountered a mother, left alone to look after her eight children. "We passed through some banana trees and a few metres away saw what looked like an abandoned shack," he says. "You could breathe the poverty… misery was everywhere. We saw the poor straw mattresses and sheets through gaps in the rough planks. This mother does her best to keep the family going: washerwoman, cook, baby sitter, and even labourer. She was helping a family rebuild their home in the village. She, too, had hoped for a new home, but had been told that she would not receive anything, because she does not have land on which to build."
Your help needed
With your help, Fr. Walter and the St Anthony's missionary friars will replace the homes destroyed in the earthquake with new bamboo cottages. Your kind gift could give a poor family a decent home to live in: just €30 ($40/£25) is sufficient to pay for bamboo to build walls, €50 ($60/£45) would pay for roof tiles, €100 ($130/£80) for foundation bricks, €200 ($250/£175) for furniture, or €5,000 ($6,200/£4,400) would be enough to complete a cottage for one family.
"Father Walter was so keen for me to tell all our dear subscribers just how important your support will be," says Fr. Giancarlo. "He asked me to tell St Anthony's devoted followers that only the Saint knew how to take care of these people and that, to the people here, it is truly a miracle."
"Now, I am thinking of Sister Mirian and her community, and especially about Isabel, about the promise that we made to help her and her family have a new home: a simple bamboo house to allow her to continue playing with her ragged dolls, to show her people how great Christian charity is towards those in need," concludes Fr. Giancarlo. "The forest villagers of Ecuador cannot continue to live in the ruins of their homes for much longer. Please help the friars to build new cottages and give these remote communities a new lease of life in Saint Anthony's name."
Updated on June 10 2018