Elderly Care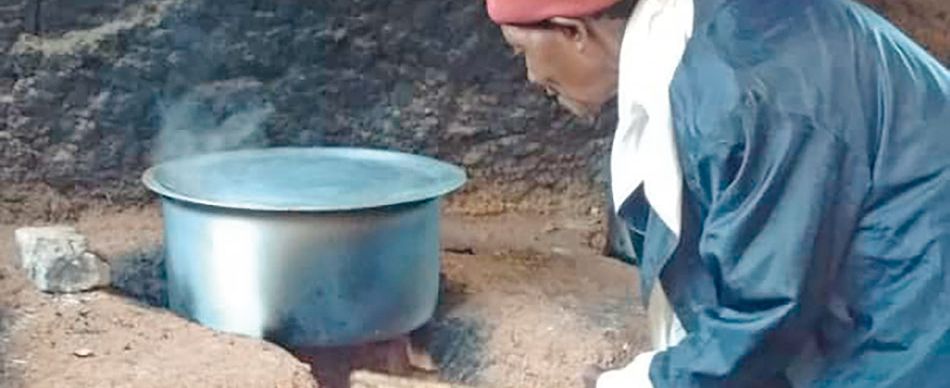 Cooking in the old kitchen was an unpleasant affair
LIFE for the elderly in Rwanda is hard. Food is scarce. Sometimes water can be as much as a two-hour walk away – and, even then, of poor quality. Health insurance is often beyond the reach of the elderly, and gaining social assistance is an exceedingly complex procedure. Many are left to fend for themselves and can fall prey to unscrupulous rogues who take their money to cultivate their land or provide other assistance, but then disappear without doing the work. Over the coming decade, the situation will deteriorate further if suitable solutions are not found. According to an article published in 2020 by The Oxford Institute of Population Ageing, the elderly population in Rwanda – those over 60 – will increase by 300 percent by 2030.
Manifold mission
The Abizeramariya Sisters – founded in April 1956 by Father Raphaël Sekamonyo, a Rwandan priest – currently operate seven homes for the elderly in different provinces and districts of the country. "Our main mission is to be a sign of hope of life and to serve our needy brothers and sisters according to the word of the Gospel," explains Sister Marie Françoise Nyiramana. In particular, by following Mt 25:40, "… in so far as you did this to one of the least of these brothers of mine, you did it to me."
"Our mission is carried out in various forms of service," she continues. "Social services taking care of destitute, disabled and abandoned elderly people, widows and orphans; promotion of women; health – hospitals and health centres; and education of young people."
St. Anthony's Charities has helped the Sisters with three projects assisting them with their work with the elderly over the past seven years.
Abandoned elderly
The Sisters first contacted St. Anthony's Charities back in 2015. They were finding it difficult to provide food and hygiene products for the 44 residents of their nursing home situated in Gisagara. In keeping with much of Rwanda, the elderly there are abandoned because they're considered useless to society. The Sisters requested aid for this home for one year of activity and this was willingly provided.
It wasn't until 2021 that further contact was made. This time it was to request assistance with the costs of providing furniture, equipment and materials for all seven of their nursing homes. They specifically requested the provision of beds, blankets, plastic-covered mattresses, and chairs with casters, all in various quantities depending on the requirements of each home. One of the homes also required a rainwater tank to help provide enough water for day-to-day needs, a gas stove as it was unable to source enough wood for cooking, and a washing machine.
St. Anthony's Charities were pleased to grant the €14,000 requested. By the end of 2021, almost all of the requested items had been acquired. But, as a result of changing needs, some of the money went towards more urgent purchases. "We had emergencies which meant we had to purchase other materials," explains Sister Marie Françoise.
New kitchen
In February 2022, the Sisters approached St. Anthony's Charities with a third request. This time it was to help at the Saint Peter's nursing home situated in Ngoma in the district of Huye, Southern Province. It has been in existence since 1962 and is home to 35 vulnerable men and women. The financial assistance needed was to finance the construction of a new kitchen. "At the moment we cook in a kitchen that we built using trees, earth and clay," wrote Sister Marie Françoise when submitting the application for financial aid. "It really is an unsuitable kitchen and we'd like to modernise it."
The total cost of building and equipping the proposed kitchen was just over €14,000 after taking into account that the Sisters themselves would also contribute to the costs of equipment and furniture.
Of course, St. Anthony's Charities was happy to help with the project, and the new kitchen was finally completed at the end of August 2022. "We did not encounter many difficulties except for an electrical failure while welding the framework of the building," says Sister Marie Françoise.
"The new kitchen has provided a solution to all the problems we had with the old one," she continues. "The old kitchen made of wood and clay allowed rainwater to pass through. There was always the risk that it would fall into the food and rain on the person cooking, too. Even to enter the kitchen, it was necessary to bend down first. The new kitchen provides us with an environment where we can work in peace. The meals are well protected from the elements and the cooks have no problems stoking the fire with firewood. The kitchen is a very solid brick structure with plenty of room to prepare vegetables, space to store pans and other kitchen utensils, and also to stack firewood safely.
Great appreciation
"The elderly really appreciate their home here and feel useful and respected. And the local authorities find that our work aids in the fight against poverty. Going forward, we plan to maintain the kitchen well – that is our greatest contribution to the success of this project."
"Dear readers of the Messenger of Saint Anthony and all the benefactors of our project, we send you our sincere greetings and thanks," concludes Sister Basilissa Nyabyebda on behalf of Saint Peter's nursing home. "The elderly at our home here in Ngoma together with the Abizeramariya Sisters rejoice in the work you have done for us. The works on the new, beautiful and solid kitchen are now complete. We thank you for your generosity. We pray for you and for all those who provided the financial means to realise this project. May God keep you in peace."
Updated on March 13 2023