The Goat Pen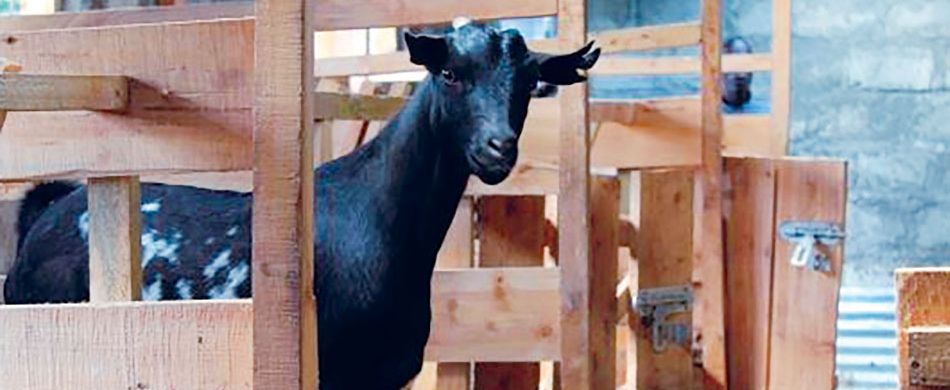 Eight Toggenburg nanny goats and one Toggenburg billy goat were purchased with the money donated by the readers of this magazine
"IT TAKES a village to raise a child" an old African saying goes. Tone la Maji, a home in Kenya for former street children, now also takes goats – alpine goats to be precise. "Alpine goats have only recently been introduced to Kenya, and they are appreciated for their elevated production of high-quality milk, with better food–milk conversion rates than cows," says Father Renato Kizito Sesana, responsible for a project which aims to improve nutrition for the children at the home while supporting the home's financial independence.
The Tone la Maji home is located in Nkaimurunha, one of the two administrative locations of Ongata Rongai, a fast-growing town with a population of over 170,000. Nearly half of the population of the town and its environs live in poverty. A lack of basic infrastructure and government services – housing, clean water, electricity, road, health care etc. – as well as unacceptable sanitary conditions, have led to serious environmental and health hazards. Primary education is free, yet education remains a major challenge. The parents of many children have HIV or AIDS resulting in an increase in health care expenses, and making it difficult to work, which in turn creates obstacles for the children in getting their education. Many children end up on the streets. It's estimated that there are 500 street children in the area. Programs and projects run by the Koinonia Community aim to look after their needs and help them become independent and reliable young adults. "Primarily these children are in need of love, care, and education," says Fr. Kizito. "But they also need good food to grow physically and recover from years of neglect and abuse."
Rescue centres
The Koinonia Community, a lay organisation promoting community life and human development, was established first in Zambia in 1980 and began operating in Kenya in 1990, and then in the Nuba Mountains of Sudan in 1995. It prioritises the needs of children in difficult circumstances, the marginalised, and the oppressed. In Kenya it uses an approach that reaches out to children, their family networks, and their local communities. Street children are visited not only by social workers, but also by former street children, and are encouraged to join activities at rescue centres. Later, when possible, the children are reunited with their families and reintegrated into their family networks, with involvement from the whole community. "All the children in Koinonia homes attend school," explains Fr. Kizito, "usually the nearest public primary school, at least up to grade eight, but the majority go on to secondary school and some to university level."
Sign of hope
Tone la Maji was established in 2005 as a sign of hope for children in difficulty. Its mission is to help strengthen children's capacity through formal education, life skills, and talent development, and it works closely with the community through active involvement in rehabilitation and reintegration. Fifty children presently call it home. Nineteen were rescued from the streets of Ongata Rongai and Nairobi in 2019, twelve came through government run children's services, and the rest were rescued in previous years. The children's ages range from 5 to 17.
In 2019 Koinonia proposed a project to build a small goat stall on 2,500 square metres of land owned by Tone la Maji and purchase a first stock of goats together with basic tools for the manual milking of the goats. The aims of the project were to supplement the diets of the children with goat milk to improve their nutrition, enhance the economic independence of Tone la Maji by reducing costs of milk purchases, make milk available to other homes run by Koinonia, provide informal education to the children on caring for and milking the goats, strengthen local skills regarding dairy goat farming using techniques promoted by the ministry of agriculture, and to provide an easily-reproducible model for local farmers. Perhaps later it will also introduce children to cheese-making.
Toggenburg goats
St. Anthony's Charities had already granted financial help to two successful projects managed by Koinonia: in 1999 it financed a project to help street girls, and in 2016 it funded a project to keep chickens at Tone la Maji which has already contributed significantly to improving the children's diets and the economic sustainability of the home. At a total cost of around €10,500 and a local contribution of €1,000, there was no hesitation in saying yes to granting €9,500 towards this latest project.
The first stage of the project was to build a modern fit-for-purpose goat pen which was carried out from October to December 2019. The second stage started with staff training on how to handle and manage dairy goats, purchasing of eight Toggenburg nanny goats (female) and one Toggenburg billy goat. It was also important to ensure that the prepared pen had sufficient food for the goats, so it was also during this phase that fodder and Napier grass – a very tall and drought-tolerant grass similar to sugar cane – were planted. The third stage was introducing the children to handling and caring for the goats. The fourth and final phase is on-going, and involves monitoring and evaluating the program as Tone la Maji improves its capacity to become self-reliant for its milk supplies and provide benefit to the locals in the surrounding area, too.
Unfortunately, during implementation of the project, disaster struck in the form of an outbreak of foot and mouth disease in the area. "With the help of a local veterinarian we were able to mitigate the destruction caused by the disease by responding to the goats' health issues," reports Fr. Kizito. Sadly, in spite of their best efforts, one nanny goat was lost. "Despite these challenges," he continues, "we were lucky enough to have two goats give birth to two healthy kids, and more followed later." The project has continued its success thanks to the children at Tone la Maji who have remained dedicated and passionate about caring for the goats. In the future, more children will receive training, and the hope is that the local community will also participate.
Self-reliance
"We have been privileged to learn about and to care for our animals from nutrition to medication and well-being," says Fr. Kizito. "We have also learnt the necessity of having a treatment schedule for our dairy goats, which unlike the local breed, need special care in terms of diet and handling." The goals of providing milk to the children and reducing costs of acquiring milk have now been met together with providing some informal education to the children on how to care for and milk the goats.
"Monitoring and evaluation is still ongoing as we seek to improve our capability and capacity to make Tone la Maji self-reliant with regard to nutritional milk and also provide benefit to the locals around us," concludes Fr. Kizito. "Our thanks to St. Anthony's Charities and the readers of the Messenger of Saint Anthony for the support and love they have shown for the children."
Updated on December 20 2020