Hope for Widows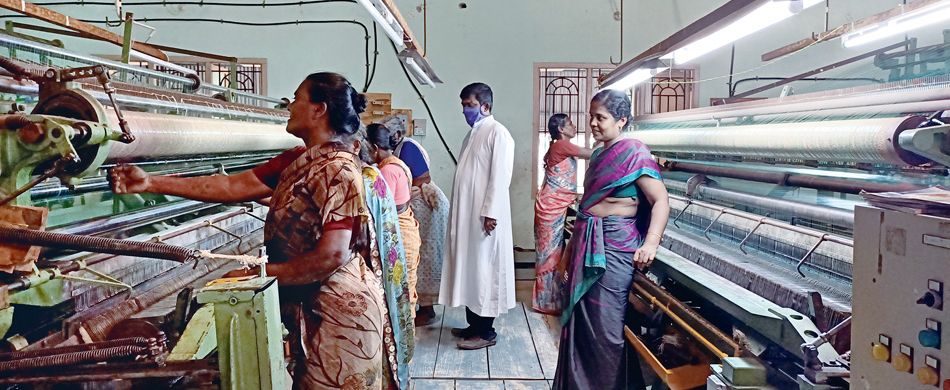 Women working on a large fishing net machine with Fr. M. Jebamalai Suresh, secretary and treasurer of Sivagangai Multipurpose Social Service Society
KAMALA, a 45-year-old widow, lives in Sahaya Nagar, Pambam, on the island of Ramewaram, India with her daughter who has just completed her higher secondary school education. "My husband died five years ago," she says. "I work in the Sangamam fishing net production unit. The income from this is the only source for maintaining my family. Last year we experienced grave hardships in procuring raw materials, so we couldn't produce our finished products. Besides, the coronavirus lockdown further pushed us down. We were living in a dismal state and I even attempted suicide. Fortunately my neighbours rescued me and I received counselling."
Hard life
Kamala is not alone. She is one of 25 women who work at the fishing net production unit. "All these women are widows from the fishing community," explains Fr. M. Jebamalai Suresh, secretary and treasurer of Sivagangai Multipurpose Social Service Society (SMSSS). "Most of their spouses lost their lives in natural disasters, and a few of their spouses were shot dead by the Sri Lankan Navy when they inadvertently crossed the maritime boundaries." These widows were provided with work so that they would have a regular income, but began to struggle to obtain raw materials from suppliers who refused to give it to the group after the introduction of new taxes. Production drastically reduced, the situation became problematic, and the Covid-19 pandemic further exacerbated the situation.
Ramewaram is an Indian island located between India and Sri Lanka. It is the largest island in Tamilnadu. The principal town on the island is the pilgrimage centre of Rameswaram. "People from this area are fishermen," says Fr. Jebamalai. "Most of the men go deep-sea fishing and some of them use small boats for fishing. Since the island is adjacent to Sri Lankan sea territory occasionally our fishermen cross the border and are caught by the Sri Lankan Navy, which puts them in jail. In recent years many have been shot at by the Sri Lankan Navy creating an alarming number of widows." SMSSS has been working with fishermen here from its conception.
Sudden loss
Part of the Catholic Diocese of Sivagangai, SMSSS is a diocesan organisation which promotes social apostolate ministry in the Sivagangai and Ramnad Districts of India. "We work with marginalised and vulnerable communities," Fr. Jebamalai explains. "Especially with poor women, vulnerable children, most at risk youth, small and marginalised farmers, and other socially economically backward families to enable them to overcome dependency, inequality and exploitation, and to lead a better standard of life with respect and dignity." SMSS states as its mission to "Organise, educate and consolidate the target people for concerted efforts in bringing desired changes in social, economic, medical, educational and environmental spheres."
"Due to the economic crises and new taxes, the yarn and raw materials suppliers were reluctant to provide credit facilities to the fishing net unit," Fr. Jebamalai continues. "It automatically destabilised the production capacity and market, and created a sudden drastic decrease in profits. The marginalised widows were unable to address their economic needs." With this background, SMSSS submitted a request for seed money to enable the continuation of fishing net production. The €5,000 seed money would be used to purchase raw materials. St Anthony's Charities was happy to provide a grant of that amount, which was received in February 2019, and the project began the following month.
Lockdown problems
First, a project management committee was formed to make significant decisions concerning project activities. It consisted of the director of SMSSS, the director of the Sangamam unit, and four women from the fishing net production unit. Next, raw materials were due to be purchased from a reliable dealer and handed over to the production team. But things didn't go quite to plan.
On 22 March 2020, a lockdown was imposed which prevented the continuation of the project. "Due to this situation, we could not initiate the project immediately," says Fr. Jebamalai. "Only when mobility restriction within the district were relaxed could we procure raw materials and resume the operation of fishing net production." The women were also unable to market their products due to restricted public transport, and one of the staff became infected with Covid-19, which resulted in the offices remaining closed for an additional two weeks. Fishing net production resumed in July 2020 with two shifts – morning and afternoon. The group started marketing their products to the local customers from the beginning of September, and a week later also marketed their fishing nets to adjacent districts. The project formally ended in September 2020.
"We were able to restart our production only with the support of St. Anthony's Charities," Kamala says. "Through local sales I'm now getting a regular income, and my life is slowly changing. Now, I can feed my daughter daily. I have gained the confidence to lead a positive life. We have now started to sell our fishnets to other districts. We hope that it will provide us with a better income."
Environmental awareness
Although there are some concerns about the environmental impact of fishing nets left in the sea, most fishermen ensure that used and torn nets are not left behind. "They do respect the preservation of the natural environment," says Fr. Jebamalai. "A small number do make this mistake, but those who we are in direct contact with are educated on environmental conservation." Most of the fishermen in the area know that they are responsible for preserving the coastal environment.
In the future, some of the profits from production will be reinvested each year as new seed money to ensure that production can continue. "The women have successfully restarted their trade activities and despite corona challenges, all of them are engaging in fishing net production," concludes Fr. Jebamalai. "Resuming the operation of the production unit itself has boosted their morale. They have started earning income and hopefully, from the upcoming months, they will have even better earnings. Now, their lives are being restored to normality. The women wholeheartedly thank St. Anthony's Charities for its timely financial support while they were living in a critical condition, and for transforming their lives."
Updated on February 22 2021