Let's Help Ukraine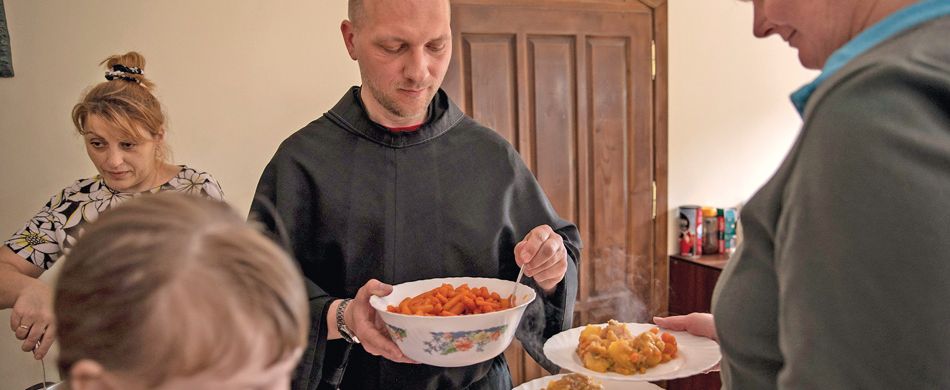 Conventual Franciscan friar Stanislao Nuckowski feeding some of the 80 displaced people in the Bolshivcy friary, Ukraine
JANUARY 2022 and tension is mounting in Eastern Europe. Russia has already deployed an estimated 100,000 troops near the Ukrainian border and yet continues to deny that it has any plans to invade. February 21, Putin recognises Donetsk and Luhansk, two breakaway regions in the east of Ukraine, as independent entities. He orders "peace keeping" forces to be deployed there. Two days later, February 24, Russia mounts a full-scale invasion of Ukraine demanding that the country lay down its weapons. Strong attacks are reported throughout Ukraine spreading panic among the population and forcing many civilians to seek shelter or to flee. Within days, over three million have left their homes – 200,000 cross the Polish border, and over 100,000 the border with Romania.
In the initial days, refugees seem to pass quickly from the countries of first reception onwards to their target destinations, but there is an acute need at border posts. Lviv in the west of Ukraine becomes a destination for many of the displaced due to its proximity to the border with Poland and because it has not experienced the same intensity of attacks as in other parts of the country.
The friars in action
From the moment the war begins, the Friars Minor Conventual both in the war zone and in bordering countries offer their assistance to refugees. This includes the five friaries in Ukraine – two of which are in war zones – fourteen in Poland, two in Slovakia, five in Romania, and one in Hungary. In Boryspil, to the south east of Kyiv, the friars offer assistance at the railway station to those who want to reach Poland. They visit the sick, the poor and the lonely to provide them with spiritual and material help. And with the help of parishioners they prepare food for the army and those involved in defence. And the friars in Kremenchuk, Matskivtsi, Bilshivtsi, and Lviv seek to provide what is required: they organise meals for the displaced, act as military chaplains, distribute clothes and food, organise medical supplies, operate kindergartens for displaced children, and offer shelter to those who need it.
Friar Mikolaj
"There are many refugees who come to Lviv. Our friary is at their disposal," explains Friar Mikolaj Orach, parish priest of the parish of Saint Anthony, and guardian of the friary at Lviv. "We have changed our whole building. Rooms which were used for catechesis are now full of mattresses where people can spend the night. There are so many people. They spend the night here and rest, wash and recover a little and then leave for other countries in Europe. A lot of women and children come through here. They stay a couple of days to recover. The women tell us that for the first time in a week their children smile."
At the start of the war Lviv was a relatively quiet place, but has recently been heavily bombed. "Weeks ago they bombed a factory nearby. We were afraid because this factory was completely destroyed and all the window panes in the houses and buildings around it were broken. But the worst happened during Easter and the following days, when the first civilian deaths shattered our last remaining sense of safety" continues Friar Mikolaj. "Today in Ukraine there are no safe or unsafe cities, so we are also trying to give some relief to our parishioners in Lviv as well, who are extremely frightened, not least because they are witnessing the arrival of terrified people. The day before yesterday we collected three women with children from Mariupol. They had been underground for a week without anything to eat. They went out at night and took water from a small river. They heated the water by fire in secret and fed themselves this way. Their children were exhausted. This afternoon they entered Poland."
Friar Lucian
In Roman, Romania, Friar Lucian Mihai Bobâmac reports that refugees arriving in Romania are being welcomed through a state assistance program offering housing and schooling. "There are also non-profit organizations that provide this type of service, helped by families who have made themselves available to host refugees," he says. "We have set up a network with these non-profit organisations to provide assistance – some provide food, others pay for electricity, and yet other provide diapers, clothing, and so on."
But the friars thought that there was a greater need of their assistance in Ukraine, so Friar Lucian got in contact with Friar Mikolaj in Lviv and agreed to transport aid to the friaries in Ukraine to help them provide assistance. "Before leaving for Ukraine I always ask the friars what they need," says FriarLucian. "The first time, they asked me for blankets and sheets. The last time, they asked me for food. Some we bought, and some came via another friar in Germany. We also added mattresses and some other essentials." FriarLucian has already made several trips to Ukraine.
Interfaith networking
Networking between the friaries has been important in spreading information about what is required and transporting humanitarian aid. "The networking isn't only within the Catholic Church, but also with other Churches, like Protestant Churches, for example," explains Friar Mikolaj. "We also ask them about which roads to use. A couple of hours ago I got a call from a protestant pastor from Kremenchuk, where I worked a year ago. What started as a personal relationship has now developed into a much broader collaboration."
The ongoing conflict continues to have serious human costs: it's causing an ever-increasing number of civilian casualties, destroying livelihoods and damaging critical civilian infrastructure, including thousands of homes, water infrastructure, schools, and health facilities. But the most urgent humanitarian needs are those of medicines, medical equipment, food, sanitation, essential travel items, and the protection of those who have been forced to abandon their homes.
St. Anthony's Charities in Padua, Italy, is providing assistance in Ukraine through the Friars Minor Conventual to provide help to the largest number of displaced people as possible with their urgent needs and to cross the border. It is also working with the friars in Poland, Slovakia, Hungary, and Romania to provide reception and welcome to displaced people, to meet their urgent needs, and to assist them in transferring to friends and acquaintances in these and in other neighbouring countries.
Pope Francis' plea
In his Easter address to a crowd of some 100,000 people in St. Peter's Square, Pope Francis called for peace: "We have seen all too much blood, all too much violence. Our hearts, too, have been filled with fear and anguish, as so many of our brothers and sisters have had to lock themselves away in order to be safe from bombing… May there be peace for war-torn Ukraine, so sorely tried by the violence and destruction of the cruel and senseless war into which it was dragged. In this terrible night of suffering and death, may a new dawn of hope soon appear!
"I hold in my heart all the many Ukrainian victims, the millions of refugees and internally displaced persons, the divided families, the elderly left to themselves, the lives broken and the cities razed to the ground. I see the faces of the orphaned children fleeing from the war. As we look at them, we cannot help but hear their cry of pain.
"Amid the pain of the war, there are also encouraging signs, such as the open doors of all those families and communities that are welcoming migrants and refugees throughout Europe. May these numerous acts of charity become a blessing for our societies, at times debased by selfishness and individualism, and help to make them welcome to all."
Concluding this article, I would like to recall St. Anthony's strong words on charity, a sentiment which should reside in the hearts of all people of good will, "Charity is the soul of faith; it gives it life; without love faith dies." So don't forget to help our beleaguered sisters and brothers in Ukraine by filling out the form (box 110) in the address label carrier.
Updated on June 06 2022