New Start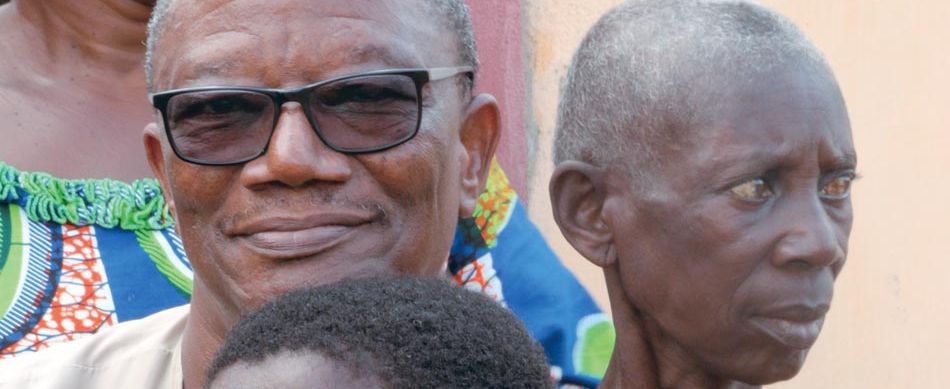 Grégoire Ahongbonon founded the St Camille Association for people with mental illness in 1994 // Archivio MSA
"PEOPLE with mental illnesses are the forgotten of the forgotten. They're treated like trash, like human garbage in our society," said Grégoire Ahongbonon back in 2019 when the St. Anthony's Charities June appeal was launched. Grégoire, a former tyre repairman and taxi driver, founded the St Camille Association for people with mental disorders in West Africa in 1994. Its mission is to restore dignity to people with mental disorders through care and support, and to provide rehabilitation through work and help them to reintegrate into society. By 2019 it had already set up treatment and rehabilitation centres in Côte d'Ivoire, Benin and Togo. For the June appeal, readers of the Messenger of Saint Anthony were asked to help set up a vocational training centre close to the existing treatment centre at Zooti inTogo.
Dream come true
"After several years of preparation and three years of intense work, here we are at the end of this great project," says Sister Simona Villa. "It seems like a dream come true, a miracle that has taken place before our eyes without us realising it. It wasn't easy to get to the end, and the problems were many, the time given without reserve, the misunderstandings and disappointments, the joys and satisfactions, everything went by like a film. But now we are at the end and it seems like only yesterday that we were starting out. And what's more, we feel a certainty, which is good and bad at the same time, that we are only at the beginning! The end of this project is just the beginning of something huge that we ourselves cannot imagine, just as three years ago we could not have imagined that time would pass quickly like a rocket and bring us to where we are now."
Misunderstood disease
In West Africa, where psychiatric help hardly exists, mental illness is completely misunderstood – the erratic and strange behaviour of someone suffering from a mental illness can be frightening, and many people still believe that the person is possessed by demons or evil spirits. These "forgotten of the forgotten" are often found wandering naked in the streets, eating out of dustbins having been abandoned by their families. They're beaten and abused, and many are taken to so-called "prayer camps," where they often end up chained to trees – sometimes for years. The Saint Camille Association has helped many thousands of people, and the majority have been successfully reintegrated into their villages of origin. The June 2019 appeal was to provide accommodation for around fifty people who would then be given training to learn a skill or profession. Some might go on to be farmers, others carpenters, masons, electricians or mechanics, and yet others bakers, seamstresses or hairdressers.
Recently completed
The vocational centre was completed in April 2022. It consists of a dormitory for the fifty patients, and includes toilets, showers, and a kitchen. In addition there is a bakery, a mill, a shop, a hairdresser's, a clothes maker's, a welder's workshop, and an electrician's. Then there's an agro-pastoral farm complete with vegetable gardens, cultivated fields and livestock. There are also some warehouses and a large multipurpose room. "This is what we've achieved with the project," explains Sr. Simona. "We've also been able to add a Marian grotto and a radio station that will be operated by the patients." Power to the centre is provided by a mixed supply of electricity. Solar panels provide enough energy to power the lights, and a conventional supply provides power for machines. "Many patients have already received training in various jobs and are already working," continues Sr. Simona. "Others are in training, and more will come to be trained at the centre."
As an added bonus to the development of the Centre, it has been possible to provide water to the people of the neighbourhood, free of charge. "We have installed an external tap connected to our supply," Sr. Simona explains. "This has been welcomed by the local people and has also made them very welcoming towards our project and very sympathetic towards the patients here." Negotiations with the local authorities are ongoing in order to provide better access to the centre. "This will allow many more people to get to know us and use our services," she continues.
A blessing from God
Indeed, the Centre has become the starting point for the development of the whole area, and the presence of the treatment Centre and now the vocational training Centre has begun to change the way the population thinks about mental illness, which had always been associated with thoughts of witchcraft and possession by demons.
Since building what is now known as The Saint Anthony of Padua Centre, collaboration between the state and the Saint Camille Association has also intensified. This will provide greater opportunities for improved care and support for the sick. The multipurpose room will also be able to host meetings and training days in the field of health in general, and mental health in particular.
"To sum up," concludes Sr. Simona, "we can quote the Bishop of the diocese who said that 'the Saint Anthony of Padua Centre in Zooti is a blessing from God' intended to improve the population's living conditions on many levels. It's all wonderful! But what is the most beautiful and most exciting thing to see is the sick coming back to life as a result of the training provided, the work they do, and the small responsibilities entrusted to them. That, in turn, gives them more and more confidence that the future holds a new life for them. Mental illness is no longer the end of everything. Thanks to this Centre, more and more patients are rediscovering the meaning of, and a taste for, life. They are ready to start again!
"We give thanks to the readers of the Messenger of Saint Anthony for making this possible. And we thank the Lord who has allowed us to be eyewitnesses to so many small miracles of 'resurrection!'"
Updated on June 29 2022