Our Charity Report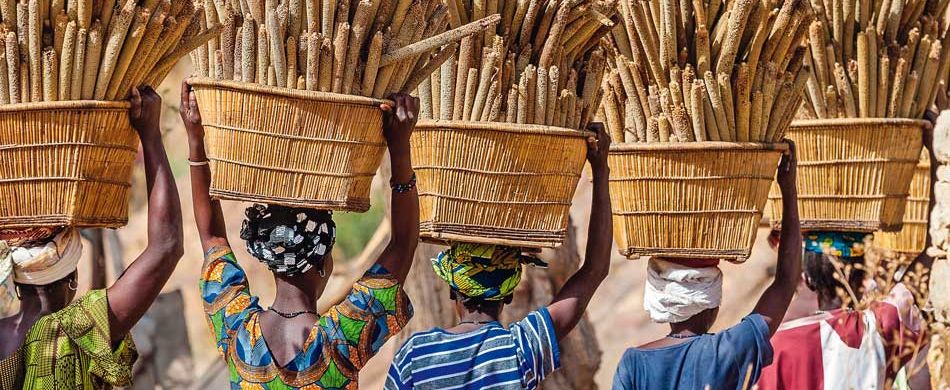 © Philippe Marion – Getty Images
WHATEVER is happening in the world is often reflected in the solidarity initiatives sponsored by St. Anthony's Charities. It should therefore come as no surprise that in 2022 one of the most important projects funded by our charitable organization was to assist refugees from war-torn Ukraine.
Despite the economic crisis, the solidarity shown by the readers of the Messenger of Saint Anthony and by our Saint's friends has held up – so much so that everyone has continued to stand by those who are worse off than themselves, each according to their own possibilities. A great sign of generosity and trust!
War refugees
Through your help St. Anthony's Charities has sponsored 106 projects in 45 countries around the globe for a total of €3,812,550. Most of the projects and grants concerned Africa, but a good 35 percent was also spent in Europe. In particular, 20 percent of the total was spent on supporting those fleeing the war in Ukraine. It is no coincidence that the project proposed for the June 13 feast of Saint Anthony was entirely dedicated to purchasing basic necessary goods and services for Ukrainian refugees. These were dispensed through the network of the Conventual Franciscan friaries in Ukraine and neighbouring countries – in particular Poland and Romania.
But with so much attention on Ukraine, it is notable that the friars' commitment to refugees from other conflicts in Africa and the Middle East hasn't diminished. Indeed, €353,000 went to support refugees on the Balkan route – in particular for the reception and integration of unaccompanied minors, and for eye and dental care, which are often excluded from the usual health services provided.
Social-impact projects
The main beneficiaries in 2022 are communities in rural areas – particularly in Africa – which do not have access to minimum services such as health, education, and vocational training. A total of around €1,541,000 – 40.44 percent – went to these types of projects, spread across 25 high social-impact projects. There were many achievements: from health dispensaries to job training projects, from maternity services to start-up microenterprises, from the purchase of agricultural equipment to recovery centres for abandoned children, and from wells to photovoltaic panels!
Children favoured
As in the previous years, the main beneficiaries of the projects sponsored by St. Anthony's Charities remain children. There were 32 projects dedicated to them in 2022. If we add into that category high-school students and young people in human development projects and in vocational training, we reach 55 projects, and the resources dedicated to the youngest section of the population become 44.76 percent.
Overall, the approved projects cover a wide range of concerns: health and hygiene, education, human promotion, access to water, and housing. Most of the projects and expenditures relate to the construction of buildings: from schools to hospital wards, from houses to community toilets, and from dormitories to community halls.
"We are one of the few charitable organisations that still subsidise construction," says Father Valerio Folli, Director of St. Anthony's Charities. "But we do so because we are convinced that development needs minimum place and equipment that are more difficult to access for poor rural populations."
In fact, in second place among the various types of projects which are supported by St. Anthony's Charities is the purchase of equipment, which has practically doubled since 2021. The types of equipment purchased include school furniture, health equipment, ambulances, agricultural machinery, generators, computers, medical aids, and hospital beds.
The crisis has also had a significant impact on the average project cost. Before the pandemic, almost 61 percent of projects were below €20,000, but today, only around 40 percent remain below that. The majority – around 33 percent – now lie between €20,000 and €30,000.
Open format
A characteristic of St. Anthony's Charities is that it has both religious and lay missionaries from different organisations and nationalities as its contacts. "This is proof that the work of the friars is an open and non self-referential form of solidarity, capable of networking with different entities," says Father Valerio. The missionaries who worked with the friars in 2022 numbered 97 – 40 men and 57 women. They were mostly consecrated men and women, but there were also 15 lay people who belong to local or international organisations. There were a total of 21 Conventual Friars working in various countries around the world.
Amongst the curiosities in the annual report – which do not really reflect the seriousness and accuracy of the work of St. Anthony's Charities – is that of 219 analysed project submissions, 58 did not meet the requirements, 55 lacked essential documentation and, as a result, only 106 were financed. "Almost all of the approved projects are successful," concludes the director.
The future is expected to be full of challenges. "The war in Ukraine, climatic crises and high energy prices are putting a strain on the most disadvantaged countries," says Father Valerio, "but they are also impoverishing the weakest communities in Europe at an unprecedented rate – especially children. There is an expectation that in 2023 and in the years to come we will need to keep in mind the sense of sharing and community that nourishes our great family of St. Anthony."
USA & CANADA
In 2022 the Anthonian Association of the Friends of Saint Anthony of Padua (AAFSAP), our Saint's charitable organization in the USA, again partnered with missionaries around the world who tirelessly serve the poorest of the poor. AAFSAP distributed a total $330,699 USD aimed at providing food, shelter, water, medical services, education, and job training to over 7,000 folks. In Ukraine, Romania, Serbia, Vietnam, India, and United States ($166,500) it distributed food, subsidized housing, and offered medical services to women and children in need as a result of war, poverty, unemployment, and illness; in Vietnam and Congo ($43,235) it underwrote the drilling of boreholes and the installation of filtration systems so that children and their families could have drinkable water;  in Paraguay and in the United States ($48,384) it delivered specialized aid to disabled children and young adults with severe physical and psychological disabilities; in Tanzania ($13,400) it subsidized professional training courses for at risk teen girls from marginalized communities; and in India, Kenya, and the United States ($59,180) it supported Catholic schooling to families from underserved communities. 
Last year Saint Anthony of Padua Mission Aid (SAPMA), our Saint's charitable organization in Canada likewise ensured the highest return for every dollar entrusted to it by distributing a total of $641,770.00 CAD, of which $95,000 went to fund St. Clare Inn for homeless women and St. Bernadette Centre, which provides parent relief, both in Toronto. The rest of the money went abroad to specific projects: $96,530 for the renovation of a reception centre in Grand-Bassam, Ivory Coast; $98,000 for the construction of a water supply line in Gatsibo, Rwanda; $39,200 for a solar energy training centre in Ku Jericho, Chad; $53,200 for the completion and furnishing of a home for girls in Luinga, Angola; $21,000 for furniture and solar panels for a school in Kananga, DR of the Congo;  $42,840 for furniture and equipment of a physiotherapy clinic in Scutari, Albania, and finally $60,000 were given to Ukrainian refugees. Finally, $136,000 were given to sponsor St. Anthony's Charities 2021 June 13 Campaign in Koudougou, Burkina Faso.
Updated on March 31 2023