Self-Reliance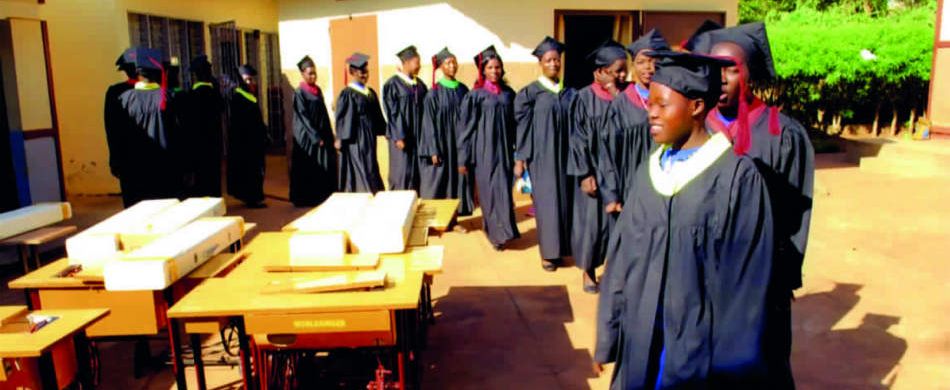 Students line up on graduation day to receive their certificates,
FOR OVER 20 years the people of Northern Uganda suffered torture from political insurgency, many homes were burned, people were brutally murdered, and many children were left as orphans, homeless and hungry with no hope for a better tomorrow. "Many of the young girls and women were abducted, raped, and taken in forced marriages as wives of the soldiers," says Ms Layet Monica Agech, Queen of Peace Administrator. "With no schooling and means of attaining money, many were left to beg and be dependent on others." However, relative stability has returned to northern Uganda: "There is an increasing number of formerly displaced people returning home. The region has seen a little economic recovery, but years of conflict have left young people in northern Uganda with a severe lack of opportunities, education and employment."
Although Ugandan government agencies have made considerable progress and achievements in the design of programmes targeting young girls and women, the commitment has not been solid, and as a result many girls and women still remain unemployed. "A surge in youth unemployment, especially amongst girls, has exposed these girls to risky behaviours such as engaging in early sexual activity, child labour, and other things," explains Ms Agech. "The youth have been both primary victims and actors in the protracted war between the Government of Uganda and the Lord's Resistance Army." Queen of Peace therefore proposed to equip girls and women with vocational knowledge and skills in knitting, tailoring, embroidery, and in particular to provide adult literacy. "The training will enable the girls and women to make clothes, sweaters and table cloths," continues Ms Agech. "With the practical hands-on training acquired as a result of this project, these girls and women will be able to earn some income which will help improve their standard of living and thus become self-reliant."
A mango tree
The Queen of Peace Knitting & Tailoring/Adult Literacy Center (QoP) is a vocational centre which was founded in Gulu, Uganda, by Rev. Sr. Angela Taiocchi, a Comboni Missionary Sister, in 1999. The city is in the Northern Region of Uganda, and has a population of over one hundred and fifty thousand people, the majority of whom are Christians. "It all began under a mango tree close to Kirombe Chapel with the introduction of a Women's Adult Literacy programme," says Ms Agech. "Many women appreciated this effort which made them yearn for more education." As a result in the year 2000 four permanent blocks were constructed to be used as classrooms, and the adult literacy class evolved into a vocational training centre offering skills in knitting, tailoring and embroidery. Later, Rev. Sr. Angela was unable to continue managing the Centre due to her mother's ill-health. The Comboni Missionary Sisters were not in a position to substitute her, so the Centre was handed over to the Archdiocese of Gulu.
Job creators
The management of the Centre currently consists of seven members of staff who organise, plan and manage it. "The institution provides means by which the women and girls can challenge their vulnerability and unemployment problems through a concerted effort and active participation in feasible economic, social, health and apprenticeship training programmes," says Ms Agech. "QoP has consistently built its capacity through mentoring, training and the creation of a learning organisation where the staff members and students are kept up-to-date with the best income generating practices." QoP also collaborates and networks with other stakeholders and agencies operating in the territory.
QoP proposed a project which would help 30 disadvantaged girls and women from the area around the municipality of Gulu. Previously, in 2014, QoP received funding for a similar programme for vocational and adult literacy training. The specific goals of the current project included: improving the income generating sources for 22 women and girls by training them in vocational skills; increase literacy levels for 30 women and girls through tailor-made adult literacy programmes incorporating writing and reading, and also issues such as gender, peace building, AIDS/HIV, and environmental concerns; a reduction in moral decadence through life-skills training, including hygiene, nutrition, agriculture, AIDS/HIV awareness and immunisation; and encouragement of the women and girls to become job creators rather than job seekers. Each participant would also then be equipped with the necessary start-up kits, enabling them to set up their own businesses and boutiques, and thereby improve their living standards. As well as the necessary funds for the training programme, the project costs included: two laptops so that the administrator and secretary were able to execute their work easily instead of going to public computer centres, a printer for documents and certificates, two motorcycles to help with transport difficulties and to make follow-up processes easier, and a standby generator to allow continuity of work as there is a serious problem with power cuts and fluctuations in the area.
A graduation ceremony
The proposal was approved by St. Anthony's Charities, and a grant of €5,200 awarded. The project began in November 2016, and implementation began immediately on receipt of the funds. There were some challenges: "Transport was a very big challenge," says Ms Agech. "Moving to different places to purchase materials and machines was a hard task. The price of the machines had also gone up at the time of the implementation and this caused some extra expenditure." In 2016, twenty-two students fully completed their training and are now able to earn a living and support their families using their new knowledge, skills and machines. An estimated 150 people, their families, will benefit indirectly as a result.
A simple graduation ceremony was held in 2016: "Since there was no ceremony in 2015 due to lack of funds, we only had a simple function in 2016 to bind us and the parents of the students together," explains Ms Agech. "We started with the celebration of the Holy Eucharist, which was presided over by the Diocesan Chancellor." The project was completed on the 30 January 2017, when the final student picked up her machine from the Centre as she had been unable to attend the graduation ceremony. "There is also a great positive impact not only on the beneficiaries, but on the surrounding environment, and this continues," says Ms. Agech. "We also had representatives from the local government, schools and churches at the graduation ceremony, showing their solidarity with us in trying to help these vulnerable girls and women attain economic sustainability."
God bless you
The aim if the QoP Vocational Training Centre is to be able to become entirely self-sustaining in the next few years by creating income-generating activities which will finance the Centre. Its training activities are continuing to grow: in 2017 the number of students has increased to 35. These students will also benefit from the grant, as materials will be distributed to them periodically as they proceed with their training.
"The Board of Governors, the administrative staff and other staff members of QoP Vocational Training Centre would like to express their heartfelt gratitude to St. Anthony's Charities and the readers of the Messenger of Saint Anthony for the donation you provided to our project," concludes Ms. Agech. "It has made it possible for so much to be done. We hope that you will continue to support us as we continue training our vulnerable girls and women to attain financial independence. God bless you."
Updated on October 07 2017