Shahbaz's Dream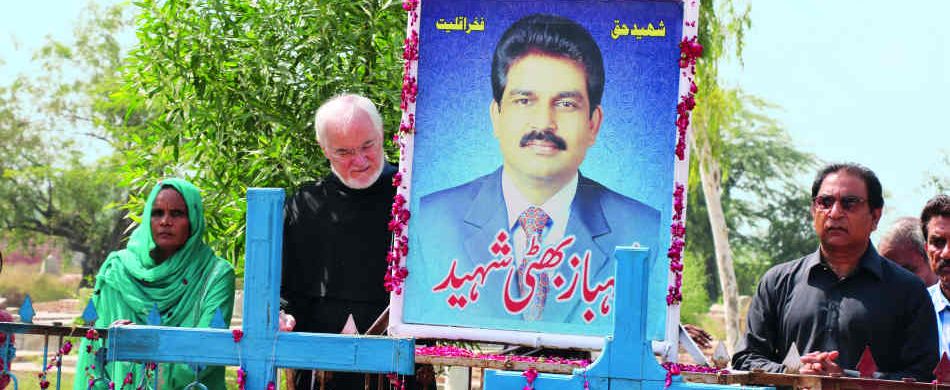 Fr. Giancarlo Zamengo, left, at the memorial grave of Shahbaz Bhatti with Dr. Paul Bhatti, Shahbaz's brother, right Fabio Scarsato/Archivio MSA
IN KHUSHPUR, Pakistan, a Christian village in an overwhelmingly Muslim country, not only are the women desperately poor, but as Christians, they are marginalised and oppressed, have little hope of finding employment, and with it, a chance to escape poverty. "Yet look closer, and you will see a flicker of hope ignited in the hearts of those who live there," says Fr. Giancarlo Zamengo, General Director of the Messenger of Saint Anthony, who visited Pakistan in October 2016. "That spark was lit by a modern day Saint Anthony who, like our Saint, dedicated his life to helping the poor, speaking up for the downtrodden and fighting for every man, woman and child to have the right to live their lives in dignity, respected by their neighbours and communities. That man was Shahbaz Bhatti."
Jesus is my life
Shahbaz was born to Catholic parents from Khushpur, Faisalabad, on 9 September 1968. As a student he formed the Christian Liberation Front in 1985, and in 2002 he was unanimously elected chairman of the All Pakistan Minorities Alliance. Joining the Pakistan Peoples' Party in 2002, he remained outside of politics until he was appointed as the Federal Minister for Minority Affairs in November 2008. On accepting the post he said he was doing so for the sake of the "oppressed, down-trodden and marginalised" of Pakistan, and that he dedicated his life to the "struggle for human equality, social justice, religious freedom, and to uplift and empower the religious minorities' communities." He also said he wanted to send a message of hope to people living a life of disappointment, disillusionment and despair, stating his commitment to reforming the country's blasphemy laws. "Jesus is the nucleus of my life," he said, "and I want to be His true follower through my actions by sharing the love of God with poor, oppressed, victimized, needy and suffering people of Pakistan."
Undaunted struggle
During his time as a minister he supported religious minorities; his work included the launch of a national campaign to promote interfaith harmony, proposing the introduction of legislation to ban hate speech and literature, the introduction of comparative religion as a curriculum subject, and quotas for religious minorities in government posts. The recipient of death threats since 2009, these intensified following his support for Asia Bibi, a Pakistani Christian sentenced to death for blasphemy in 2010.
On 2 March 2011, while travelling to work through a residential district, his car was sprayed with bullets. He was rushed to a nearby hospital, but was pronounced dead on arrival. In a video recorded to be released in the event of his death, he said "I believe in Jesus Christ who has given his life for us, and I am ready to die for a cause. I'm living my life for my community… and I will die to defend their rights."
Paths of peace
Fr. Giancarlo travelled to Pakistan in October 2016 and met Shahbaz's brother, Dr. Paul Bhatti. "Paul told us there is a whole generation which has been taught hate and confrontation," he says. "Paths of peace are needed. People need new avenues for integration and harmony, affording a real future for young people in this country. Too many bad teachers have sown violence and hatred into their hearts."
On his first day in Pakistan, Fr. Giancarlo arrived in Khushpur accompanied by Paul. "The town name means 'happy land,'" he explains. "In reality the name represents nothing idyllic, nor moments of happiness, but instead comes from the name of the Belgian Capuchin friar, Father Felice, who founded the village in 1901. Paul told us that it was once an entirely Christian village, but recently some Muslim families have settled here because of the schools."
"The village was always enveloped in a cloud of dust," he continues. "There is always a need for water to drink – humans, animals and plants. A pumping station provides water from the river to the fields, which would otherwise remain dry. Previously, an irrigation project quenched the thirst of the land, but a nearby Muslim village built barriers in the channels, and water no longer arrived in the fields. Subsequently, Paul obtained funds to build solar powered water pumps. Tales of injustice like this can create feelings of anger and resentment, the desire to make those who do not treat others fairly, who do not behave like civilised people, pay for their actions. But, the calm explanations which come not just from Paul's mouth, but from his heart, make you realise there are always those who build and those who destroy. Christians must be on the side of those who build bridges to overcome obstacles with the power of love, with dialogue, understanding and forgiveness."
A sewing widow
Fr. Giancarlo met many of the villagers: "At each meeting I was drawn to the light in the eyes and on the faces of women who told me their stories," he says. "Stories of violence and of oppression which had not extinguished their dignity, their conscience, nor their desire for justice. The desire to give something back to their families, to their country. They feel proud to be Christian and to be able to offer their great country a unique contribution, an intelligence and a heart. This is a country they love, despite its many contradictions."
One such villager was KJ, a widow living in abject poverty. Her husband died from diabetes: with no money for medicine, and treatments insufficiently targeted, first one foot was amputated, then the other, then death. After his death, she decided to devote the rest of her life to helping others, doing what she knows best: sewing.
"While she was telling her story," recalls Fr. Giancarlo, "her eyes were never off her sewing machine. On the walls of her room were clothes ready to be worn. I imagined, for an instant, the joy of a girl who would be wearing such beautiful garments. KJ will be one of the first teachers at the new centre, where she can teach generations of young people a skill that will last them all of their lives, Paul explained. He continued to make me dream – better still, he told me his dream: the whole village involved in this project, a small project which will become an engine for tens, hundreds of similar projects where the women and girls of this land will be the main protagonists. As I watched two girls sitting together and learning from KJ in that small room, it became easier for me to dream with Paul, with the certainty that something important is about to start in this small village in the Punjab."
New lease of life
With the help of the readers of the Messenger of Saint Anthony, a new learning centre for the women of Khushpur will be created. "Here, the poorest of the poor, and most especially women, who are the most discriminated sector of society, will come to learn new skills," explains Fr. Giancarlo. The women will learn real professions which will set them up for life, taught by people from the village who know what a lifetime of struggle against poverty and injustice is really like. The centre will also become a place where people can receive legal aid or request a small repayable loan to start a business of their own. "For those who have lived their lives in the gutter, despised and disrespected by all simply because they are seen as different, this new centre will quite literally be a new lease of life," he says.
Last year, on the Feast Day of Saint Anthony, Pope Francis said, "Poverty has a face!... the face of widespread unemployment and lack of opportunity." Saint Anthony was a man of the poor, living among them and ministering to them. He turned nobody away. "I am asking you to heed the words of Pope Francis," writes Fr. Giancarlo, "and mark the occasion with a special donation to a project that is very close to the hearts of Anthony's friars here in Padua. In this little village, where the love of Saint Anthony shines bright and clear, let us keep the dream of Shahbaz alive. Let the women of Khushpur and their success be his legacy – and your gift. May God bless you for your kindness."
Updated on June 13 2017