Swing for Peace
We are funding a project in Haiti which is helping young people reject gang-life and live with respect and non-violence by using Capoeira, a Brazilian movement art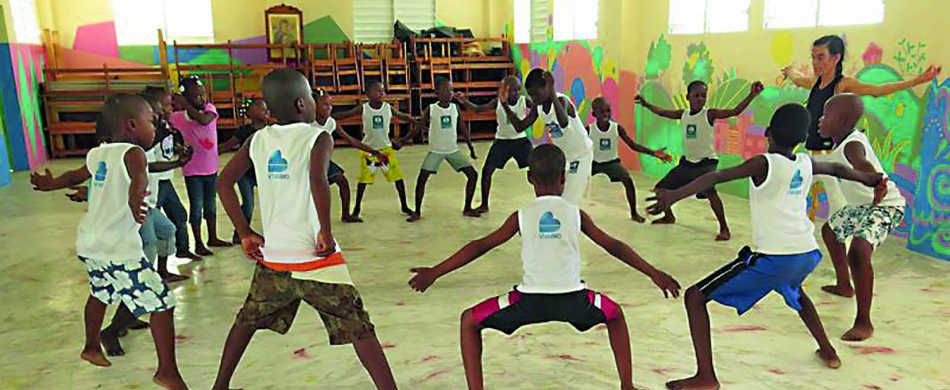 Children practicing Capoeira, which combines elements of dance, acrobatics and music Provided photo
MORE THAN 100,000 dead and the infrastructure devastated. "People were screaming, crying, running. Everything was moving," reported one eye witness at the time. "Children were still in school when the earthquake hit. So many children were trapped; it was horrifying." The epicentre of the quake was 25 kilometres west of Port-au-Prince, Haiti's capital. It struck at 16:53 on Tuesday 12 January 2010. Six years on, an innovative project using Capoeira, a Brazilian movement art, is helping children and young people reject gang-life and live with respect and non-violence. It has been having visible effects on the shanty town communities surrounding the capital.
Restavek children
The Kay Chal Day Centre is located between the Delmas neighbourhood and the shantytown Cité Okay, just a few minutes away from the largest and most disadvantaged slum of Port-au-Prince, Cité Soleil. It was established by the Little Sisters of the Gospel (who have been working in the territory since 1988) on 1 December 2010. "The neighbourhood has always been characterised by a lack of work," explains Sister Luisa Dell'Orto. "There are no government organisations in this area. There is a lack of basic services, there is no electricity, and clean water is hard to find." Following the 2010 earthquake, camps were set up close by to re-house the displaced. Since then, over-population has increased drastically, creating further problems for an already disadvantaged area.
The Centre was established with the aim of welcoming children known in Haiti as restavek. These children are sent by their parents to work for a host household as domestic servants, usually because the parents do not have the required resources to support them. Traditionally, poor rural parents would send their children to live with wealthier, or less poor, relatives or friends in urban areas. In exchange for doing housework, the children would receive food and housing, and sometimes an education. However, the children are unpaid, and often host families dismiss their restavek before they become 15, which by law is the age at which they would need to be paid. Many such children then live on the streets. Although this practice is accepted in Haiti, it is seen by many as little more than a form of modern day child slavery.
Social exclusion
"These children are often far away from their families, not in school, and at great risk of social exclusion," says Sister Luisa. "The Centre promotes recovery of educational opportunities, and increased social inclusion through education and creative work to internalise a sense of beauty, to develop independence, and to enable the children to leverage their talents." Progressively, activities grew to include afternoon school support for those children living in the earthquake camps, and this then expanded to the neighbourhood in general, strengthening the national school system. "Around 100 children are involved in these activities," continues Sister Luisa. "We have local volunteers with around a dozen people covering shifts during the week. Gradually, we have also added recreational activities and workshops to the educational support."
An innovative project from Brazil, Gingando pela Paz (Swing for Peace) uses Capoeira as an educational activity based on the values of respect, peace, non-violence, and the peaceful resolution of conflicts. Capoeira combines elements of dance, acrobatics and music, and is known for quick and complex moves with spins, kicks and high mobility techniques. The project has been run successfully by 'Viva Rio' in the favelas of Rio de Janeiro since 2003 and, since 2008, in Bel Air, a very vulnerable area of the Haitian capital. It is a complex project which promotes not only sport, but social awareness. "Already many children have removed themselves from armed groups through participation in these projects," explains Sister Luisa. "In addition to it being a sport, it trains the practitioner to build relationships and defend companions. Children and adults play together as equals. It is based on discipline, respect for rules and defence of others. The children become more conscious of themselves, their bodies, and their existence." Another fundamental aspect is the training of young leaders, who may in turn become capoeira monitors and coaches. The Little Sister of the Gospel looked at the feasibility of introducing Capoeira at the Kay Chal Centre and at a local school. A site visit of the Gingando pela Paz project coordinator confirmed the feasibility of such activities and the suitability of the area. The total cost of implementing the project for a year, including salaries, uniforms and instruments, was a little over €31,000 and St. Anthony's Charities was asked for and granted a request for €5,000.
Continuing project
The project started in June 2015 and continues. "It has already had a strong and significant impact on children as well as on families. The impact observed on each child is evident," says Sister Luisa. "Capoeira means to them freedom, fun, rules, venting, and education. In many children, the change has been visible: for some it has meant greater control over their bodies and over their aggression, for others, it has meant breaking the walls of fear, and to yet others, it was a stimulus to go to school or to deal with it more seriously. All this activity has great significance: it is a time dedicated to them, a space where another person takes care of them, a serene environment that is good therapy for children who live in violent or humiliating situations." The children's families have also benefited from the positive effects of this discipline. In some cases, Capoeira has even facilitated family relationships. "In a neighbourhood dominated by misery and deprivation, Capoeira gives dignity to the children and the young people taking part. It is carried out by professionals who have a passion for their work and who are able to pass it on. They are capable of educating the group and the individual to have respect and rules, to teach the technique of movements, and to charm and engage viewers. The activity has been well received and has attracted the interest of many, not just children." Training of at least two animators at Kay Chal will continue for another two years at the headquarters of the project in Bel Air. This will enable the activity to continue with the same animators in the future.
Let's swing
"From the beginning Capoeira seemed a very interesting activity," says Marta, a volunteer at the Centre. "But honestly, I did not think it could be so effective. There are guys who have really had a big change in their lives following their involvement in Capoeira. For example, one very violent restavek boy is now motivated to go to school and has improved a lot in controlling his violence. One day, during a heated fight, he started to do Capoeira and refused to continue fighting. His relationship with his mother and brother, who were previously not interested in him, has improved. They came to watch him perform, and also met his teachers. He feels much better as a person. There are many individual cases, but there is also satisfaction at a group level – this activity is infectious!"
"Our thanks again to St. Anthony's Charities and to the readers of the Messenger – to all those people who we will never know personally, but without whom there would not be so much joy in the eyes of the children when they hear the music of Capoeira inviting them to 'swing,'" concludes Sister Luisa. "We wish you all a joyous Christmas and to remain in communion with Christ for whom all this has been done."
Updated on December 13 2016