Threads of Hope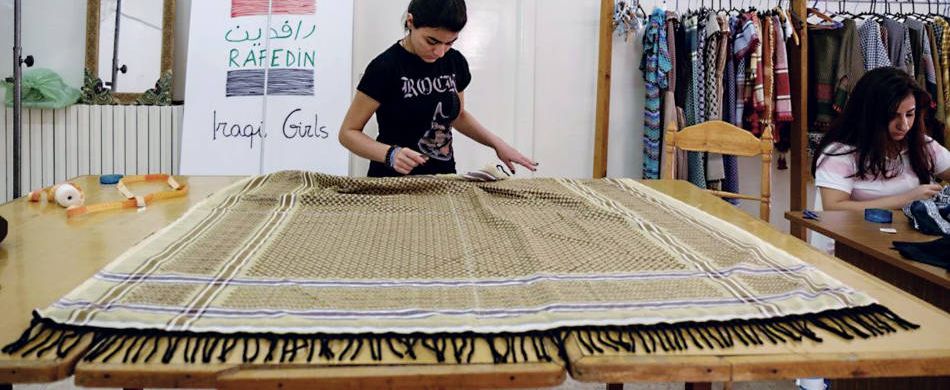 Rafedin was created specifically for Iraqi refugee women in Amman, Jordan
JORDAN is witnessing a growing humanitarian crisis, a direct and dramatic consequence of the conflicts in the Middle East – civil wars, revolutions, and regime changes. It has become a key milestone in the exodus of people fleeing from neighbouring countries. Iraqi refugees started arriving in 2003 as a result of the Gulf War, during which over two million fled their country. The exodus continues with the migration of Christian communities and Islamic minorities persecuted by Daesh (ISIS) which considers them a threat to the integrity of Sunni Islamic culture. The number of Christians in Iraq has dropped from the millions in 2002/3 to around 275,000 today. Iraqi refugees in Jordan are thought to be at least 58,000 out of the estimated 670,000 refugees living there. Around 12,000 are Iraqi Christians. "Iraqis are not recognised as refugees, but only as political asylum seekers," explains Vicenzo Bellomo, Project Coordinator for the Pro Terra Sancta Association (ATS). "They find themselves without rights and cannot work unless under the umbrella of the Church. The Iraqi refugees survive, in spite of the difficulties they face and the stress, anxiety and depression they endure, waiting to leave their Jordanian temporary base to be transferred to a western country."
This influx of people exerts strong pressure on the Jordanian resources, with 25 percent of the budget spent on reception and support of refugees.
A series of initiatives promoted by ATS aims to improve the stay of refugees in Jordan. ATS, a nonprofit organisation which serves the Custody of the Hold Land, is present wherever these Franciscan friars are in the Middle East. "For centuries the friars have been working to offer education, work and spiritual assistance," explains Bellomo. "Projects promoted by ATS are part of this centuries-old tradition." One project, "Mending the Future with Threads of Hope," aims to help young Iraqi women like Sally and Dalida.
Two refugees
Sally, 24, from Kirkuk, was forced to leave her homeland: "I lived and went to school in Kirkuk," she says, "but was unable to complete my university studies due to the difficult situation there after the war broke out. We were told that if we did not leave we would be killed. We could only try to escape, and so we fled to Amman." She arrived in Amman with her family in September 2014. "I wanted to work, but we Iraqis are not allowed to work in Jordan," she continues, "so at the beginning I tried to occupy my days studying English. It will be useful to me in the future, and it was important to study, but it was not enough to fill the endless hours of waiting. Then, I finally found Rafedin, and everything changed."
"I was studying computer science at Mosul University before the outbreak of war," says Dalida, 25, from Mosul. "I lived a quiet life with my family, but suddenly we had to abandon our homes, our things, without having time to even think what to bring with us. Everything happened in an instant. We closed the door of our house knowing that we would never return." She and her family arrived in Amman in October 2015, and she has also found hope through Rafedin.
Between two rivers
"The project aims to support the work of this small start-up, Rafedin, created specifically for Iraqi refugee women in Amman," explains Bellomo. Rafedin is an Arabic term which means 'two rivers,' and refers to the rivers Tigris and Euphrates. Rafedin – Made by Iraqi Girls was founded in March 2016 in partnership with the Italian private commercial sector with the aim of providing professional training for Iraqi women who would otherwise have remained confined at home. "Twenty women, who come mainly from Mosul and Kirkuk, are in limbo pending acceptance of their asylum applications and their subsequent transfer. They work as volunteers, as they are not able to work officially in Jordan," says Bellomo. "There was a need to restructure the premises where they work to allow them to work safely, hygienically, and comfortably. New machinery and furnishings were required to maintain a steady work pace and to allow everyone to collaborate. Finally, a seamstress needed to be contracted who could coordinate the women and provide daily teaching." A request for funding was made to St. Anthony's Charities for the restructuring and equipment elements of the project, and a grant of €20,000 was subsequently awarded.
Two funds
The first funds, which arrived in October 2016, were used to purchase new equipment: 2 sewing machines, a professional iron, tailoring scissors, and a new laptop which would enable better communication, record keeping, and cataloguing of products. Work also commenced on restructuring of the premises including: installation of windows, renovation of the electrical system, ceiling insulation, bathrooms, curtains, and the production of six specially commissioned work benches to meet the women's needs.
The second tranche of funds was used to buy: a second set of six work benches from the same carpenter, chairs, shelves, exhibition stands, coat racks, dummies, plastic boxes, a multi-functional printer, a small functional kitchen and kitchen equipment, cabinets, and a large wooden table. Additionally, materials and fabrics were purchased to be used during practical training provided by the Italian seamstress. The project was finally completed in April 2017.
"The impact of Rafedin on the beneficiaries and on the environment can be assessed from the testimonies of the women involved in the project," says Bellomo. "Sally and Dalida are just two of the many women with similar stories and backgrounds. It is clear that the project has been of great value to them. Rafedin has provided a place where they not only feel safe, but where they have been able to acquire important skills which they can use in any country which welcomes them. None of them had previous work experience, and this, together with resuming life in a world completely different from their Iraq, made them particularly insecure. Now they have gained a great deal of knowledge about the workplace, organisation and rules, and are ready to face any work challenge."
Sally & Dalida
Sally is really excited about the things she has learned, the skills she has acquired and the incredible progress that she has made since she started. "Progress for everyone has been amazing, but in particular for Sally," says Bellomo. "She is undoubtedly one of the most creative of the group. She is able to make the most complicated clothing items, including skirts, dresses and jackets." Dalida never thought that she would ever be able to sew: "I've learned a lot of things about patterns, imagination, dresses, and fashion, and I've made incredible improvements," she says. "Thanks to Rafedin I have found hope for myself and my family. Rafedin is a wonderful project which helps Iraqi refugee girls by teaching us a beautiful job, and gives us the opportunity to acquire basic skills for our future elsewhere. We would all like to thank the people who have given us this opportunity. Thanks not just for the work we are learning, but also for the economic contribution it provides to our families and, especially, for raising our spirits."
"We send you infinite thanks for your support," concludes Bellomo. "We thank the devoted benefactors of St. Anthony's Charities and the readers of the Messenger of Saint Anthony in our prayers, welcoming this opportunity to send you our warmest Christmas greetings."
Updated on December 07 2017