Trust Reborn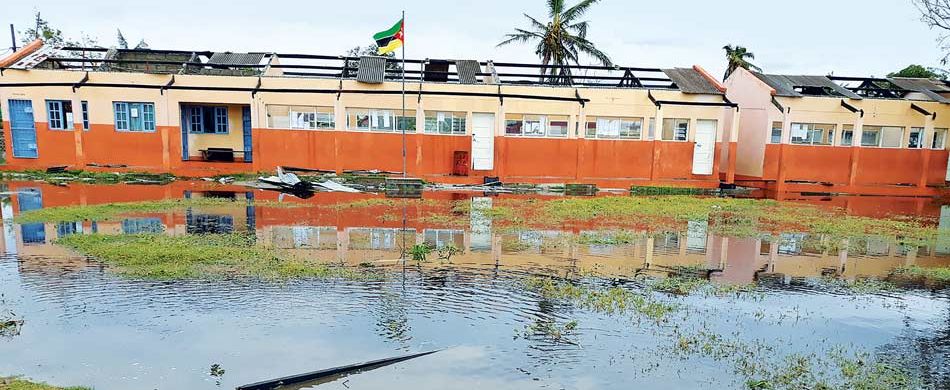 The primary school in Macurungo in the aftermath of tropical cyclone Idai
MOZAMBIQUE was devastated by 30 years of war, which ended in 1992. Since then the country has made progressive improvements in development indicators, but it still remains one of the poorest nations in the world. The Human Development Report 2016 listed Mozambique at position 181 out of 188, with 46 percent of the population living below the poverty line, and an average life expectancy of only 53.3 years. Of those over the age of 15, only 60 percent are literate (45 percent of women). It has subsequently suffered more devastation from a climatic point of view. Its coastal areas are among the most vulnerable to climate change in Africa due to Mozambique's geographical location, coupled with a lack of infrastructure and city planning. Frequent flooding and extreme weather events are becoming more common. It is estimated that by the 2040s around 4,850 square kilometres could be lost, and up to one million people forced to migrate inland due to sea level rises.
Renovation and refurbishment
ASEM Mozambique, a non-profit organization recognized by the government of Mozambique and founded in 1999 by Barbara Hofmann, has been helping children and young people of Mozambique in situations of extreme poverty, victims of AIDS, orphans and abandoned children for 30 years, rehabilitating and integrating them into society through psychological and moral help, education and training. To date, more than 180,000 children have been helped, with more than 700 being able to rejoin their families and communities of origin. Currently, ASEM follows over 6,000 direct beneficiaries and approximately 30,000 indirect beneficiaries each year. All the staff running ASEM Mozambique are Mozambican.
In 2018 ASEM submitted a project proposal for the renovation and refurbishment of three school buildings which would help 4,500 pupils. The project was ambitious and demanding, so St Anthony's Charities accepted the request for one of the schools, a primary school in Macurungo, the first ever structure built in Beira by ASEM. The brick construction dated back to 1999/2000 and had only had maintenance once. It was attended by 1,200 pupils from the first to seventh grade. The project would also provide important community involvement as the work for the maintenance and restructuring works would be entrusted to about thirty young people, former ASEM beneficiaries, trained professionally in construction by various ASEM centres. "The proposal was welcomed by the boys with enthusiasm and a spirit of initiative," Barbara explains. "For them it was not only a way to make the most of what they had learned, but also to show their gratitude to an organization which had protected them when they were in a state of extreme fragility, trained them and prepared them for their life journey." A contribution of €15,000 was approved in September 2018, with €10,000 allocated to renovation work and €5,000 towards furnishings.
Some setbacks
The first instalment was received in mid-October, materials were purchased and work began on the renovation works, including repainting the buildings. People from the local community offered their labour free of charge, together with the thirty former ASEM beneficiaries. Everything progressed smoothly in those first three months.
But then, at the beginning of January 2019, an unexpected update was received from Barbara – due to flooding, work could not continue. It would take a couple of months before the project would be back on track. Unfortunately, worse was to yet come. In early March 2019 a tropical depression formed off the coast of Mozambique. It later developed into tropical cyclone Idai which made landfall in mid-March. It was one of the worst tropical cyclones on record to affect Africa and the Southern Hemisphere. Twenty days after Idai struck, Barbara wrote to St Anthony's Charities giving an eye-witness account of the devastation: "It's been 20 days since Idai decided to change our lives," she wrote. "A few days ago, I arrived in Maputo, because there is still no electricity in Beira, the Internet is barely functional or non-existent. I left our children under the protection of our extraordinary staff, who suffer as much as the children themselves, to manage logistics and get help for them. I'm in Maputo doing the best I can. My eyes are dry, but my heart is crying. The tears of my heart are drops of blood that fall, creating big rivers inside me. After 30 years in Mozambique, I have seen many disasters and 'bad things', but what I've seen and witnessed in the last 20 days goes beyond all the words that can be found in any dictionary of any language. Hunger, thirst, humidity, loss of everything! The victims are psychologically damaged and traumatized by the horrors, by death, by all that has happened.
"We went to sleep with wet clothes on the cold floor, waking up with the same wet clothes after sleep had finally managed to take us away for a couple of hours. Waking up, and in the first moments before being completely awake, whispering: 'I had a dream – it was a terrible nightmare' then feeling the shirt, still wet, glued to you body and realizing it wasn't a nightmare, it's real! This has been our reality since March 14."
Suffering in silence
"But I have a choice," Barbara continued. "Our children, families and staff don't have it. I imagine it makes a big difference for those who do have it. I could take the next plane and leave – which I could never do – they are my family, the people with whom I have shared the last 30 years. Leaving is an option that they do not have. I see many people with dignity and serenity on their faces, suffering in silence, bleeding rivers inside, sharing with me the little we have together."
Barbara went on to explain that progress on the project would inevitably be further delayed. Although things were beginning to get better, and the media had stopped talking about the disaster, it was not over for her or the people there. Indeed, it had only just begun: "They have lost everything, they are hungry and thirsty, they have no clothes other than what they have on, and so many have lost their homes," she explained. She enquired if it would be possible to put the rest of the grant money from St Anthony's Charities towards an emergency fund. Of course, this was readily agreed.
Redirection of aid
The last instalment would have gone towards the provision of furniture, but was converted to be used as emergency aid for the victims – food, cleaning materials, lanterns, hygiene supplies, and the like. "The situation was disastrous, unimaginable," says Barbara – schools and centres were without roofs, windows and some doors had flown away, and some walls had been destroyed. Trees had been uprooted by the force of the wind, falling on and destroying houses, causing injury and deaths. "Thousands of families were still in schools or living with relatives and friends," she continues, "most without food or drinking water. Ninety percent of the population have lost almost everything, and our help is just a sign. But the people don't despair. In fact, they show strength of resistance, resigned but at the same time almost serene. We thank St Anthony's Charities and the readers of the Messenger of Saint Anthony for their generosity, which has enabled us to help to alleviate this suffering and to take a step towards a future with hope."
As we progress further into 2020 and read the stories of those suffering from the effects of extreme weather, perhaps we also need to be mindful of what we can do in our everyday lives to reduce our own contributions to the climate crisis. No action is too small or insignificant. Just as ASEM proclaims on its website: "Drops create rivers, and rivers create oceans... so one person can change the course of the world."
Updated on February 23 2020