Water is Life
A new well is bringing life, health and joy back to an impoverished community in the Democratic Republic of the Congo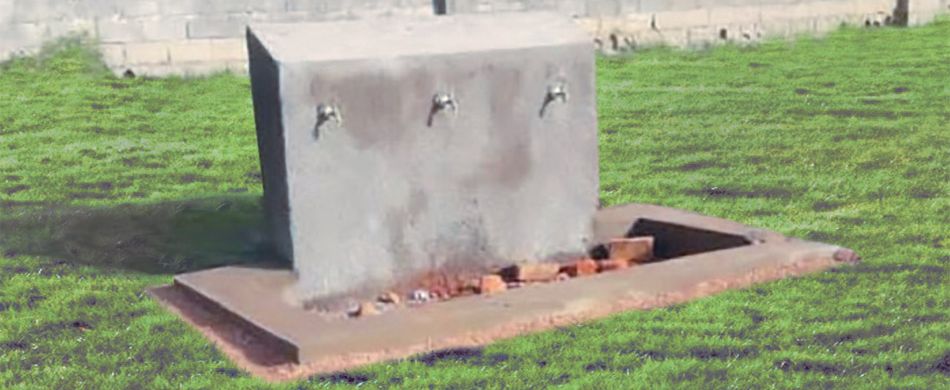 The new well with the concrete base financed by the readers of the Messenger of Saint Anthony
IN RECENT years, in Tshimuanza, Democratic Republic of the Congo (DRC), water-borne diseases such as dysentery and typhoid fever have erupted and claimed the lives of many, especially those of children under 5. According to the statistics of the Tshimuanza Diocesan Medical Office, the infant mortality rate caused by these diseases is as high as 45 percent. "The main cause is the lack of drinking water," says Sister Nathali Mayand, project supervisor who, as part of the Congregation of the Sisters of Charity of Jesus and Mary, is responsible for the promotion of women and integral development. "Water can be found everywhere, but at a very considerable depth. But how can we get it to our houses or even just close to our neighbours?" Before this project was completed, to get water to the town, a round trip of two hours, around four to five kilometres, was necessary. A small stream was the only source, and even then there was no guarantee that the water would be drinkable. "Our wish," says Sister Nathali, "was for our dream to become reality," – a water well available to everyone.
Isolated territory
Tshimuanza, a territorial entity of Kasaï Central province, DRC, has a tropical climate with average temperatures varying between 25 and 34 °C. Its population, who are mainly involved in agricultural activities, gathering, and raising livestock, numbers around 25,000. Because of its isolation it has been difficult for Tshimuanza to develop – the poor state of roads makes it impossible, for example, even to move agricultural produce to the town of Kanaga. The water situation is a huge headache for households. Not only does the two-hour round trip take a lot of time each day, there is still the problem of purification. "It must be boiled," says Sister Nathali. "Then it must cool for at least six hours. Not only do the microbes not die at lower temperatures, but they become more resistant." According to Sister Nathali, the shortage of drinking water can also lead to other problems in the household and community such as delays in meal and lesson times, exploitation of children by teachers, drudgery for women in their daily chores, personal and household cleanliness, conflict in the household, discrimination, exploitation of women, juvenile delinquency, and even promiscuity. There is also a danger from wild animals: "Many children, pregnant women, and young girls have been bitten by snakes and wounded by wild boars as they often go to the river when it is already dark, especially in the forest. Many have had more than one such encounter."
Great relief
The Congregation of Sisters of Charity of Jesus and Mary, founded in 1803, has as its mission "to reveal that God is love, especially to the poor and the abandoned," and in particular through charitable works. In Tshimuanza they work through the school complex, a health centre, and an old people's home, as well as providing other services such as care to orphans, and literacy for girls not able to attend school.
"This project was conceived as a response to the concerns and problems related to the accessibility of drinking water," Sister Nathali explains. "It will involve the construction of a water well to provide access. A single well will not be enough to solve the misery of this population, but it will be a great relief. After prospecting work, the engineer confirmed that there is drinking water at a depth of ten metres." A proposal was submitted by the Sisters for the well site to be situated at the Buena Muntu II primary school, in particular because it is near the crossroad of the town and accessible to the majority of the population. The total cost of the project was €17,320, and after a local contribution was taken into account, St Anthony's Charities approved a grant of €15,000.
Noticeable improvement
The project started in May 2020, and although there were some difficulties encountered along the way, Sister Nathali explains that these were typical of the socio-economic and political situation of the country – delays in delivery of materials due to the poor state of the roads, monetary inflation, and poor quality or pirating of materials. In spite of these, water was available from the new pump towards the end of September 2020. Later, the site for drawing water was completed with a more secure concrete base. This serves to provide access to the water supply without the need to walk through mud surrounding the well, and also prevents well water from becoming infected by dirty water from the surface. The Sisters have already submitted further project proposals for new wells in the region.
Lack of drinkable water in a community is certainly a cause of poor health. It is estimated that this project will help 1,250 households directly. "Since the water became available," says Sister Nathali, "there is life and health. It's not for nothing that there is an adage that says, Water is Life. People's habits and minds have also been changed. We no longer see households suffering for the sake of domestic chores such as bathing and laundry. Children and women can now take care of tasks other than the arduous labour of travelling several kilometres to fetch water."
Merci!
Sister Nathali continues, "There is just a single word which comes from the mouths of the beneficiaries – village notables, families, school officials, the ecclesiastical word, and civil authorities – and that word is: 'Merci!' (Thank you). A 10-year-old schoolgirl gives thanks too, and in words echoing Psalm 137 verse 6, adds, "If I should ever forget you, St. Anthony's Charities, may my tongue stick to the roof of my mouth!"
"Thank you for this work which will save many human lives of vulnerable people, especially children," concludes Sister Nathali. "It is a source of liberation for women and households. Children finally have the time to devote their time to school homework. Access to drinking water is a sacred right for every home. A right that we now have thanks to St. Anthony's Charities and the readers of the Messenger of Saint Anthony."
Updated on March 21 2021