Healing Wounds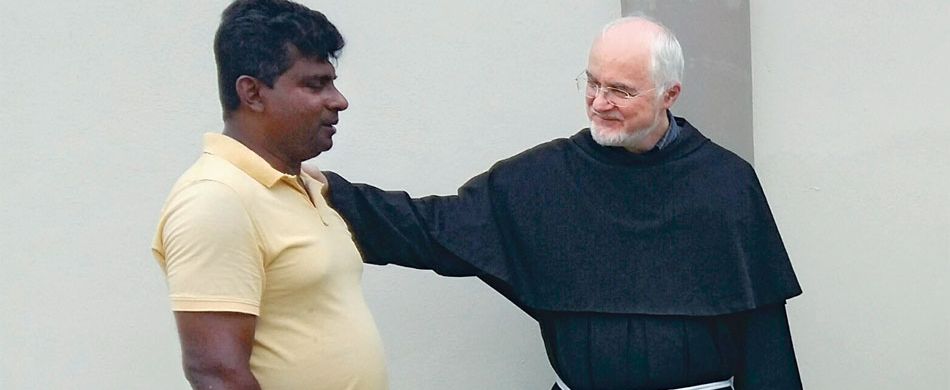 Our General Director, Fr. Giancarlo Zamengo, comforting the widower who lost his wife and three children; he now lives in his tuk tuk near the cemetery to be close to his family - Mario Conte, Archivio MSA
MIHARA'S little room, like much of Sri Lanka, could hold no more grief. All day Monday, through the steamy heat, mourners quietly stepped inside and paused in front of a sealed coffin containing what was left of her. Mihara was 11 years old and standing in line for communion at Easter Mass on Sunday when she was blown apart.
"Why did you leave me?" her mother cried, sitting in front of the coffin and rubbing its sides, the anguish tight in her hands. "Why did you go and leave me alone here?"
The Easter Sunday Bombings in Sri Lanka in 2019 constituted the worst violence the country had seen since the end of the civil war in 2009. Three churches and three luxury hotels were targeted by Islamic terrorist suicide bombers. The death toll amounted to 259 souls, and more than 500 were injured in the blasts.
Out of all the images that have been taken immediately after the bomb attacks, there is one which has almost gained symbolic status. It is the image of the statue of the Resurrected Jesus, stained with blood in the aftermath of the blasts in St Sebastian's Church, Negombo. This image reminds us all that, in spite of this terrible crime, Christ's resurrection gives us the comfort of knowing that light penetrates darkness, love prevails against hate, and life defeats the power of death. And in fact during Easter Mass this year, Cardinal Malcolm Ranjith of Colombo said, "Last year, some misguided youths attacked us, and we as human beings could have given a human and selfish response. But we meditated on Christ's teachings and loved them, forgave them and had pity on them."
Deep bond
"When news reached us last year of the terrible bombing of three churches in Sri Lanka on Easter Sunday," says Fr. Giancarlo Zamengo, General Director of the Messenger of Saint Anthony, "we friars of the Basilica felt a deep personal sense of sorrow, we knew at once that this painful tragedy was different from the thousand tragedies that affect our world every year.
"There is a deep bond that unites the simple, humble, hardworking people of Sri Lanka with the Basilica and Saint Anthony. Every year, tens of thousands of Sri Lankans, usually clutching small bouquets of flowers, flock to Saint Anthony's Tomb to offer him their devotion. As they stand before the Saint, the Basilica is filled with their love and wonder. Long after they have gone, the colourful flowers they leave behind always bring a smile to my face and joy to my heart."
The friars in Padua called representatives of the church in Sri Lanka to tell them that they were praying for those affected by the violence and their families. And from this initial attention and willingness to work together, a visit was arranged to Sri Lanka at the end of 2019 for a group of friars from Padua including, Fr. Giancarlo, Fr. Mario Conte, Editorial Director, and Fr. Valentino Maragno, Director of Saint Anthony's Charities. Together, they would transform their desires and dreams to work together with the community in Sri Lanka into operational choices and a workable project.
Place of memory
A plot of land not far from the Church of San Sebastiano gathers the victims of the bombings in one place – it has become a "place of memory" of events that will never be forgotten by Christians and the Sri Lankan people. Simple concrete crosses with photos of the people buried there mark each resting place. Mums and dads buried next to their children. It is there that the friars from Padua met Susantha and listened to his story of pain and suffering.
Susantha lost his wife and three children in the blast. "I have no desire to go home because I've lost everything," he said. He had worked the night before and so his wife took the children to church that Easter morning. He was on his way to meet them when he heard the explosion. When he arrived at the scene, people were running, there was chaos, bodies were strewn everywhere. He recognised his wife only by her skirt: "I started to cry and took my wife in my arms, then my two daughters and my son. My wife was still alive at that moment. I took her out of the church and then with a tuk tuk to the nearest hospital. I still hadn't realised that the bullets had destroyed her head and she had no chance." Susantha son's name was Shalom, and one of his daughter's Shalomè – peace, and bearer of peace – but what peace can this father now hope for in his life? He has no home to go to – his wife's mother took her anger out on him and evicted him from his home – but in any case he does not care to go 'home', there is nobody there for him. He lives in the cemetery now, in his tuk tuk, to be close to his family.
I was not afraid
Later the same day, the friars from Padua met Amelia, a convert. She was receiving communion for the first time that Easter Sunday. She was receiving best wishes from the congregation when everything blew up around her. When she awoke she could not see, but she realised she was in a hospital. She could not move, but was unafraid. "After the explosion I was not afraid because I felt that Jesus was close to me," she told them. "My faith has grown stronger, even though I am still in bed. I have my husband with me, and he is able to assist me." Her back was broken in the blast and she remains in bed, unable to move, but thank God surgery has restored sight to her right eye. She dreams of being able to return to a normal life with her husband and two children.
Further along the road, Lakhma, a small woman with a face marked by pain, welcomed the friars into her home. She told them the story of her daughter, little Asla, who was only eight years old when she was at Saint Anthony's Catholic Shrine in Kochchikade, a district to the north of the capital, Colombo, one of the three churches targeted.
Born to a Catholic mother and a Muslim father, she was brought up as a Muslim. But her older sister had decided to become Catholic when she was 16, and little Asla followed her older sister and attended church with her. She wanted to become a Catholic too. Asla loved Jesus: she read the Bible, and prayed in her small room where she had built a small altar on which she had gathered all her favourite saints. She dreamt about Jesus, and afterwards she would draw her dream in a sketchbook. One day she dreamt about Jesus putting water on her head, and in another dream, Jesus was taking her by the hand. Her last picture was of the risen Jesus. Three days before the attack, she had something to tell her mother, "I am going to heaven, and I will take you with me," she said. Now, Asla's clothes lie in her room, folded – folded in such a way that it seems they would be impossible to unfold – folded by someone who knows they will never use them again, someone who is leaving the house knowing that it is... forever.
Help these people
As Fr. Giancarlo stood in front of the statue of Saint Anthony at the church in Colombo dedicated to our Saint, the stories of the people who had been worshiping that Easter Sunday and what they had lost brought tears to his eyes. The miraculously intact statue, which had collected but a small drop of blood of the victims, "… was as if Saint Anthony wanted to tell us he was always on the side of the victims, the poor, the defenceless, and the weak wounded by life," he says. "It was a sign. Anthony seemed to be saying 'Help these people'. So we set ourselves the task of building 21 houses for families that had lost everything. We pledged to support the soup kitchen being built to feed the poorest, and we promised to set up a scholarship that will allow 176 orphaned children to attend a school to build a better future – one based on love and respect for one another."
A gift of $40/£25/€30 could help pay for bricks of one new family home for families affected by the bombings. $60/£40/€50 could help buy tables and chairs for the soup kitchen at Saint Anthony's shrine. $130/£80/€100 could contribute for the purchase of an orthopaedic help. $650/£400/€500 would be enough to fund one education scholarship.
"Please help us provide hope and refuge to the families affected by the 2019 Easter Sunday bombings. With gratitude, love and blessings," concludes Fr. Giancarlo. This Saint Anthony's Feast Day, please help our Sri Lankan brothers and sisters in Christ find that better future for all of them.
Updated on June 21 2020